Features
Why Sweet Tooth's Ending is Ultimately Hopeful
Sweet Tooth's apocalyptic subject matter is filtered through the optimistic lens of its protagonist, which makes for a happier ending than one might expect.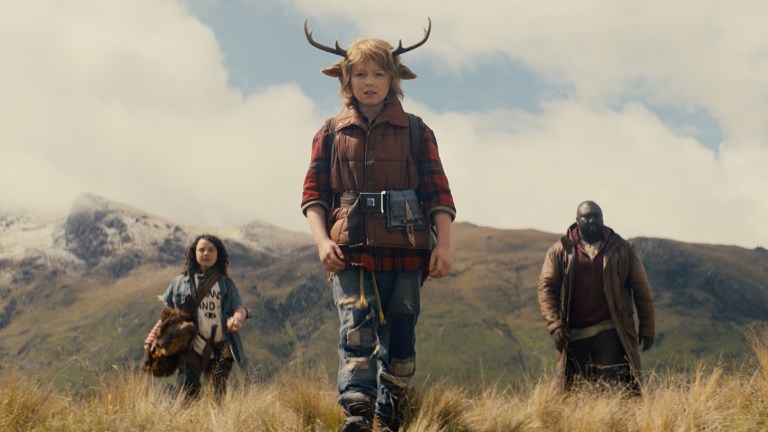 This article contains spoilers for Sweet Tooth season 1.
In the world of Sweet Tooth, a deadly virus swept through the population 10 years ago, killing the majority of people who become infected. The arrival of this virus—The Sick—coincided with the emergence of hybrids, children who are born part human and part animal. No one knows which came first, the virus or the hybrids, or if one caused the other, but naturally people react to hybrids with fear and mistrust after "The Great Crumble."
Sweet Tooth is adapted from a comic series of the same name written and drawn by Jeff Lemire for DC Comics' Vertigo imprint. The story follows Gus (Christian Convery), a deer-hybrid boy, who is raised in isolation deep in the Yellowstone Forests by his father, "Pubba" (Will Forte) who teaches him how to survive by staying hidden. When hybrid-hunting Last Men find them, Pubba protects Gus and their home, at the cost of his life. Gus is forced to fend for himself, until an encounter with poachers and a save by Tommy Jepperd aka "Big Man" (Nonso Anozie) starts him on a grand adventure to find his mom in Colorado.
"Jepperd for me is almost an old fashioned cowboy in a modern setting. One of those lone guys wandering through the wilderness," says Anozie. "There are stories like Old Yeller and Shane, where he wanders into this kid's life and the kid is besotted with him and his coolness. But we're set 10 years in the future so he's in a modern American mash-up of the old idea of what a cowboy is."
Sweet Tooth is dark but not grim, and it's heavy subject matter is filtered through the lense of Gus, who is a serial optimist. Despite the circumstances, the show remains radiant and hopeful throughout.
"I really feel like this show can touch your heart and give you hope and positivity and inspiration to get through dark times like COVID," says Convery.
The optimism of Sweet Tooth arrives at a perfect time as we transition to our post-pandemic reality.
"I think it's key to remember that this story was written 10 years ago and it's a coincidence that this happened," Anozie says. "But it's a show that can inspire hope in people that maybe have lost some of that hope over the last year."
That's how Sweet Tooth takes what could be a downer ending (one that borrows from an arc midway through Lemire's comic) and casts it in a brighter light. Sweet Tooth follows multiple stories at once, and introduces the audience to an array of characters who fill out this storybook dystopia. These stories converge in the final episodes of the season, which promises an exciting season 2, if one is ordered.
General Abbot (Neil Sandilands) leads the Last Men, a militant group who hunt hybrids for the supposed protection of humanity. Dr. Aditya Singh (Adeel Akhtar) left his practice to care for his wife, Rani (Aliza Vellani) when she became sick during The Great Crumble. For years, he is able to treat her with an experimental treatment until Dr. Bell retires and passes on her practice, and her research to him. He uncovers the horrible truth about his wife's treatments, that they come from experimentation on hybrids, and has to put aside his oath to "do no harm" in order to continue the research. Dr. Singh is conflicted, but Rani is desperate for survival, and he would do anything for her.
In the penultimate episode, Gus, Jepperd, and their new friend Bear (Stefania LaVie Owen) come across Gus's mom's home in Colorado. Although his mom is gone, the work she left behind is not. Gus learns the truth of his existence, that his mom is not his mom and his "pubba" is not his dad, and that he was created in a lab. Gus is special, but not in a way either of them expected. He runs away, and unknowingly alerts the Last Men to his position. Jepperd finds him, but he's shot and Gus is taken away. Back at the house, Bear uses a satellite phone to make a call… and Gus's mom answers.
Aimee Eden (Dania Ramirez) and her adopted daughter Wendy (Naledi Murray)—a pig hybrid—hold up in Essex Zoo. There she runs the Preserve, a sanctuary for orphaned hybrids. She sends out messages for hybrids, but The Last Men eventually discover the location of the Preserve, and the hybrids are caught. After Jepperd is shot and Gus is taken, Aimee helps Jepperd heal and tells him they're going to get their children back.
At the facility, Dr. Singh is to experiment on the captured hybrids to work on the cure. They bring him Gus, who is older than other hybrids, and seems to understand human speech. When Gus eyes a candy bar, Singh gives it to him, and Gus's "thank you" shocks him. Dr. Singh regards Gus with wonder and curiosity, and requests more time to study, recognizing he's special, but not knowing just how much. Gus is spared for the time being, and when he is put in holding, he meets all the other hybrids, including Wendy. Gus is in the most danger he has ever been in, but he is surrounded by kids like him, and for the first time in his life, he's not alone. The circumstances seem dire, but the hybrid kids have people on the outside who won't let them go without a fight.
"I really hope that people take away, not just hope and positivity, but inspiration because maybe after watching Sweet Tooth they can be more connected to the environment," Convery says. "And maybe they can have an idea or spark an idea in their head that maybe can help other people, or they can talk with their family a lot and bond more."

All eight episodes of Sweet Tooth are available to stream on Netflix now.