Features
Stranger Things 3: what can we expect?
With filming wrapped on Netflix's Stranger Things season 3, here's what could be in store for Hawkins next year...
This article comes from Den of Geek UK.
Some mild spoilers and wild speculation for Stranger Things season 3 follow. You have been warned.
In its typically referential style, the second season of Stranger Things was a love letter to all things sequel as it followed that most hallowed of second installments, The Empire Strikes Back model, widening the conflict whilst simultaneously personalising it. We moved beyond the sleepy town of Hawkins, Indiana to the much larger Pittsburgh, and the narrative scaled upwards to match. Despite everything getting bigger, the connective tissue that binds the show together is the relationships between characters. In season two, both intimacy and loss were more keenly felt as a dark netherworld grew beneath the small town, pushing to the surface uncomfortable truths that forced our heroes to redefine their connections to those around them.
And so, with filming on season three finally wrapped, we can begin to look forward to all sorts of weird happenings in Hawkins coming to us at some point in 2019. Summer looks like the likely contender at the moment with July being this writer's current bet. As with season 2's Halloween-themed events coinciding with the spooky holiday season itself, a summer return to Hawkins promises not just sunshine and short shorts, but also a visit to two of Hawkins' favourite summer hotspots: the brand-new Starcourt Mall and Hawkins pool.
The mall in particular promises to be a key plot feature in season three rather than simple set dressing (although count our vote right now to see more of the ace Palace Arcade from season two). A fun teaser earlier this year revealed that along with being dumped by Nancy and being reduced to Adventures In Babysitting status, former alpha jock Steve Harrington now serves up cones of Salted Caramel (flavor of the month, apparently) at Scoops Ahoy Ice Cream Parlor. Working alongside him, and also briefly appearing in the teaser is Robin, a new character who is be central to discovering the dark mystery that may well lie at the heart of the brand-new mall. When you factor in that another new character, Mayor Cline, played by Cary Elwes promises to be a slick and sleazy town official, one can speculate that his involvement in the construction of the mall and whatever truly lies within it, may be integral to the plot.
Just what may that be though? Naturally, any horror-themed show that sets its stall out (ahem) in a mall is going to draw comparisons to the classic 1978 allegorical attack on America's infatuation with commercialism, Dawn Of The Dead, a bona-fide classic entry in the horror hall of fame. Sure enough, co-showrunner Ross Duffer has warned us to expect "a little bit of a George Romero vibe in there" but it might surprise you to learn that season three promises to foray into Cronenberg-esque body horror territory that will take the show to far gorier places than it's been before. With references to films like The Fly or Scanners sure to pop up, it could make for uncomfortable viewing if you were left feeling revulsion when young Will Byers was coughing up netherworld larvae at the end of season one, a scene similar to moments in Cronenberg's Shivers.
Speaking of Will the Wise though, we can at least rest a little easier knowing that he'll have a smoother ride in season three. After two torturous seasons, the show's producers have promised to refrain from using the poor kid as a conduit for all manners of Lovecraftian evil and it seems that this time out, poor Will might finally get a chance to actually kick back and enjoy his childhood. Or maybe not. With Mike and Eleven now an item and Max and Lucas also a couple, the dynamic between our plucky heroes won't be the same. It's the summer of 1985 in Hawkins, and amongst other movies, you can expect to see Return To Oz playing at the cinema in Starcourt Mall. That uncharacteristically dark return to a once-joyous land could well herald the narrative DNA for our heroes this season.
Now Will has returned from his two season journey to a place that definitely wasn't Kansas, it's natural that he'll want to pick up where things left off – late night walkie talkie conversations and weekends lost in Dungeons & Dragons. Things have moved on in his absence though, with two of his friends finding romance and even Dustin striking up an unlikely friendship with the older Steve. Put simply, they've grown up. Much like when Dorothy's returned to Oz to find it almost unrecognisable, there's a good chance that Will's readjustment to his surroundings will prove to be one of season three's most interesting storylines, especially given the quality of young Noah Schnapp's performances in season two.
Producer Shawn Levy has noted that season three will be "about change." Ross Duffer has said that "Its really the final summer of their childhood" so expect overtones from coming-of-age classics from The Breakfast Club through to The Outsiders as the boys' fellowship most likely comes to an end, at least in the form that we recognise it now. You know what they say though. When one door to an inter-dimensional hell-scape closes, another one opens and this promises to be true when it comes to the relationships in Hawkins. With feelings between Hopper and Joyce still no doubt bubbling under the surface, and the police chief now something of a surrogate father to Eleven, this could play into an interesting dynamic with Mike as the two male characters clash over how best to safeguard El.
Hopefully though, this promises to be the season when we really see Eleven step out of the shadow of male authority figures and develop into an independent young woman in her own right. The awe-inspiring use of her powers at the end of season two were (for this writer at least, and I'm not alone here) a direct continuation of the saga of X-Men's Jean Grey coming to terms with her powers. Eleven's journey has often traced the path of her comic book counterpart and with some speculating that Millie Bobby Brown's recent Instagram posts seem to be signalling a farewell to the show, it's possible that this season could see the young prodigy going 'Full Phoenix' and destroying herself to protect those that she loves. After season two's flirtation with Kali in Pittsburgh and being schooled in the use of her powers in what was essentially her induction into the X-Men, this would be the next natural step for the character, apart from the fact that the show has already flirted with the 'is she dead/isn't she dead?' hook following Eleven's seeming demise at the end of season one.
Speaking of the show's sojourn into Pittsburgh for eighties X-Men weirdness in episode seven of season two, it seems possible but unlikely that we'll see this kind of location shift in focus in season three. The Duffers have said that the chances that Kali returns "are very high" but with reaction to the 'bottle' episode being somewhat muted at best, it's more likely we see The Girl Formerly Known as Eight visit Hawkins than Eleven venture outwards once more. In true trilogy fashion, perhaps we see the time-honoured trope of the student surpassing the mentor as Eleven teaches Kali lessons in powers or otherwise, a reversal of their status in season two.
Ah, yes. Trilogy references. With season two containing some really fun nods to iconic sequels (Aliens and Temple Of Doom especially – yes, we know that one is technically a prequel) it's a certainty that the upcoming third season will pay homage to celebrated third entries of movie series that we love. Interestingly though, that might not be as straightforward as it sounds, considering that most trilogy instalments tend to be somewhat less beloved than their predecessors. Still though, we'd bet on an Army Of Darkness nod here or perhaps a Return Of The Jedi reference there, particularly given that Lucasfilm's trilogy closer is sure to be all the rage in the video rental store at the Starcourt Mall. Most likely however, is a Back To The Future nod of some kind, as the season takes place in July of 1985, the same month the first movie in the trilogy was released. For fans of the trilogy who grew up cherishing Marty Mcfly's struggles to get back to 1985, the year possesses a more than a whiff of shangri-la mysticism about it and it's unlikely the Duffers will pass up on the chance to pay tribute to it.
One 1985 movie that will be influencing proceedings is the Chevy Case comedy Fletch, where the titular character disguises himself to get the scoops. David Harbour's recent social media post to celebrate filming wrapping dropped hints that Gary Busey's new reporter character could be posing as a plumber and investigating just what happened to those larvae that Will coughed down the drain at the end of season one. Gary Busey as a semi-paranoid reporting masquerading as a plumber? Take our money!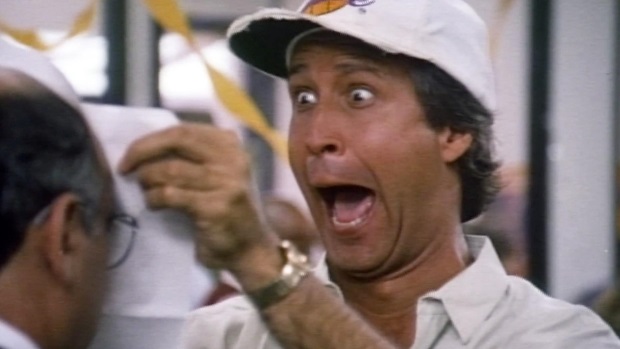 Existing characters are set to return also. Lucas' sister has a beefed-up role this season after her winning cameo in season two and Billy Hargrove will be back once more as the town sociopath, this time with a darker storyline, promise the showrunners. We know the Duffers love a bit of Stephen King so expect to see the show make nods to Needful Things (itself about a small town struggling with the impact of consumerism) as Billy, the archetypal rebel without a cause, allies himself with a darker force that reflects his own pain and hatred. A key plotline in King's novel saw bully Ace Merrill and Danforth Keaton, Castle Rock's Head Selectman, team up to attempt to destroy the town under the influence of an insidious evil. Don't be too surprised if Stranger Things uses some of those beats too, using Billy and Cary Elwes' Mayor Cline in a similar fashion. Be even less surprised if Matthew Modine's Brenner turns up once again; we know that's happening… we just don't know when.
So bring on the first trailer, then onto summer when we can finally catch up with Eleven and the gang. And as for that Back To The Future homage? Perhaps the greatest tribute the Duffers could make is to take a cue from parts II and III of the time travel trilogy and shoot the next two seasons of Stranger Things back to back. That way we'll never have to wait this long again for a dose of Hawkins, Indiana. Nevertheless, at some point next summer, I'll see you down at Starcourt Mall or maybe even Hawkins pool. Maybe you'll be purchasing a copy of Hunt For Red October or maybe Skeleton Crew from the Waldenbooks. Maybe you'll be eating a corn dog on a stick from the food court. Wherever you are though, whatever you're doing, just remember that somewhere beneath you, the Mind Flayer is still watching. And waiting.
A bit like us, really. Hurry up Stranger Things.
Stranger Things Season 3 will arrive on Netflix in mid-2019. We have everything you need to know about the new season right here.