Features
How Star Wars: Visions' Lop Was Inspired by a Classic Marvel Character
Star Wars: Visions introduces a very unique new hero named Lop, a bunny girl who is a callback to an obscure piece of Marvel history.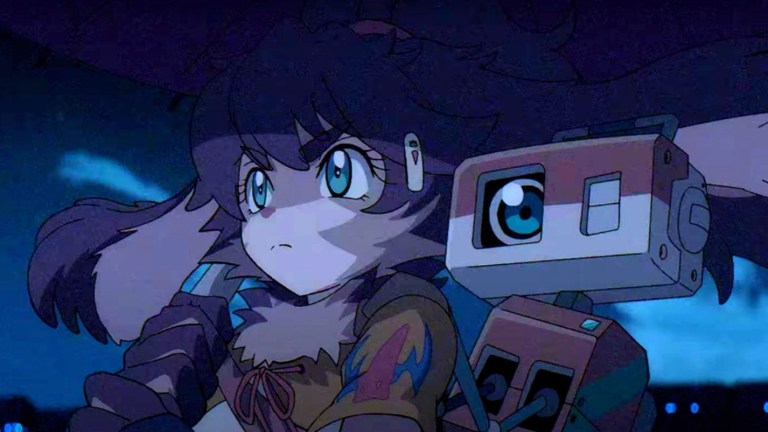 This Star Wars: Visions article contains spoilers.
Star Wars: Visions brings the galaxy far, far away closer to its Japanese roots with nine anime shorts that introduce plenty of new characters to the saga. There's Ronin, a lone wanderer with a mysterious past who gets stuck in the middle of a Sith invasion; Karre and Am, twins raised from birth to be powerful in the ways of the dark side; Kara, the daughter of a legendary sword smith who may be the only hope for a new generation of Jedi Knights; and the Elder, an aging master swordsman who travels the galaxy looking for worthy challengers.
But there's one character in particular who seems to be a standout with fans, and it's for good reason. After all, she's the only character in Visions who's also a humanoid rabbit with a lightsaber. We're of course talking about Lop, who is voiced by Anna Cathcart in the heart-wrenching "Lop and Ocho," the Geno Studio short about a family divided by opposing ideologies.
We first meet Lop as she's escaping a life of slavery under the Empire, who have occupied the resource-rich planet of Tao and are using Lop's people as forced laborers. It's during this escape that Lop meets young Ocho (Hiromi Dames) and her father Yasaburo (Paul Nakauchi), the planet's leader, who begrudgingly takes her in at first but later accepts her as his true Jedi heir after Ocho betrays her clan and joins the Empire. The eventual showdown between Lop and Ocho leads to a bittersweet ending, with Lop unable to save the sister who once saved her. Despite its colorful 2D animation style and cute characters, this tale of found family turns out to be a sad one.
Fortunately, it gives us a memorable hero in Lop, a character who seems destined to jump out of Visions and into her own adventures, just like Ronin, who is the focus of a Star Wars novel out in October. And just like Ronin is heavily inspired by the samurai of Akira Kurosawa movies like Yojimbo and The Hidden Fortress, Lop has her own inspiration that dates all the way back to 1977 and Marvel Comics.
As confirmed by director Yuki Igarashi, Lop is inspired by Jaxxon, the smuggler first introduced in Marvel's classic comic book, Star Wars #8. If you're familiar with the book, you likely remember Jax as the ferocious green rabbit (a species called "Lepi") pointing dual blasters at an unknown enemy on the cover of the issue. But Jaxxon's no joke.
While he was created by Roy Thomas and Howard Chaykin as an homage to Bugs Bunny, Jaxxon is actually a tough-as-nails smuggler who is recruited by Han Solo and Chewbacca to help defend a village on the planet Aduba-3 from bandits in what's basically a re-telling of Kurosawa's Seven Samurai. Jaxxon decides to join Solo's gang of scoundrels (known as the "Star-Hoppers of Aduba-3") in order to earn enough credits to fix his ship, the Rabbit's Foot (no I'm not making that up).
But despite being a major character in Star Wars #8-10, and one of the very first original creations for the Star Wars Expanded Universe, Jax unfortunately fell into obscurity after his stint with the Star-Hoppers, although he does appear in a later issue from 1978 where he takes down cyborg bounty hunter Beilert Valance, who is currently enjoying a run as the star of Marvel's new Bounty Hunters comic book series.
No such luck for the bunny, though. Forty-five years later and there's still no justice for Jaxxon, who's only really appeared in a couple of IDW's Star Wars Adventures annuals and Star Wars #108, a special issue published in 2019 that pays homage to the original Marvel run from the '70s, since his debut. While this badass bunny gunslinger briefly commanded the attention of the Star Wars fandom post-A New Hope, poor Jax is now largely treated like a space oddity from another era of movie tie-ins.