Features
How Star Wars: The Clone Wars Introduced a New Sound for the Saga
Star Wars composer Kevin Kiner looks back on his game-changing scores for The Clone Wars, Rebels, and The Bad Batch.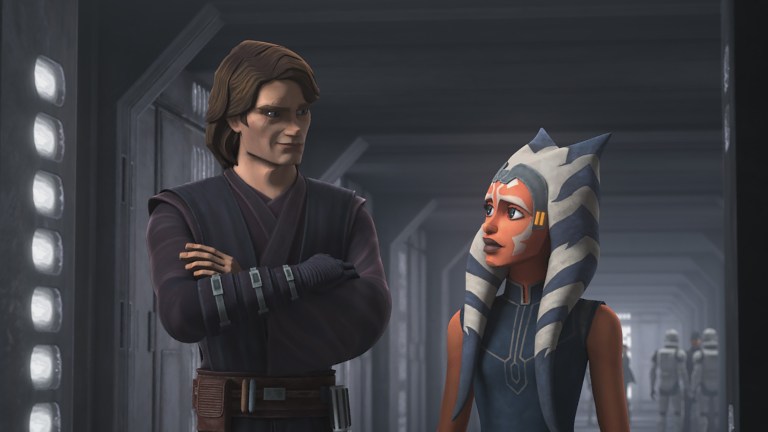 Few scores in Hollywood history are as iconic as the ones composed by the legendary John Williams for the Star Wars saga. In fact, Williams' compositions are as fundamental to the galaxy far, far away as George Lucas' imagination and the writing of Joseph Campbell. Without his music, Star Wars would have never been a hit back in 1977.
So it isn't an exaggeration to say that film and television composer Kevin Kiner had some very big shoes to fill when he was tapped to create the score for The Clone Wars, an animated film that marked the start of a new era for the franchise in 2008, just three years after the release of the final prequel film. Not only was this film a pilot for an even more beloved animated series that in turn paved the way for the era of Star Wars TV we're enjoying today, but it was the first not scored by Williams himself.
Fortunately, Kiner was up to the task. With his percussion-heavy rendition of the main Star Wars theme, Kiner ushered us into the world of The Clone Wars, and the Star Wars animated universe as a whole. Today, the composer's work is as synonymous with Star Wars animation as Williams with the big-screen Skywalker Saga.
His most recent scores for the final season of The Clone Wars and the first season of The Bad Batch are among his best, in no small part due to the way he's been able to evolve the sounds of Star Wars beyond the orchestral. Kiner's final compositions for The Clone Wars involved heavy use of analog synthesizers to create the moody sounds of the show's somber farewell. The very electronic Clone Wars themes for Maul and Darth Vader, which he composed with his sons Sean and Dean (who've also joined him for The Bad Batch), are two of the best pieces of Star Wars music ever written.
Last May, I sat down with Kiner to talk about completing his work on The Clone Wars, the new sounds of The Bad Batch, and what it was like meeting Williams for the first time. This interview has been edited for length and clarity.
Den of Geek: Following up John Williams' Star Wars scores is a tall order but your work in the animated universe has become iconic in its own right. What was the process of creating the music for The Clone Wars like?
Kevin Kiner: At first, I was all directed by George Lucas and Dave Filoni, and I had already been studying John Williams' scores for 27 years, probably since 1980 or '81. Initially there were two directives: one was from George Lucas. He wanted a lot of world music in the beginning of The Clone Wars, and so I had to incorporate a lot of that. The other side of it was to make sure that it sounded like Star Wars. So the first thing I wrote was "Ahsoka's Theme," and another one was the thing I call "A Galaxy Divided," which is the bridge right after the Star Wars theme plays. And that "A Galaxy Divided" was my composition, but I feel there's elements of John Williams in it, at least his scope and his cinematic kind of classical feel.
So at first I was very conscious to make sure that it had a lot of the John Williams DNA in it, even if it wasn't his melodies, his orchestration techniques, his use of chords, his use of harmony and counterpoint, etc. As the years have gone on, it's evolved away from that. It's evolved, for Rebels, back to John Williams, where we really rebooted and went to A New Hope for a while, at least in the beginning of Rebels, then it started evolving away from it again.
By the end of The Clone Wars, it had evolved to a full-on electronic ending with Darth Vader, which was kind of a very, very different thing. So my process has changed over the years I hope for the better in that you just don't want to get stuck in a rut, really.
What were your interactions with George Lucas like in the early days?
I mean I could write maybe not a book but a pretty long short story about my experiences with George Lucas and how they influenced me, and one of the great things about him is he loves to throw things up against the wall and see if they stick. Loves to experiment. Hates to do the same thing over and over again. Really hates to — maybe to his detriment, I don't know — but I mean he'd just say like, "Oh, I've already done that."
And I understand that as a composer. If I do this lick from G to A minor, and if I do it over the course of 35 years or whatever I've been doing this, it's like, "Maybe I shouldn't do that anymore." And then I go and I watch a Marvel movie, a big A-list feature, and there he's going G to A minor, I'm like, "Well, sheesh, I wouldn't have done that. That's boring as hell."
But it's not. The thing is it's not really boring as hell. You have to learn when something is working. Maybe you freshen it up a little and find a new way to do it and challenge yourself, but my point is, about George, is he really loves to keep pushing the envelope, and he did with me musically very early on. And a lot of the stuff didn't work and a lot of the stuff did work.
The world music really worked. I mean the Bulgarian vocals early on in The Clone Wars was really, really fun. So that's one of the great things I learned from George, and being pushed like that by your boss is a great thing.
But as you said, the score evolved, especially in the series finale. Is there a specific reason you chose a more electronic sound for Maul and Darth Vader? It doesn't sound anything like William's themes for the character but it's so fitting at the same time.
First of all, I have, in the last five, six, seven years, been co-composing with my two sons [Sean and Dean], and maybe first it was more my oldest son, but for sure the last four years both of them have been onboard. And they really help to keep me fresh because they listen to completely different music than I did.
They're way into authentic analog synths as well as some of the virtual synths. I think sometimes there's a tendency for people to get this analog snobbery, and I definitely have a little bit of that, because I had those real synths and I've had to go back and buy them again. I threw away my Prophet-5 [synthesizer] or gave it away for $200 or something. I had to buy another one because now it's kind of back. So I love those synths and I love those sounds, but there's also new stuff that's coming out in the virtual world that we use. But I'd say a lot of the sonic magic comes through my sons, you know? They're way deep into it and it's really been a cool process.
And now we get to hear more of that evolution in The Bad Batch. What it's been like composing the score for the new show?
I imagine there was a difference between Clone Wars and Rebels, then there was a difference between Rebels and season 7 of Clone Wars. There's going to be a difference between that and Bad Batch, but I don't think anybody or especially the casual listener would go, "Whoa, this is completely different. I've never heard anything like that before," right? Again, so it's an evolution. It still has a comfort zone that is Star Wars, that is Clone Wars. It's the animated sound that I've come up with over all these years, but it's still moving forward in different ways.
I play this instrument. I mean just in a few cues, but it's called a GuitarViol and you bow it like a cello or viola, but it has frets. And sometimes I pluck it, and then other times I bow it. I mean I'm not great at this instrument, but I try to use that as a strength so that it doesn't sound like a really, really perfected kind of cello sound or something. I hire a cello a player if I want to do that.
So this is like a funky, earthy, Chinese violin kind of [sound], but you can't really place what it is, and I use it a little bit, very soloistically along with a vocal in Bad Batch. I mean that's not to say the whole score is like that; it's only one cue, but that's an example of how I'm trying to push things for Bad Batch.
You mention staying true to Williams' original scores for these shows. Have you ever met him?
I've only met John Williams twice, and we never talked about Star Wars ever.
What did you talk about then?
"How was dinner?"
I mean that guy is so famous and people come up to him every 10 seconds, and saying, "Oh my god, you changed my life. I love you. I love your music." I did absolutely tell him that he was a big reason that I got into film composing, and that I consider him the greatest ever, which I do. But man, he's heard that a lot, and so yeah, the chicken was a little rubbery, I think, so let's talk about something we care about right now.
You've obviously spent a lot more time with Dave Filoni. What's your collaboration with him like?
You know, Dave Filoni is such a wealth of knowledge and a wealth of creative inspiration. We have these things called spotting sessions. We get together and we've been doing this for a long time before the pandemic, because he's usually in the Bay Area and I'm in LA, so we had to do it over the phone and through video conferencing.
We'd get together and talk about, "Well, there should be music here. I like the way this works. This needs to have a crescendo." All these different things as we watch the picture, but I would say a majority of the spotting sessions with Dave Filoni are him giving us backstories into the characters and into the lore.
When fans think about animated Star Wars characters, they undoubtedly think about the themes that accompany them, the same way people connect "The Imperial March" to Darth Vader. Do you have a favorite character to compose for?
There are two of them, and for different reasons. My overall favorite, because I've written for this character so much, is Ahsoka, and I'm very proud of "Ahsoka's Theme." But when I first answered that question a few days ago, my first gut thing was Darth Vader. And I thought about this and that was the fan in me. The reason is I went to [Star Wars] in 1977 when I went to UCLA, it's the biggest thing I ever saw. It's a very big part of the reason I'm a film composer, television composer now, is because of John Williams and his scores. And when I first wrote a scene with Darth Vader in it, it was like "Whoa, this is so cool."
You've scored so much Star Wars at this point. What keeps you coming back to do it again?
It's Star Wars, man. It's sort of like asking a famous baseball player, "You've been to so many World Series. Is there something unusual about this World Series?" You're like, "No man, it's the World Series, dude. It's amazing." So if I needed something more than that to get excited, I don't know what it would be.
Star Wars: The Bad Batch season 2 will air in 2022. In the meantime, you can find all of Kevin Kiner's excellent music here.