News
Star Wars Fans Have Mixed Reactions to The Book of Boba Fett Finale
As The Book of Boba Fett signs off with an action-packed finale episode, Star Wars fans decide its cultural importance in a galaxy far, far away.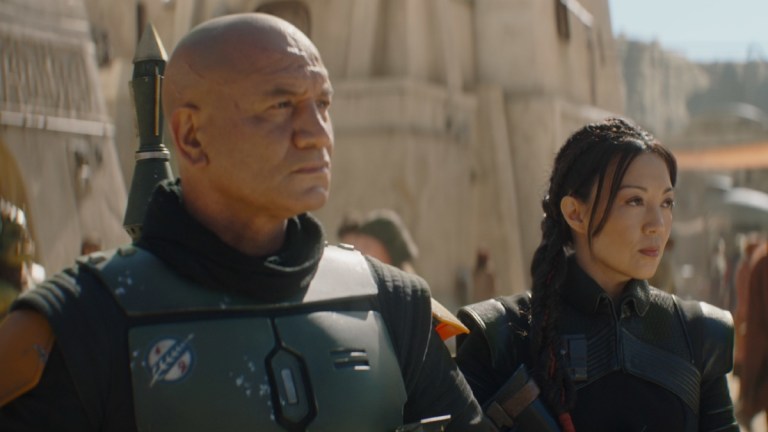 This article contains spoilers for The Book of Boba Fett episode 7.
The Book of Boba Fett has now delivered its final episode on Disney+ and its story – a mashup of Fett flashbacks, Tatooine politics, and between-season Mando adventures – has polarized Star Wars fans, many of whom wished it would simply concentrate on just one of its chosen narratives throughout its run.
In its season finale, The Book of Boba Fett gathered together all its major post-RoTJ players, including Fett, Fennec Shand, Mando, Grogu, Peli Motto, Black Krrsantan, Cad Bane, the mod biker gang, and Chekhov's Rancor, for a showdown on Tatooine that would establish Fett's dominance in Mos Espa against the fearsome Pyke Syndicate, who were out to steal Jabba the Hutt's old territory from the retired bounty hunter so they could easily trade spice on the desert planet.
Fett found himself surrounded by his supporters in the final conflict, but they were rather outgunned by the Pykes' fighters and weaponry for the most part until Fett triumphantly rode his new Rancor pet into battle. Then, it was up to Grogu to tame the raging beast after Cad Bane engineered a standoff with Fett that Fett eventually won using his Tuskan Raider training.
With Mando and Grogu back together just in time for a third season of The Mandalorian, Fett and Shand roaming their Mos Espa territory with a newfound gusto, and the Pyke Syndicate running scared, all the The Book of Boba Fett had left to wrap up was the fate of Cobb Vanth, and a post-credits scene soothed any nerves that we'd seen the last of the handsome sheriff, as Stephen "Thundercat" Brunner prepared to work some mod magic on Vanth's injuries while he chilled in Fett's healing bacta tank.
Star Wars fans had mixed reactions to the finale, with some delighted at the way it played out. But The Book of Boba Fett remained a tough pill to swallow for others who didn't feel like all the story elements in the Lucasfilm series found a solid equilibrium overall.
Here's how viewers expressed themselves as this week's installment of The Book of Boba Fett unfolded…
The Book of Boba Fett stars Temuera Morrison as Boba Fett, Ming-Na Wen as Fennec Shand, Pedro Pascal as Din Djarin, Matt Berry as the voice of 8D8, David Pasquesi as the Twi'lek majordomo to Mok Shaiz, Jennifer Beals as Garsa Fwip, Carey Jones as Black Krrsantan, Corey Burton as Cad Bane, Sophie Thatcher as Drash, Jordan Bolger as Skad, Amy Sedaris as Peli Motto, Timothy Olyphant as Cobb Vanth, and Rosario Dawson as Ahsoka Tano.
All seven episodes are now streaming on Disney+.