Reviews
Star Wars: The Book of Boba Fett Episode 6 Review: From the Desert Comes a Stranger
Star Wars tie-ins begin to eat their own tail in a surprising The Book of Boba Fett.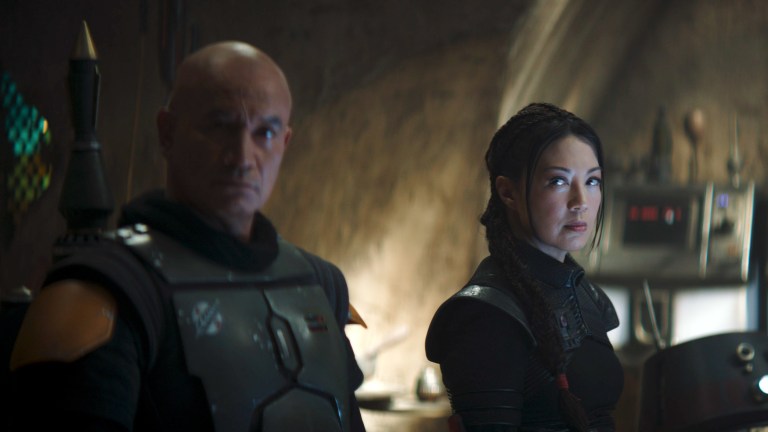 This STAR WARS: THE BOOK OF BOBA FETT review contains spoilers.
The Book of Boba Fett Episode 6
Star Wars Rebels, the four-season animated series, was one of the early long-form explorations of Disney-Lucasfilm's new canon. Starting out with a cast of new characters and found family relationships, it grew bigger in scale as it went on. All standard for television, except that "bigger" often meant returning to the past. Showrunner Dave Filoni returned to his The Clone Wars roots, as well as to classic Star Wars books, to add shocks and pathos. With The Book of Boba Fett drawing heavily on both The Mandalorian and The Clone Wars in its penultimate episode, this seems to be the shape of most Star Wars stories to come.
Remember Cobb Vanth, the sheriff who gave up Boba's armor in exchange for Din helping him with a dragon problem? He's back to stop a Pyke spice deal. Then, the episode leaves Tatooine (and Boba Fett) even farther behind. Din Djarin has found his way to Luke Skywalker's new academy, currently just a construction site in a lush bamboo forest. Luke trains Grogu in the way he was trained, with physical challenges interspersed with lessons on the dangers of attachment and emotions.
Although Din wants to reunite with his adopted son, he's stopped by Ahsoka. She's been there for an indeterminate amount of time helping Luke set up. She's also big on non-attachment, warning Din to examine his own motives and not to "control the wants of others." Convinced, Din gives her the baby-sized beskar chain mail and reluctantly leaves for Tatooine. After a very brief appearance from Boba Fett himself, as he and Fennec get ready for their miniature war against the Pykes, Cobb bookends the episode. He has an Old West showdown with Cad Bane, the bounty hunter from The Clone Wars (and, more recently, The Bad Batch) that ends up with Cobb in the dirt and Bane headed back to the Pykes. Finally, the Pykes destroy the Sanctuary bar, and Luke gives Grogu a choice: become a Jedi or return to the Mandalorians.
"From the Desert Comes a Stranger" takes the "documentary" approach that George Lucas favored decades ago, fixing the camera on incidental movements and visually striking design elements with unmoored confidence. Filoni's direction continues to improve, and he isn't lifting directly from someone else in this episode. The wild combinations of characters certainly kept things interesting, with the well of cameos flowing until that truly unexpected Cobb-Cad standoff. Cameos aren't a death knell, but the strange narrative weight given to Cad's reveal as opposed to Din Djarin and Grogu, what it means to be a Jedi in the post-Return of the Jedi era, or Boba Fett himself made it feel unbalanced. How much is wonder and how much deja vu?
Luke Skywalker's appearance in particular highlights the show's unevenness. His literal appearance has improved, the digital de-aging less jarring. As a recreation of the Luke from Return of the Jedi, he evokes the triumph and fun of that film. But, despite the soaring music, all does not seem well in the state of Luke's Jedi academy. Instead of improving on the methods of his teachers, Luke doubles down on non-attachment and callousness. Did some folks find the baby dodging practice blaster-fire cute? It seemed tonally jarring to me, too incongruous to be funny.
Lots of creators, Lucas included, have erred on the side of making the Force look a bit ridiculous. But its silly introduction in this episode, Luke and Grogu levitating frogs, stands out in particular in stark contrast to the cool bounty hunters and desert police. Luke isn't given time to be mysterious, or to actually help anyone on the isolated planet where he lives. Instead he pushes Grogu too far, and reacts coldly to even a scene that should have been more personal for him: Grogu's vision of Order 66.
Rosario Dawson's Ahsoka has also been given a bit of a tune-up, her affect more in line with her Rebels version. It's neat to see these two legendary Jedi talking to one another, and I'm itching to know whether they ever talked about Anakin Skywalker…a question that becomes even more frustrating when Ahsoka compares Luke to his father.
Perhaps the Jedi of the Sequel Trilogy were always destined to go this way, with Luke's teaching hidebound and doomed until Rey comes along to really make the change in an as-of-yet unseen future. I try not to get lost in missing the burdened, indecisive but always kind and warm Luke from the Legends novels I grew up with. Maybe that's nostalgia talking, but wouldn't it be nice for the character to be a bit kinder, like when Grogu digs up a traumatic Order 66 memory? There's just no warmth from Luke as a mentor.
Some positives: Timothy Olyphant is undeniably good, especially at that crucial Star Wars skill of mostly monologuing against someone without a human face. This show continues to flesh out Tatooine, with the cool shot of Jawas hauling a krayt dragon skull and Vanth's crew's awareness of where their jurisdiction sits far away from the "big city" of Mos Espa. Bringing in more Western-inspired set pieces into a show that's clearly trying to emulate the genre works very well, too.
Last week I enjoyed the jaunt into The Mandalorian, but with this episode also leaving Boba mostly out of his own show, that's changing. The flashbacks weren't enough to really clarify who Boba is now, and Cad Bane's assertion that Boba is still a bad guy remains equally un-dramatized. Temuera Morrison has brought humor and gravitas to his role, yet is given so little to do for two entire episodes of a seven-episode series with his name on it. At the same time, it's no longer possible to say this show is skippable. It follows up on too much of Din and Grogu's story for that. Despite the pleasant visuals, I'm no longer even sure what The Book of Boba Fett is about.