Features
Will the Obi-Wan Kenobi Finale Bring Back Qui-Gon Jinn as a Force Ghost?
Liam Neeson said he's not interested in bringing back Qui-Gon Jinn, but what are the chances he's just covering up a secret cameo in the Obi-Wan Kenobi finale?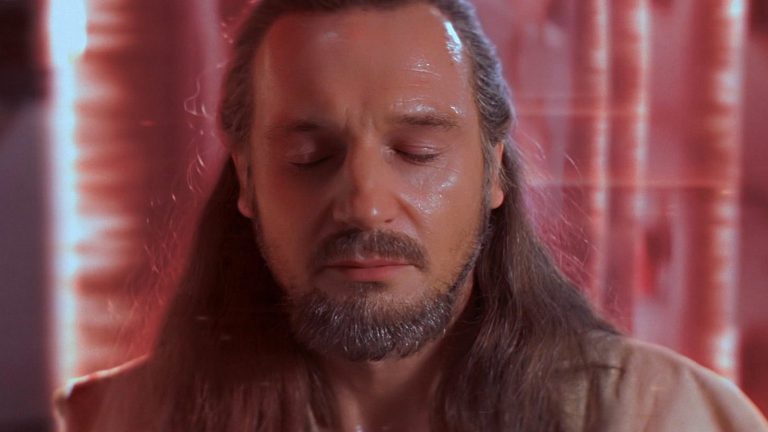 This Star Wars: Obi-Wan Kenobi article contains spoilers.
With just one episode of Obi-Wan Kenobi left, there are still plenty of questions on fans' minds. How will the Jedi Master escape the wrath of Darth Vader and finally deliver Princess Leia back to Alderaan? What is Reva's plan for little Luke Skywalker back on Tatooine? Will Ewan McGregor finally say the thing?
But even those pale in comparison to the million dollar question: will Obi-Wan Kenobi end with the return of Liam Neeson to the Star Wars universe in the form of Qui-Gon Jinn's Force ghost?
For weeks, the show has teased as much. In fact, Obi-Wan called out to his former master through the Force in the very first episode, signaling that the show was interested in picking up threads first set up at the very end of Revenge of the Sith when Yoda revealed that he could show Obi-Wan how to communicate with Qui-Gon's spirit. While Obi-Wan has yet to receive an answer from the afterlife in the first five episodes, it would very be weird to set up Qui-Gon's return if the show didn't intend to bring him back in some form — even if it's just Neeson's bodiless voice speaking through the Force as he did very briefly in Attack of the Clones.
All that said, Neeson himself will be the first to tell you there's no secret cameo in the works. When Comic Book asked the actor ahead of the series premiere if he'd be interested in reprising his Star Wars role again, Neeson said of course but not on TV: "Oh, yeah, I think so…if it was a film. I'm a bit of a snob when it comes to TV, I must admit, I just like the big screen, you know?"
Neeson's reason for not wanting to do Obi-Wan Kenobi would be fair enough — if it weren't for the fact that he's already set to play Qui-Gon once again on Disney+, this time voicing the character for the animated anthology series Tales of the Jedi, which is hitting the streaming service this fall. This won't even be the first time Neeson has returned to voice the character for animation. He previously appeared on episodes of The Clone Wars. Last I heard those all counted as TV.
And if Neeson were to reappear as Qui-Gon on Obi-Wan Kenobi, it wouldn't be his first TV credit in 2022, either. He also popped up on the British sitcom Derry Girls as well as the FX dramedy Atlanta earlier this year.
So why would Neeson say he's not interested in doing any more TV while also lining up roles on the small screen in between his movie releases? Well, it would hardly be the first time an actor has denied they're in a show or movie in order to hide a big secret… Like a big, internet-shattering cameo in Obi-Wan Kenobi.
Fortunately, we'll know soon enough whether Neeson is fibbing or not. Either way, with Vader on his tail and Reva on her way to find Luke, a very tired Obi-Wan could definitely use a pep talk from his old master.