Features
Star Wars Obi-Wan Kenobi Cast: Meet the New Characters
Obi-Wan Kenobi introduces many new faces to the Star Wars universe. Here are all the cast members you need to know and where you've seen them before.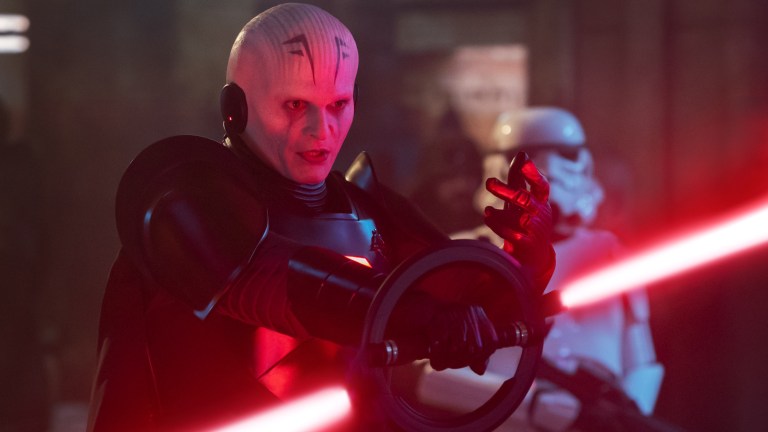 This Obi-Wan Kenobi article contains spoilers.
Obi-Wan Kenobi brings back Ewan McGregor and Hayden Christensen to their iconic Star Wars roles, but the show also boasts a very strong ensemble cast beyond its central stars. There's Moses Ingram as the menacing new villain Reva and Rupert Friend as the Grand Inquisitor, as well as quite a few welcome surprises fans will be talking about far after the credits have rolled.
Here are the Obi-Wan Kenobi actors you need to know and where you've seen them before:
Ewan McGregor as Obi-Wan Kenobi
You know Ewan McGregor well. But in case you somehow missed the Prequel Trilogy, McGregor first played the role of Obi-Wan Kenobi in 1999's The Phantom Menace, reprising the role in Attack of the Clones and Revenge of the Sith. Before Star Wars, he was best known for his character Mark Renton in Danny Boyle's Trainspotting. More recently, you've seen him as an adult Danny Torrance in Stephen King sequel Doctor Sleep and as the villain Black Mask in DC's Birds of Prey. McGregor will next star in Guillermo del Toro and Mark Gustafson's Pinocchio adaptation, which is out this December.
Hayden Christensen as Darth Vader/Anakin Skywalker
Although he kicked off his acting career in the '90s with very minor roles in John Carpenter's In the Mouth of Madness and Sofia Coppola's The Virgin Suicides, 2002's Attack of the Clones was Hayden Christensen's big break. In the latter two Prequels, he plays Anakin Skywalker, the conflicted young Jedi Knight who is destined to become the evil Darth Vader. Much has been said about his performance in those movies already, so we went dwell on it further here. But if you want to watch Christensen's best performance of all time, you need to watch him as disgraced investigative reporter Stephen Glass in the 2003 biopic Shattered Glass.
Moses Ingram as Reva/The Third Sister
Moses Ingram is an absolute powerhouse as the ruthless Reva, an Imperial Inquisitor who isn't afraid to undermine and stab her own boss to get what she wants. While the show is ostensibly about Obi-Wan and Darth Vader's epic rematch, the series also puts a bit of focus on this dark sider, who clearly has some kind of hidden past with the Jedi that will likely be teased out over the next few episodes. Ingram herself is still a relative newcomer, but you've seen her in The Queen's Gambit, The Tragedy of Macbeth, and this year's Michael Bay actioner Ambulance.
Vivien Lyra Blair as Princess Leia Organa
Surprise! You likely thought the show was going to spend a bit of time showing us who Luke Skywalker was as a 10-year-old bored out of his mind on that farm on Tatooine, but Obi-Wan Kenobi is actually more interested in his twin sister, Princess Leia Organa of Alderaan. In fact, little troublemaker Leia is the reason Obi-Wan is forced to come out of hiding, setting the events of the show in motion. Leia is played by the adorable Vivien Lyra Blair, who most recently played little Eleanor Roosevelt in the Apple series The First Lady. She'll next appear in the adaptation of Stephen King short story The Boogeyman.
Grant Feely as Luke Skywalker
He's only on screen for about a minute, but yes, that's little Luke running around the Lars homestead while Uncle Owen tries to teach him how to farm. Luke is played by newcomer Grant Feely, whose only previous TV credit is an episode of Creepshow.
Rupert Friend as The Grand Inquisitor
What the heck? Did Obi-Wan Kenobi really kill off Rupert Friend's Grand Inquisitor in the second episode? Fans will likely be speculating about that for a while, especially since it could potentially present a continuity error we're not going to get into here. But it would be a shame not to get more of Friend's menacing performance as the leader of the Inquisitors. While he's almost unrecognizable under all that makeup, you've likely seen Friend plenty of times outside of Star Wars. He was regular on political thriller series Homeland, co-starred in Willem Dafoe vehicle At Eternity's Gate, and just starred in Anatomy of a Scandal.
Sung Kang as The Fifth Brother
Sung Kang has a new family in Obi-Wan Kenobi, one even more dysfunctional than the one at the center of the other massive franchise adorning his filmography. While you like know him best as Han Lue from the Fast & Furious movies, he's been covered in some very heavy makeup to play the Fifth Brother, an Inquisitor who actually first appeared in the Rebels animated series. Continuing the thread of Stephen King connections, you can also see Kang in a recurring role in the Apple adaptation of Lisey's Story.
Rya Kihlstedt as The Fourth Sister
We meet another new Inquisitor in the second episode of Obi-Wan Kenobi: the Fourth Sister, who is played by Rya Kihlstedt. '90s kids may recognize her as one of the criminals in Home Alone 3, but more recently she's appeared on Agents of SHIELD, Yellowstone, the Charmed reboot, and Superman & Lois.
Flea as Vect Nokru
Red Hot Chili Peppers bassist Flea (real name Michael Peter Balzary) already had plenty of nerd cred after appearing as Marty's nemesis Needles in Back to the Future Part II and Part III, as well as one of the nihilists in The Big Lebowski. In Obi-Wan Kenobi, he plays a bounty hunter named Vect Nokru who's clearly in way over his head when the Jedi Master comes to town to save Leia.
Jimmy Smits as Bail Organa
It's so nice to see Jimmy Smits back as Bail Organa. Smits first played the role in Attack of the Clones and Revenge of the Sith before reprising the role for Rogue One in 2016. But this is the most time we've ever actually spent with Bail on Alderaan, which has barely ever appeared in live-action beyond being blown up in A New Hope and a brief scene in the third Prequel film. Outside of Star Wars, Smits is best known for his TV roles in hit shows such as LA Law, NYPD Blue, The West Wing, and Sons of Anarchy.
Simone Kessell as Breha Organa
Despite playing such an important role in the life of Princess Leia, we've never actually spent much time with Breha Organa, Leia's adoptive mother. Originally portrayed on the big screen by Rebecca Jackson Mendoza for a brief scene in Revenge of the Sith, Breha is played here by Simone Kessell. Her nerdy roles include roles in Hercules, Xena, and Farscape.
Kumail Nanjiani as Haja Estree
Actor and comedian Kumail Nanjiani is fantastic as the fake Jedi/con man Haja Estree. While he seems like straight up scum at first, Haja proves that he actually has a heart of hold, helping Obi-Wan and Leia escape Daiyu just in the nick of time. You also know Nanjiani as Kingo in Marvel's Eternals, but he's popped up in tons of other nerdy things, including in the revival of The X-Files, a show he loves so much he even hosts a podcast about it. He also starred in an episode of Jordan Peele's Twilight Zone revival. Nanjiani is an Academy Award-nominated screenwriter, garnering some very well-deserved critical acclaim for his semi-autobiographical film The Big Sick.
Temuera Morrison as Clone Trooper
Temuera Morrison! As a clone trooper! What a pleasure it is to see Morrison cameo on Obi-Wan Kenobi, even if it is as a down-on-his-luck clone veteran on the streets of Daiyu. This charismatic actor needs no introduction since he's also the face of Jango and Boba Fett. In fact, you just saw Morrison earlier this year as the star of The Book of Boba Fett. He was great as an older, wiser version of the bounty hunter, even if the show itelf wasn't up to par.
Benny Safdie as Nari
Obi-Wan isn't the only Jedi hiding out on Tatooine. There's also Nari, a runaway who desperately needs the Jedi Master's help but ultimately doesn't get it. The last we see of Nari, he's been hanged above the town square. Nari is played by Benny Safdie, who is one half of a directing duo with his older brother Josh. Together, they wrote and directed the excellent thriller Uncut Gems, starring Adam Sandler in perhaps the best role of his entire life.
Joel Edgerton as Owen Lars
Originally cast as the younger version of Uncle Owen in Attack of the Clones and Revenge of the Sith, Joel Edgerton gets a bit more to do in Obi-Wan Kenobi. It's clear by the end of the first episode that he has no love for the Jedi, and cares deeply about Luke's safety, even if it means hiding the truth from the boy. And we also learn Uncle Owen is kind of a badass, staring down an angry Inquisitor to begrudgingly protect Obi-Wan's life. If you want to check out Edgerton in one of his best non-Star Wars roles, watch the 2017 psychological horror movie It Comes at Night.
Bonnie Piesse as Beru Lars
Also back is Bonnie Piesse as Aunt Beru. She was first cast in the role for Attack of the Clones and Revenge of the Sith.
Anthony Daniels as C-3PO
Anthony Daniels appears very briefly as C-3PO in the party scene on Alderaan. You can see him walking around in the background of the Organa's home with R2-D2.
Ming Qiu as Jedi Master Minas Velti
The Jedi in the Order 66 scene is a new character named Minas Velti, played by Ming Qiu, who is best known as a stunt performer. You've seen her work in The Mandalorian, The Book of Boba Fett, The Matrix Resurrections, Shang-Chi, and many other films and TV series.