News
New Star Trek Series Focusing on Captain Pike and Spock Coming
Pike, Spock, and Number One will return to our screens with their very own live-action series called Star Trek: Strange New Worlds.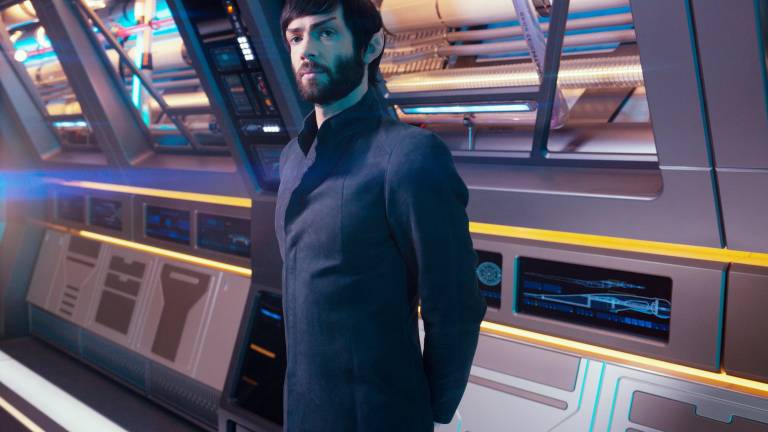 Star Trek fans have been clamoring for more Captain Pike (Anson Mount), Spock (Ethan Peck), and Number One (Rebecca Romijn) ever since their Original Series characters were reintroduced to the Trek world in the second season of Star Trek: Discovery. While that last show has struggled somewhat to find its voice amidst the cacophony of TV content out there right now, the Enterprise trio has clicked from day one. Hopefully, that kind of tonal focus will continue now that the beloved characters are getting their very own TV series.
CBS All-Access announced today that they have ordered Star Trek: Strange New Worlds, a story featuring Pike, Spock, and Number One to series. Check out the announcement video featuring Mount, Peck, and Romijn…
"We're going to get to work on a classic Star Trek show that deals with optimism and the future" seems to be the mission statement for the show. Many, looking for a more utopian story, have bemoaned the grittier, more nihilistic elements of Discovery. If Strange New Worlds is looking to tell a more idealistic story, it is able to do so with nuance, complexity, and while saying something vital about the world we live in.
The Strange New Worlds premiere will be written by Akiva Goldman, from a story by Goldman, Alex Kurtzman, and executive producers Jenny Lumet. Henry Alonso Myers, Heather Kadin, Rod Roddenberry and Trevor Roth will also serve on executive producers on the new show, with Aaron Baiers, Akela Cooper and Davy Perez as co-executive producers. Interestingly, Myers recently wrapped up his work as executive producer on The Magicians.
"This is a dream come true, literally," Goldsman, who also directed the Picard finale, said of the new show (via Deadline). "I have imagined myself on the bridge of the Enterprise since the early 1970s. I'm honored to be a part of this continuing journey along with Alex, Henry and the fine folks at CBS."
"These iconic characters have a deep history in Star Trek canon, yet so much of their stories have yet to be told," said Kurtzman. "With Akiva and Henry at the helm, the Enterprise, its crew and its fans are in for an extraordinary journey to new frontiers in the Star Trek universe."
Strange New Worlds aims to "take the trio of Spock, Pike and Number One and the U.S.S. Enterprise almost right up to the reign of that certain James T. Kirk, almost." It will presumably start shortly after the events of the Star Trek: Discovery Season 2 finale. Strange New Worlds will join Star Trek: Discovery and Star Trek: Picard as the new, live-action Star Trek fare available to stream on CBS All-Access, though there are many other Trek shows at some level of development, including a Michelle Yeoh-helmed Discovery spinoff, an animated show called Lower Decks, and a CG-animated Nickelodeon series aimed at kids. 
No news yet on when Strange New Worlds might premiere. With Hollywood production shut down due to the COVID-19 pandemic, we're going to have to wait and see what a rollout timeline might look like for this show… and all others.