News
Strange New Worlds Finally Explains Return of Classic Star Trek Original Series Character
Strange New Worlds showrunners had long wanted to beam up Scotty to the Enterprise. Will more Original Series characters to follow?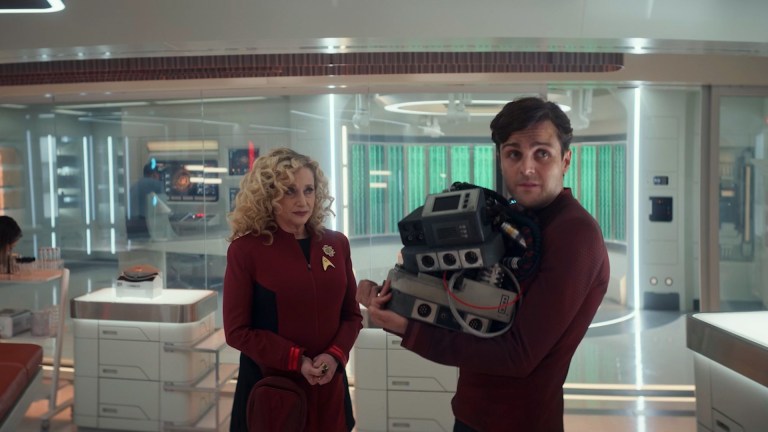 This Star Trek: Strange New Worlds article contains spoilers.
Prequel cameos are always tricky storytelling gambits. When done right, they can thrill fans with a shiver of recognition. When done wrong, it can feel cheap and sentimental, like almost everything with baby Leia in Obi-Wan Kenobi. But against all odds, Star Trek: Strange New Worlds has managed to stay on the right side of this balancing act.
Casting delightful actors such as Celia Rose Gooding and Jess Bush has allowed showrunners Akiva Goldsman and Henry Alonso Myers to explore characters who never really got their due in The Original Series. Ethan Peck and Paul Wesley manage to pay homage to Leonard Nimoy and William Shatner while forging their own takes on Spock and Kirk. Add to that number Montgomery Scott, the beloved engineer who made his SNW debut in the season two finale, "Hegemony."
We meet Scotty in the best possible way, when the Enterprise crew stumble into an ingenious trap the Lieutenant Junior Grade cobbled together to survive the Gorn. Played with both humility and abundant charm by True Scottsman Martin Quinn, Scotty immediately establishes himself as one of the episode's highlights.
For Myers, Scotty's appearance was a long time coming. "We've been talking about him for a while as a general idea," Myers explained to TVLine. "As we were going into the finale, it suddenly became a weird, rare opportunity to introduce him for a lot of different reasons." Once they realized that they had spot for Scotty, Myers and Goldsman then had a chance to make Star Trek history with the casting. "We also had a great opportunity to cast someone who's from Scotland," Myers enthused.
Of course, it wasn't just about the accent. Quinn also had to be both recognizable and distinct as Scotty, as he isn't yet the miracle worker who saves Kirk's Enterprise time and again. According to Myers, Quinn is an actor "who can do that Scotty, but also who can go through all of the things that we want to see him go through before he becomes the person that we know."
Indeed, all of the major TOS characters have had this mixture of familiarity and difference, whether it's Uhura unsure if she wants to join Starfleet, Kirk considering monogamy with Carol Marcus, or Spock experimenting with emotions. According to Myers, that tension makes for good storytelling with well-worn TOS characters. "We don't meet our understanding of who they are in that series, we meet who they are before," he explained. "They don't know who they will be, and they aren't that person yet. They have some stuff to go through."
For Goldsman, Scotty's appearance is just part of the nature of a prequel series like SNW. "[I]t starts to become inevitable that we start to pull in more folks that are sort of TOS-based," he admitted. Does that mean that Sulu, Chekov, and Rand will drop by in season three? Goldsman and Myers aren't saying anything yet, but they do promise this about the great Montgomery Scott: "We will see him more." As with all things Scotty, that's miracle enough.
Star Trek: Strange New Worlds is streaming now on Paramount+.