Features
Star Trek: Picard — Ranking Season 1's Deleted Scenes
There wasn't a ton of juicy Picard footage cut from the final episodes, but here's the best of what we didn't see.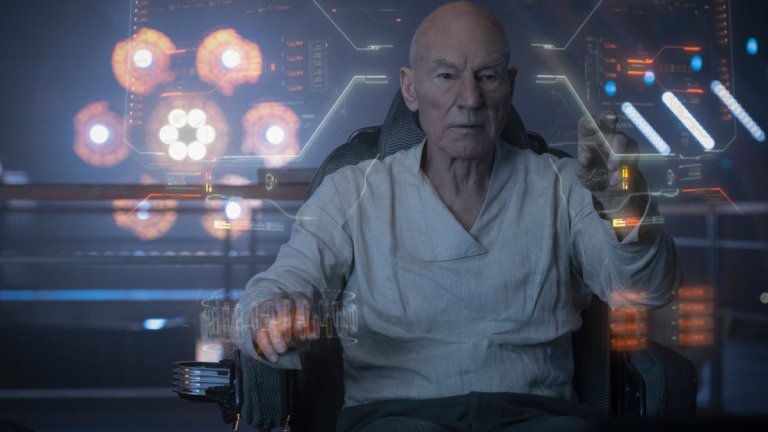 This Star Trek: Picard article contains some spoilers for Season 1.
As Star Trek: Lower Decks finally debuts internationally on Amazon Prime, Star Trek: Picard Season 1 arrives on DVD and Blu-ray for the first time in the U.K. Although the Blu-ray snuck in a U.S. release back in October, it's safe to say that Trekkies may have been pretty distracted by world-events (and Discovery Season 3!) at the time, and may not have delved-into all the extra Picard goodies! So, if you're a U.S. reader and you missed the news about the Picard deleted scenes the first time around, or if you're in the U.K. and you're just now getting your hands on the Picard Season 1 Blu-ray, here's what to know about the various deleted scenes.
First up, before getting into the weeds of the Picard Season 1 deleted scene ranking, it's important to note that the special features on the Blu-ray are pretty cool, and not the same behind-the-scenes features that were posted on StarTrek.com or featured on The Ready Room. Essentially, if you're looking for all those Wil Wheaton interviews with the cast and crew that happened while Picard was airing, those are not the Blu-ray. Instead, there totally different behind-the-scenes features, including full-episode video commentary for Episode 1, "Remembrance," which features series creators Akiva Goldsman, Alex Kurtzman, Kirsten Beyer, Michael Chabon, as well as the director of the first three Picard episodes, Hanelle Culpepper.
So, this is all to say that the Picard Blu-ray is much more than just some random deleted scenes. There's some super in-depth commentary on each episode ("The Mission Logs,") and some great mini-documentaries, too. 
BUT. What were the scenes we didn't see? Turns out there weren't a ton of deleted scenes from Star Trek: Picard Season 1, which could indicate that what we saw on screen was pretty close to what was intended all along. Here's a brief ranking of the deleted scenes on the Picard Season 1 Blu-ray…
4. "Broken Pieces" xBs and more Ramdha
In the episode "Broken Pieces," we get two deleted scenes, but both are so short that it feels right to list them as one entry. This was Episode 8 of Picard, so at this point, there's chaos on the Artifact, and these deleted scenes show how that chaos impacted a few characters everyone kind of forgot about. 
For example, remember Soji's researcher friend; Naáshala Kunamadéstifee (Chelsea Harris)? Well, in one deleted scene from this episode, we see her running around the chaotic Artifact, only to encounter an xB, who appears to say "we are Borg." In another deleted scene, we see Ramdha (Rebecca Wisocky) awaken, and sort of take-in the fact that the xBs seem to be rising-up against the Romulans.
3. "Et in Arcadia Ego, Part 1": Altan Soong plots with Sutra
In one cool deleted scene from the penultimate episode of Picard Season 1, we get to actually see Sutra and Altan walk through their plan to basically screw everyone over. In this scene, Altan tells Sutra that he's okay with dying if the humans leave them "no choice." He likens himself and organics to "the dinosaurs" dying out. But, this deleted scene also hints at Soong's extra robot body, the android Golem that ends-up being the method for Picard's rebirth.
2. Et in Arcadia Ego, Part 2": Extended "Blue Skies" Scene
In the final scenes of the last episode of Picard Season 1, after Data's real "death," there was a montage kind of telling us where everyone was ending-up. But, one thing cut from that scene was what happened to Narek and Narissa's auth, Ramdha. Yep, it's Ramdha again, your favorite Romulan xB! Well, in this deleted scene, we see that Ramdha is staying to live with the various Synths, which seems to imply that the xBs will integrate with the Synth population.
This could be a big deal for future seasons of Picard, or Trek in general. Like, what will happen to that Synth population now that a bunch of former Borg are living there, too?
1. "Remembrance": Picard uses his cane telescope and yells a lot
Without a doubt, the longest and most interesting deleted scene in all of Picard Season 1 is from the very first episode, "Remembrance." In this (fairly long!) deleted scene, we get to see Jean-Luc walking around Chateau Picard, kind of surveying what's going on. We also get to see him use his walking stick which is — wait for it — a secret telescope! Jean-Luc goes full Lemony Snicket and spies on some of the workers in his vineyard, a few of which are kind of making fun of him behind his back. Jean-Luc spots it, and threatens to "sack" one of the vineyard workers if he sees this behavior again.
It's a weird and awesome scene, but you really have to wonder, what happens when somebody is fired on a planet with no money? Like, how does that work? Either way, this scene gives us more of Laris (Orla Brady) giving people Romulan side-eye, which alone, is worth the price of the entire Blu-ray. Obviously, the hope is that somewhere, there are enough deleted scenes we didn't see to create an entire Larsis and Zahban miniseries. But, if there aren't, lets just hope they're back for Season 2.
Picard Season 1 is now available on Blu-ray, DVD and Digital Download & Keep for UK fans.