News
Star Trek: Lower Decks Full-Length Trailer Revealed
With the first full-length trailer for Lower Decks, we have our best proper look at the upcoming animated Star Trek series.
Times may be dark, but at least we have a new Star Trek show on the horizon. Star Trek: Lower Decks, a half-hour animated comedy series from Rick and Morty's Mike McMahan is set to premiere in less than a month and CBS just dropped our best look yet at it. Check out the full-length trailer for Lower Decks below…
As you can tell from the trailer, Lower Decks will focus not on the bridge crew of one of Starfleet's most impressive ships, but rather the support crew of one of its least important ones. The action (or, you know, not) is set on the U.S.S. Cerritos in the year 2380. Our heroes (or, you know, not) are Ensigns Mariner, Boimler, Rutherford, and Tendi, who, according to the official synopsis "have to keep up with their duties and their social lives, often while the ship is being rocked by a multitude of sci-fi anomalies."
The show premieres on CBS All-Access on Thursday, August 6th, and will be released weekly. It stars Tawny Newsome as Ensign Beckett Mariner, Jack Quaid as Ensign Brad Boimler, Noel Wells as Ensign Tendi, Eugene Cordero as Ensign Rutherford, Dawnn Lewis as Captain Carol Freeman, Jerry O'Connell as Commander Jack Ransom, Fred Tatasciore as Lieutenant Shaxs, and Gillian Vigman as Doctor T'Ana. Check out the poster below…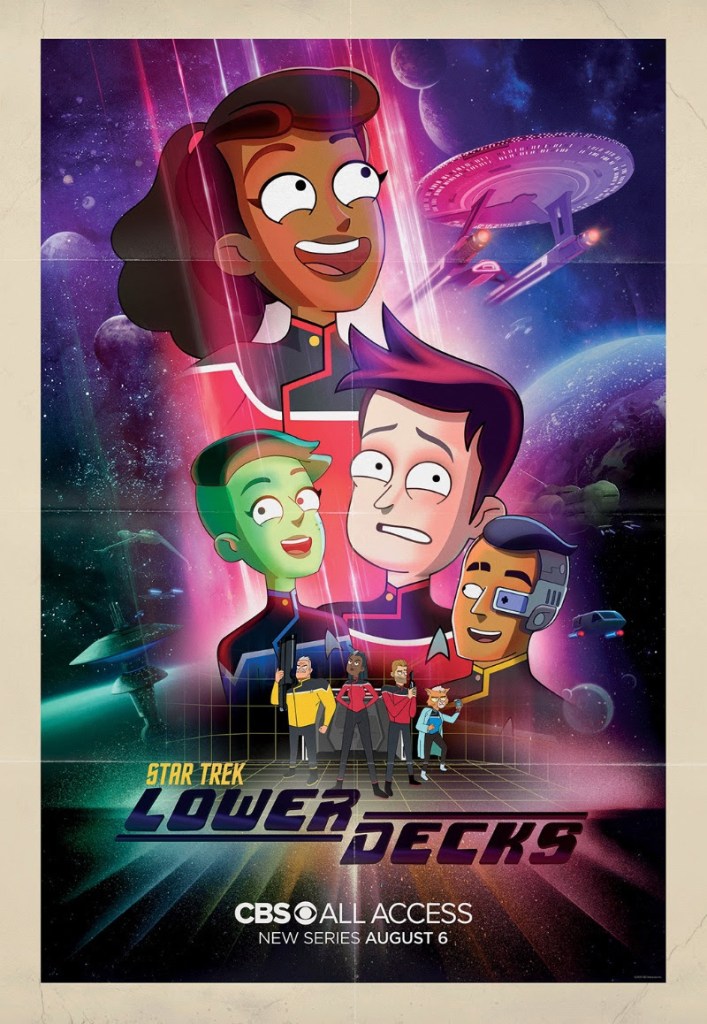 The phrase "Lower Decks" seems to be a call back to the Star Trek: The Next Generation's classic episode "Lower Decks," which followed four junior officers involved in a top-secret mission. "Lower Decks" is not only a great story, but it was an influential structure change in the TV tradition, an example of an episode that de-centers the show's main cast to explore the already-established world from a different perspective. Hopefully, Lower Decks embraces the strength of the characters and themes of that episode as much as it does the subversion of letting non-officer characters lead the story. There's nothing inherently funny about characters with less power, so hopefully the humor doesn't simply rely on the gimmick to tell its jokes. As much as I am looking forward to a Star Trek series that lowers the stakes in intentional ways, I hope Lower Decks doubles down on the earnestness of Trek canon; those two narrative missions don't have to be at odds with one another.
Star Trek: Lower Decks premieres on August 6th on CBS All-Access. You can find out more about the show here.