News
Solar Opposites Season 2 Release Date, Cast, and More News
Terry, Korvo, their replicants, and the pupa will continue to annoy the citizens of Earth in Solar Opposites season 2.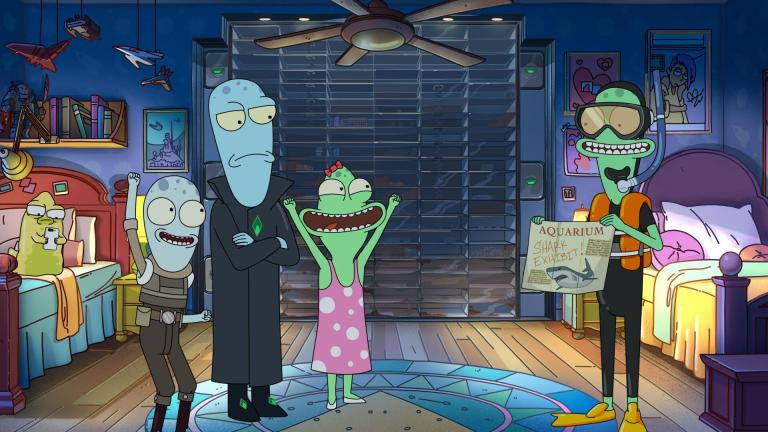 The invasion of Earth shall continue until such time that the pupa has matured enough to destroy it…or the aliens get bored of their "manc ave." That's right, Solar Opposites season 2 is confirmed.
Now if you don't recall Hulu making the official season 2 announcement after season 1 premiered, don't fret – they didn't. But that doesn't mean that Solar Opposites isn't getting a second season. Tucked into Deadline's announcement of when the show was first announced is one very pertinent, oft-overlooked detail. Solar Opposites's initial order at Hulu was for two full seasons of eight episodes each. Season 1's eight episodes premiered on May 8. Now it's just a waiting game for season 2.
Solar Opposites is the next animated effort from Rick and Morty co-creator Justin Roiland. Roiland created and runs the show along with fellow Rick and Morty writer Mike McMahan. Solar Opposites borrows the same animation style and sci-fi concepts from Rick and Morty but comes along with a much more relaxed, sillier tone. The first season followed four aliens (and their pupa) as they attempt to figure out life on this strange little blue ball called Earth.
Here is everything else we know about Solar Opposites season 2.
Solar Opposites Season 2 Release Date
Hulu has not yet announced a release date for Solar Opposites season 2. The good news is that since Roiland and the production team knew that they had a season 2 order, they may have been prepped to roll right into season 2 after season 1 wrapped. And according to executive producer Josh Bycel, much of season 2 has indeed already been written. The bad news is…say it with me: coronavirus.
The Solar Opposites team was able to finish production on season 1 remotely during the early stages of the coronavirus pandemic. It does seem likely that country-wide shutdowns could impede the process this time around. Expect Solar Opposites season 2's release date to linger into mid-to-late 2021 at least.
Solar Opposites Season 2 Cast
Like he does in Rick and Morty, Roiland voices one the show's central characters. This time he plays the closest thing the show has to a straight man in Korvo. Thomas Middleditch plays Korvo's mission (and life?) partner Terry. Sean Giambrone and Mary Mack play replicants Yumyulack and Jesse.
Season 1 found space for quite a few guest voice actors thanks to a recurring plotline of Yumyulack shrinking human beings and imprisoning them behind his bedroom wall. Andrew Daly, Alfred Molina, and Christina Hendricks all played human roles in this context. Tiffany Haddish and Jason Mantzoukas chipped in on the alien side of things.
Solar Opposites season 2 is sure to welcome many new voice actors to the fold. And if you want an idea of who might be on the show's radar, this Rick and Morty voice actor guide is a good place to start.