News
Smokey and the Bandit TV Series Looks to Revive the Drive-In Double Feature Genre
Halloween's David Gordon Green has been tapped to tackle a Smokey and the Bandit television series for Universal.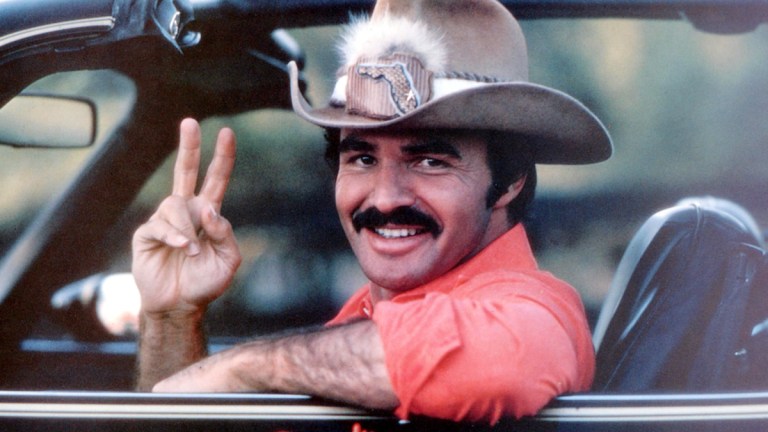 Smokey and the Bandit, the 1977 comedy classic that cemented the superstardom of the late Burt Reynolds, will soon make an audacious attempt to smuggle itself back into the pop culture picture, with a television series now in the works at Universal Content Productions.
David Gordon Green (Halloween, The Righteous Gemstones) has been tapped to develop, write, executive-produce and direct the prospective pilot for a new small screen take on the Southern, car-chase-centric, antihero-hailing Universal film franchise on behalf of studio subsidiary UCP. Green will write alongside Brian Sides, a frequent collaborator, who also directs and produces documentary shows such as The Horn and Alaska: The Last Frontier. They'll be joined by executive producers in Green's cohorts from Rough House Pictures, notably Danny McBride, and Seth MacFarlane via his Fuzzy Door banner. While no details were divulged, a desire to revive a dwindling cinematic institution is telegraphed with a description that reads:
"[Smokey and the Bandit is] an epic adventure of family, small-town crime, unlikely heroes, legend and legacy. Inspired by the genre of 70s and 80s drive-in double-features, the series explores the crossroads where humble realities meet those larger-than-life, all in a blast of tailpipe exhaust."
Indeed, while the television series looks to be a reboot of the traditional Smokey and the Bandit story, it will attempt a bellwether revival of campy drive-in flicks that, while grounded in reality, immersed themselves in over-the-top fun centered on roguish characters. It's a genre taxonomy that certainly applies to the 1977 film, which managed to stealthily reap a $300 million worldwide gross, ranked at #2 in a year that was dominated by the seismic sci-fi zeitgeist upheaval that occurred upon the May release of the original Star Wars, which topped the box office with $503 million worldwide in its first release. Consequently, Smokey and Star Wars were a kind of cultural yin/yang dynamic for the movie industry that year, with the former initially sized up to become the Southern-fried box office hit of the year on the back of the surging stardom of Burt Reynolds, and its May release facilitated an organic early-summer buildup that made it a drive-in destination, notably since it actually played as a double-feature with Star Wars in many locations.
The story of Smokey and the Bandit centers on the exploits of enigmatic race car driver-turned-smuggler Bandit (Reynolds) and his 28-hour window to transport a truck full of bootlegged Coors beer from Texas to Atlanta, serving as a blocker driving a black Pontiac Trans Am as his partner, Snowman (Jerry Reed), drives the payload-hauling big rig. While an $80,000 payment upon delivery makes for an auspicious trip, Bandit's impromptu pickup of beautiful runaway bride Frog (Sally Field) jeopardizes the endeavor when her would-be father-in-law, Sheriff Buford T. Justice, a.k.a. Smokey (Jackie Gleason), tenaciously (and always unsuccessfully) chases down our enterprising smugglers. The film was followed up with 1980's Smokey and the Bandit II, which saw the main cast return for a similar predicament, yielding a solid $66.1 million in its domestic-only release. However, 1983's Reynolds-less Smokey and the Bandit Part 3, which centered on Gleason's Sheriff Justice, would not be so fortunate with its paltry $7 million gross against a $9 million budget, and marked the end of the franchise, save for some made-for-TV movies focused on a young version of Bandit (as played by Brian Bloom,) released throughout the 1990s.
Yet, the Smokey and the Bandit franchise's latest television aspirations seem more auspicious, especially with the presence of David Gordon Green, who helmed prominent comedy offerings involving Danny McBride such as movies like 2008's Pineapple Express, 2011's Your Highness and HBO series Eastbound & Down, Vice Principals and The Righteous Gemstones—and that's not counting his directorial turn on 2018 horror reboot Halloween, which he's continuing with 2021's Halloween Kills and 2022's Halloween Ends. His involvement here will facilitate a similar collaboration with his cohorts of Rough House Pictures, Danny McBride, Jody Hill and Brandon James, also joined by Seth MacFarlane and Erica Huggins representing Fuzzy Door, all set as executive producers. As Green lauds of the project in a statement:
"Growing up in the south, Smokey and the Bandit was an iconic franchise for me. The legacy of these characters is a playground of swagger and sass that I'm excited to dig into."
For now, the Smokey and the Bandit television series doesn't have a production or release window, and has yet to procure a network or platform.