Features
Sky Cinema: What's New in March 2021?
Let's take a look at all the movies Sky Cinema will offer in March.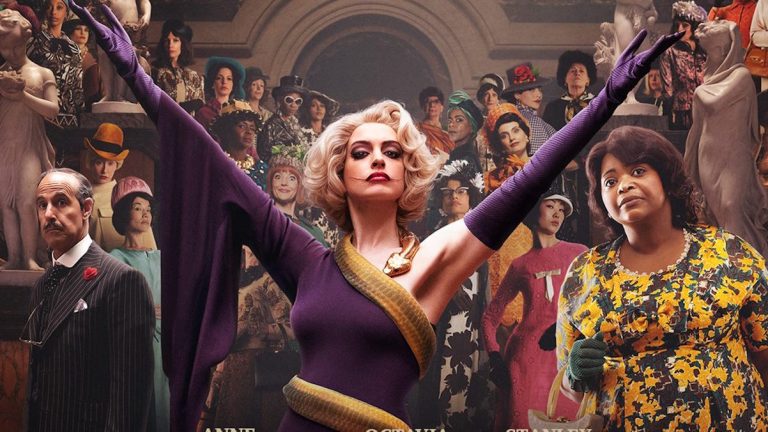 It looks like we still won't be going anywhere too exciting in March, so it's a good job that Sky Cinema has, as always, lined up a slate of new films for us to plough through while we're waiting to get back out there!
See if anything takes your fancy in our handy guide to what's coming up on Sky Cinema in the month ahead…
Premieres
The Witches – 5th March on Sky Cinema and the Sky Cinema Pass on NOW TV
Back to the Future director Robert Zemeckis takes on Roald Dahl in this reimagining of one of his most beloved books. In The Witches, an orphaned lad gets much more than he bargained for when the world's Grand High Witch gathers her contemporaries together to plot a scheme against children everywhere. Anne Hathaway, Octavia Spencer, Stanley Tucci, and narrator Chris Rock lead the cast.
The Glorias – 7th March
Journalist, activist and feminist Gloria Steinem gets the biopic treatment in The Glorias, which tracks Steinem's role in the rise of the women's rights movement in the 1960s. Julianne Moore, Janelle Monáe and Alicia Vikander star.
SAS: Red Notice – 12th March
Ruby Rose (Batwoman) and Sam Heughan (Outlander) prepare to face off when a gang of criminals hijack the Eurostar in this brand-new action thriller.
Poms – 14th March
Poms follows the retired gang of Diane Keaton, Jacki Weaver, Pam Grier, Celia Weston, Alisha Boe and Phyllis Somerville during their efforts to start a late-life cheerleading squad.
Finding Steve McQueen – 17th March
When thieves attempt to steal $30 million worth of Richard Nixon's campaign contributions, the FBI goes on the warpath.
Finding The Way Back – 19th March
Ben Affleck is a former basketball hotshot going through a tumultuous time in his life. When he starts coaching a new team and they hit a winning streak, the subsequent glory only papers over the cracks of his ongoing addiction problems.
Creation Stories – 20th March
This biopic looks back at the life and career of Creation Records co-founder Alan McGee, played here by Trainspotting star Ewen Bremner.
Six Minutes To Midnight – 26th March
Eddie Izzard arrives at a picaresque English school at the start of WWII to replace a missing teacher. Things take a dark turn when he discovers that some of his students are daughters of the Nazi High Command, and then the body of the teacher he's replacing washes up on the beach. Dame Judi Dench, Agent Carter's James D'Arcy and Jim Broadbent fill out the stacked cast.
Eternal Beauty – 31st March
Jane (Sally Hawkins) is a traumatised woman with schizophrenia who encounters new sources of love and light in her life. Billie Piper co-stars.
Collections
Race Against Time – 8th March to 14th March
Highlights: SAS Red Notice, Back to the Future series, Interstellar, Oceans Eight, Die Hard, John Wick, Twist, The Big Lebowski, Shaun of the Dead, World's End, Ready or Not, Jumanji, Gemini Man.
Women in Film – 1st March to 8th March
Highlights: Charlie's Angels, Lucy, Resident Evil, Zero Dark Thirty, Birds of Prey, Salt, Emma, Like A Boss, Buffaloed, Bridesmaids, Bridget Jones's Diary, Clueless, Happiest Season, Mad Max Fury Road.
Kids Books – 1st March to 7th March
Highlights: Four Kids and It, Coraline, Curious George, Dolittle (2020), Diary of a Wimpy Kid, Jumanji, Matilda, Paddington 2, Race to Witch Mountain, The Wizard of Oz, Babe, Charlotte's Web.