Reviews
Skull Island Review: Good Kong, Bad People
Netflix's Skull Island proves the lasting appeal of the MonsterVerse but could use some better humans for Kong to play with.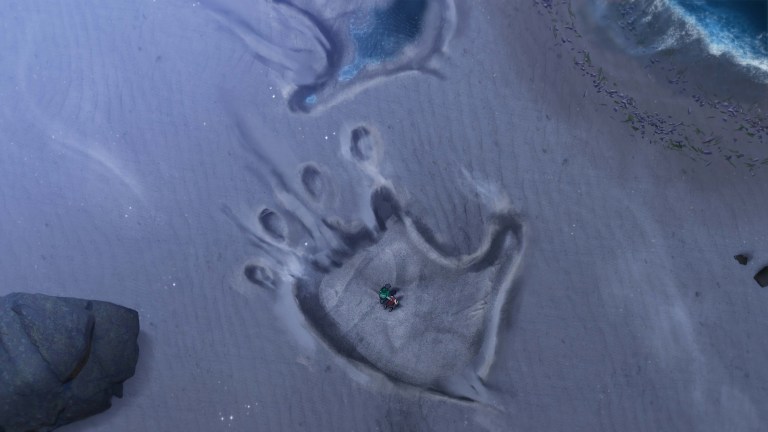 This Skull Island review contains no spoilers.
Skull Island must be one of the worst fictional places to become stranded in. Any human's small stature compared to the gigantic carnivorous creatures and deadly terrains inhabited bode low chances for survival. Oh, yeah, and a kaiju-sized gorilla protects the island from every threat that comes its way.
For such an exciting land of wonder and mystery, only the most boring people of various one-note archetypes ever come across it. Such is the case with Netflix's animated series Skull Island, the first television venture for Legendary's ever-expansive MonsterVerse franchise where Kong and Godzilla reside. For some reason, the anime-influenced series featuring the king of Hollow Earth makes Kong come second in service for mediocre human drama and Nickelodeon-styled humor with such little punch.
Set in the 1990s, Skull Island picks up with wise-cracking 17-year-old Charlie (Nicolas Cantu), his dad Cap (Benjamin Bratt), and Charlie's moody best friend Mike (Darren Barnet) as they sail on a high seas exploring expedition. They come across an island girl named Annie (a wonderful Mae Whitman) who trespasses onto their boat, looking for a place to hide from a group of soldiers. When a giant squid-like creature attacks a few vessels, theirs included, they are shipwrecked and separated on Skull Island. Annie, Charlie, and Mike are on one side of the island, while Cap gets stranded on another along with a mysterious woman named Irene (Betty Gilpin) and her right-hand man Sam (Phil LaMarr), who is on a mission to find Annie. As they trek across the isle, the two parties must survive and find each other to return home safely, considering if the raging squid in the sea is defeated. If the teens can convince Kong, the only creature able to combat the sea beast, they might have a shot at making it out alive.
Produced by Austin-based Powerhouse Animation, Skull Island excels in its visuals. Answering the question, "How would King Kong look if he was straight out of Avatar: The Last Airbender," Kong and the island look spectacular in their design. The detailed background designs of the forestry environment and the experimentation of scale add weight to the tension when humans encounter the creatures. Since this is through animation, it's easy to get invested in the quasi-bloody (not enough as a TV-14 series can go) action sequences. No matter what medium a creature feature story is in, when a monster horrifically mauls someone, it never fails to look terrifying.
Animation praise aside, the series ultimately needs to catch up in keeping viewer interest throughout eight 22-minute episodes. Writer Brian Duffield, who once penned one hell of a creature feature in 2020's charming and exciting film Love & Monsters, starring Dylan O'Brien, fails to capture the same magic through this. The series focuses too heavily on its two parties trying to search for one another while each character is of a particular one-note archetype with little to no interest. Most of the first half of the series follows the beats of every Skull Island-based story but padded out, and the long pacing. Offering little excitement in its action sequences and retreated storytelling, it doesn't take long before one feels compelled to cut the show off and watch Kong: Skull Island.
Duffield tries to play up the scenes by incorporating comedy, but every joke, most of which stemmed from Sokka-wannabe Charlie, falls flat. It could be more consistent, tackling the feel of a low-rate superhero series where characters are making quips, and it disrupts the intensity of the scene.
The teens hold some interest between the two parties due to the voice cast trying to pour life into the bland and generic writing. Specifically, veteran voice actress Mae Whitman is the scrappy and free-spirited island girl. Whitman adds a feral rasp in her line deliveries and soulfulness whenever her Annie faces adversity or protects her loving pet Dog, a monster lion with a design reminiscent of a Digimon monster.
As much as this critic doesn't want to harp on the human aspect of a monster-infested show, the main monster himself doesn't come into play until the very back half of the series. Compared to any MonsterVerse film (okay, not the 2014 Godzilla), the intention for the writers to ramp up the speed to get to the big bombastic monster fights is felt, boasting multiple fight sequences. Here, Duffield takes his sweet time before Kong plays any role in this series. While the show wipes away the Kong from the title, viewers come to expect the giant friendly ape; it's very underwhelming when all its slow buildup leads to one fight.
It's only in the penultimate episode, a Kong-centric one with him and a resident Skull Island girl sharing a deep friendship, that the show has something of interest going on. Sadly, one must trudge through the mud, or one can easily watch the episode out of context, and that's probably the best Skull Island-centric story out of anything the Monsterverse has done to date. That said, the episode and the following cinematic climax are too belated on arrival to pique any interest.
Once again emphasizing dull humans with little personality, succumbing to generic television writing, Skull Island is a wasted potential of a Kong-based animated series: all hollow, no earth.