Features
How Search Party Season 4 Revels in Character Specificity
Search Party season 4's middle three episodes make some time to introduce beloved character actress Ann Dowd...and depict a startling portrayal of Stockholm Syndrome.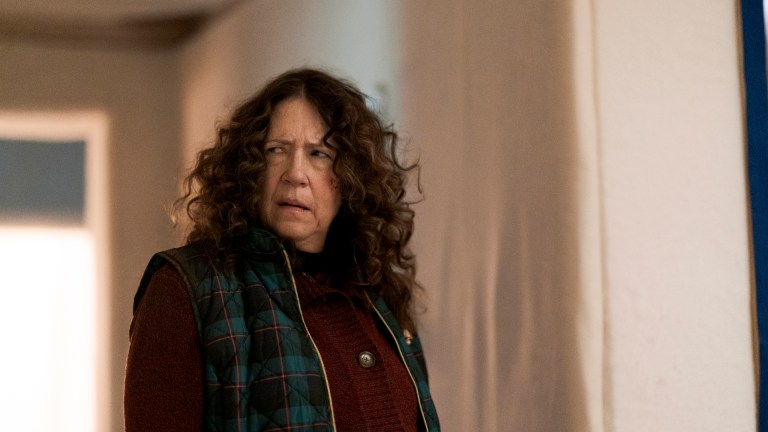 This article contains spoilers for Search Party season 4 episodes 4 through 6.
One of the most tried and true laws of the entertainment industry is: Ann Dowd makes everything better.
The character actress livens up just about everything that she's in, whether it's as a shockingly charismatic cultist in Hereditary, a shockingly charismatic cultist in The Handmaid's Tale, or a…shockingly charismatic cultist in The Leftovers. OK, so we might be boxing Anne in a bit here. When it came time to cast basically the exact opposite of a shockingly charismatic cultist in Search Party season 4, however, the show's creators still knew there was but one place to look. 
"We got really lucky with her wanting to do it," co-creator Charles Rogers says. "She could not have been sweeter. Everyone is 'darling' to her, she's just got this really warm spirit. And then we put her through hell. She had to fall a million times, she had to crawl on the ground, she had to get chicken nuggets stuffed into her mouth over and over. It was like, 'Oh my God, we got Ann Dowd,' and then it was like, 'Oh my God, I'm so sorry, Ann Dowd.'"
For two glorious, fleeting episodes in the middle half of Search Party's fourth season (episodes four through six premiered on Jan. 21. The final four arrive on Jan. 28) Dowd plays Paula Jo, a nosy and officious neighbor of Chip (Cole Escola) – who just happens to be a narcissistic psychopath who has kidnapped and imprisoned our lead, Dory Sief (Alia Shawkat).
"We knew from the beginning we wanted there to be a nosy neighbor who was obsessed with Christmas. We just thought that was a funny way to see a little of the town that Chip lived in. Also, in the vein of Misery or Silence of the Lambs, there are outside forces milling about, endangering the captor's ability to be the victim in their cell."
Paula Jo soon finds herself in that same cell, for the crime of noticing that Chip has a distressed, captive woman in the back of his car. While Dory is emotionally drained and defeated from her time in captivity, the defiant Paula Jo makes it very clear that, if Chip is to have her as a prisoner, he is going to need to follow an exhaustive array of dietary and medical guidelines.
"The idea was that she was essentially like, 'It's going to be really hard to keep me alive,'" Rogers says.
Of course, Chip doesn't keep Paula Jo alive too much longer. After the woman discovers that her cellmate is infamous murderer Dory Sief, Chip freaks out that anyone would cast aspirations on his "friend" like that and shoves peanut oil saturated chicken nuggets down her throat, triggering an allergic reaction and killing her. Ann Down and Paula Jo's time on Search Party is brief but boy do they both burn bright. And that Paula Jo interlude serves as another example of just how well this series walks a tonal tightrope in its bold storytelling mission four years in.
Search Party remains like just about nothing else on television. Ostensibly still a "comedy," there are fewer and fewer comedic situations that the character's find themselves in as time goes on. This batch of episodes finds the usually reliable comedy trio of Elliot (John Early), Portia (Meredith Hagner), and Drew (John Reynolds) in the clutches of shifty tweaker type who seems primed to abandon and rob them…then lo' and behold, he abandons and robs them! The show plays that scenario straight, but the fact that the characters' own neuroses get them into the scenario (Portia is a people person who just can't say no) adds an unmistakable comedic element to it. 
Meanwhile the series lead has now spent six consecutive episodes in captivity, under intense psychological manipulation and torture. As is the case with Portia and company, the show never shies away from the reality of the terror of Dory's situation. Rogers and his co-creator Sarah Violet-Bliss even went so far as to interview experts on cults and brainwashing to better understand the light bout of Stockholm Syndrome that Dory would come to experience.
"We talked to this man named Rick Ross, who is a leading expert on cults and brainwashing and how to deprogram people from cults. He appeared in The Vow for a little bit actually," Rogers says. "He kind of just walked us through what's possible and so that we could make the most entertaining aspects of that because a starting place for us was being like, 'Okay, Misery, Room, and Silence of the Lambs are templates of a captor genre. Then the season will take a big turn when we go towards a narrative that has more to do with brainwashing and that kind of cult abuse of power.'"
It's well-researched, heavy stuff. And thanks to performances and characters like Ann Dowd as Paula Jo, it's all somehow still darkly funny. Search Party has picked up great lessons from some of the storytelling masters like the Coen Brothers. The key to both good drama and good comedy lies in specificity. The characters of Search Party are specific in their traits, flaws, and tics. That makes the darkness around them feel all the more simultaneously real and surreal. Because if we've learned anything about reality recently, it's that it has equal bits of surreality sprinkled throughout it.
Like poor Ann Dowd having chicken nuggets shoved in her mouth.
Search Party season 4 episodes 1 through 6 are available to stream on HBO Max now.
Subscribe to Den of Geek magazine for FREE right here!