Features
Cosmos: Possible Worlds Explores Space, History, and the Future
Cosmos host Neil deGrasse Tyson and executive producer Ann Druyan discuss the "possible worlds" that season 3 of the show will feature.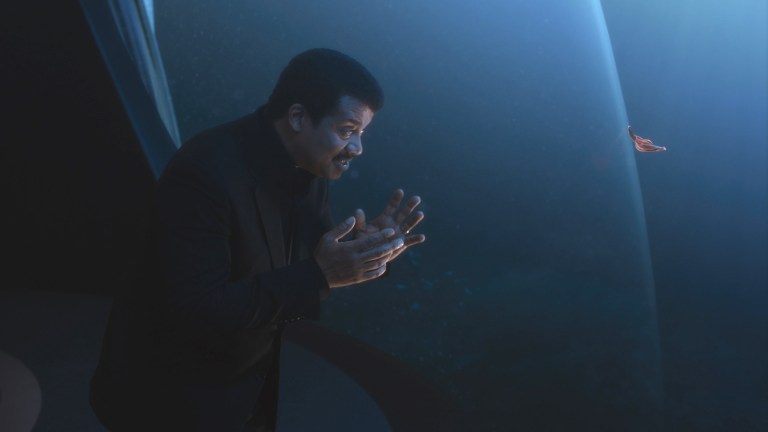 When Cosmos: Possible Worlds returns to Nat Geo on Monday, March 9, it will be known as Cosmos season 3, and never were three seasons farther apart. But while Carl Sagan began the popular science show back in 1980 to explore the wonders of space and other areas of science, the 2014 and 2020 iterations hosted by Neil deGrasse Tyson and executive produced by science writer and the late Sagan's wife, Ann Druyan, only build on that formula rather than change it. The pair spoke to us about the new 13-episode season to come.
Cosmos the TV show was originally paired with Sagan's book of the same name, and Druyan has likewise written a sequel to accompany the premiere of season 3. She humbly downplays her role alongside her husband in the history of popular science but hopes the show and her book speak to people the way the original did. "I know how big those shoes are probably better than anyone on Earth," she says, "so as I was writing it, I was worried that it wouldn't be worthy of Cosmos… I meet people all the time who were first attracted to science by Cosmos, and I think it's true of both books, I hope, and all three seasons of the show. I am not a scientist; I am just a hunter/gatherer of stories who was privileged to have the most astonishing 24-hour tutorial with probably one of the greatest teachers in history."
As host, Tyson also had big shoes to fill, but he has flown Sagan's "ship of the imagination," which Cosmos uses to chart the journey through topics both speculative and historical, quite ably. "The ship has got a more badass design, if I say so myself. I want one of those parked outside!" says Tyson. "But on that ship there are no controls. I'm not wearing chevrons on my sleeve; there is no membership to an academy. Ann felt very strongly that the moment I start separating myself from you with these accoutrements of 'captainry,' then no longer are you standing next to me. I'm here and you're over there. Keep your place; I'm captain, and you're not. That's not the message we wanted to convey. So the ship of the imagination is something that I am on, but you're on it with me."
As the title would suggest, Cosmos season 3 will explore "possible worlds," a phrase that conveys optimism as well as wonderment and caution. The show this season will speculate on the future of humanity and the far reaches of space but also help us think about worlds we cannot see that might be closer to home. "That's exactly what I intended with the title: not just the possible worlds of the exo-planets that we can visit, worlds of other suns, but the worlds within us," says Druyan. "The architecture and physics of dreaming, the immensely sophisticated use of symbolic language that other species on Earth, non-human, utilize."
Tyson also sees multiple meanings in the title, Cosmos: Possible Worlds. "I even well up every now and then when I just re-recite the title because it is so filled with hope," he admits. "The concept of possible worlds need not be interpreted only literally. In the thirteen episodes you will encounter exoplanets… but there are also worlds within our own solar system, not only planets but moons of other planets, and there are worlds within our own world… So a cosmic perspective, which is one of the DNA strands of Cosmos, is to learn enough about what else is going on out there to know how you fit into that big picture."
As for specific examples of some of the topics that will appear on Cosmos: Possible Worlds, both Druyan and Tyson were happy to share. "We bring to life a lost city, Mohenjo-daro in what is now Pakistan," says Druyan. "Many thousands of years ago before the Greeks were doing all the cool things that they did, there was a great city of a million people which we understand virtually nothing about. And yet in Cosmos we let it live again on one of its best days with a large population and buildings for as far as the eye can see and walk those streets."
Perhaps unsurprisingly for an astrophysicist, Tyson focused on the outer space aspects of Cosmos as he told us about some of the locations to which his hosting of the show took him. "One of my favorite trips was to the world's largest telescope, and this is in China," he recalls. "[It's] a mile in circumference, and we used it to not only show the heights to which technology has reached and that this telescope would be ideal in the search for intelligence in the universe; we used it as a launching point to tell parts of a story about creatures on Earth that communicate. It's an alien intelligence story that doesn't have to leave Earth to be told."
Both Druyan and Tyson seem to be genuinely fascinated by the process Cosmos: Possible Worlds uses to present science concepts through visual effects, which have progressed significantly in the six year gap since season 2. "We have an even bigger palette of ways to tell our story than ever before," says Druyan. "There are shots in the new season that I've imagined in my head for decades, but to actually see the sun become a red giant and strip away the exquisite atmosphere of Jupiter to see the kind of dowdy stone part within — it's so dramatic to see Jupiter itself, firstborn child of the sun, plowing out its lane in the accreting solar system."
Tyson appreciates what Druyan and the other writers are able to do to help him communicate these stories eloquently, but he also knows the hidden power of a charismatic narrator, a quality he and Sagan share. "These are folks that write words that become stories on a screen," he says of Druyan and her fellow executive producer and writer, Brannon Braga. "What I bring to it is my comfort level communicating science to a public. And the hope is that when you hear me, you feel comfortable. It's like we're in the living room together and there's a fire burning in the hearth, and we're just talking about the universe. It's your comfort level that I'm after in my delivery, in my tone, in my timbre, in my manner."
Cosmos: Possible Worlds comes to living rooms everywhere on Monday, March 9, 2020. The series will air weekly on the National Geographic channel and will be broadcast this summer on the FOX network.