Features
How Rugrats Rebooted for The Streaming Era
Paramount+'s Rugrats revival presents the same classic characters in a more modern environment.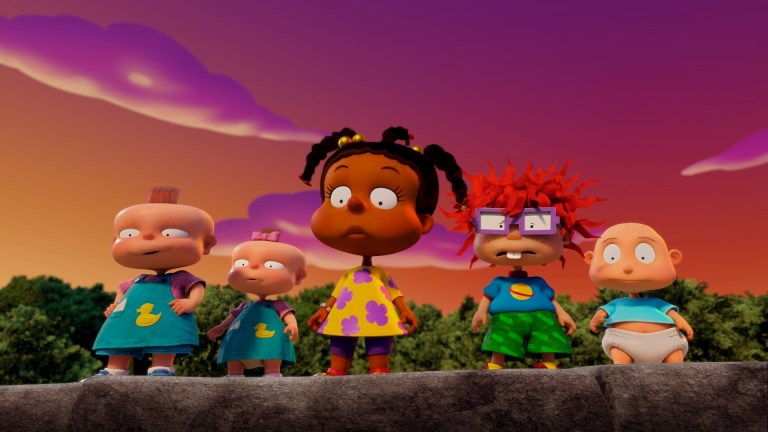 The opening credits of Paramount+'s reboot of beloved Nickelodeon cartoon Rugrats are mighty familiar.
Composer Mark Mothersbaugh's synthesizer chimes away as the action follows the titular infants having a particularly lively play day in a suburban living room. Tommy Pickles does a handstand. Phil and Lil DeVille chase each other around. Angelica gets covered in dust from a vacuum.
While at first glance the new intro seems identical to the iconic original, there are some key updates. Grandpa Lou is not asleep on a La-Z-Boy, but up and alert, practicing yoga. Chuckie Finster is riding around on a Roomba-style wireless cleaner rather than a traditional vacuum. And of course, the whole thing is animated in a much more modern CGI-style.
Rugrats approach to updating its intro is the same approach it takes in updating…everything else. Paramount+'s version of the show, described as both a "reboot" and a "revival", is really more like a direct continuation of the original series, only with a new paint job and some updated references to keep everything fresh.
"They're actually introducing these things," E.G. Dailey (who voices Tommy Pickles) says, while picking up her smartphone. "The adults are now millennial parents. I think it's gonna be so fun for the people that watched it back then to see our world today through the Rugrats' eyes."
The show brings back nearly all the voice actors from the original series to portray the central babies. Tommy (Dailey), Chuckie (Nancy Cartwright), Phil and Lil (Kath Soucie), Angelica (Cheryl Chase), and Susie (Cree Summer) all sound like they haven't aged a day since the show last signed off in 2004. It's only the adults in Rugrats' world whose voices have changed.
"Kids' imagination is timeless," Timothy Simons (who plays Drew Pickles) says. "It doesn't matter what age they live in, if you give kids a blank space, they're gonna fill it up. All the timeliness is in the adult stories."
Tommy and his friends still have active imaginations, with early episodes running the gamut of the crew dreaming up a Jurassic Park-style disaster, to Chuckie being convinced he will die from eating dirt ("Once I ate a watermelon seed and thought I was going to explode but nothing happened then," he concedes, referencing an early Rugrats episode).
In the adult world, however, things are a bit different. The aforementioned Grandpa Joe (Michael McKean) is livelier and has an online dating account because 80 is the new 40. Angelica's corporate climbing mom Charlotte (Anna Chlumsky) mentions that she's on an "honesty cleanse" trend. Phil and Lil DeVille's mom Betty (Natalie Morales) explicitly mentions an ex-girlfriend, while the character was only queer coded in the '90s.
Then, in a shot across all millennials' bows, the reboot's first episode concerns the adults excited to see their favorite alt rock band from their youth, Y2K, play their hit song "The Second Time Around."
When Rugrats first premiered in 1991 on Nickelodeon, it was the network's second ever "Nicktoon", arriving after Doug and before Ren & Stimply. Coincidentally enough, this iteration of Rugrats will be Paramount+'s second cartoon effort after the similarly CG-animated Kamp Koral: SpongeBob's Under Years premiered in March.
Part of the appeal in bringing properties like this back is the opportunity to apply new animation styles to older stories.
"When I first saw it my eyes practically popped out of my head. The animation practically jumps out at you," Cheryl Chase says.
"The magic is in the detail – all the Cheerios in the carpet and the frayed clothes, Susie's underbite. Chuckie's hair is amazing," Cree Summers adds.
An even bigger part might just be informing new audiences that's there's a whole show behind the meme of the purple-haired man who lost control of his life.
The first six episodes of Rugrats are available to stream on Paramount+ now.