Reviews
Riverdale: Intergenerational Trauma Overshadows Sabrina's Arrival
The Sabrina appearance was the least interesting thing happening in an insightful Rivervale outing.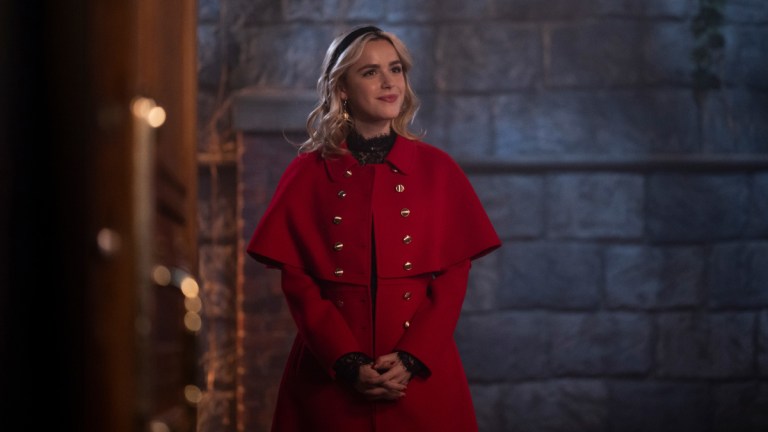 This Riverdale review contains spoilers.
Riverdale Season 6 Episode 4
"Happy sad endings are the best."
While the eagerly awaited appearance of now twentysomething witch Sabrina (Kiernan Shipka, immediately re-inhabiting her iconic role with warmth and confidence) got all the pre-air hype, the fourth installment of Riverdale's "Rivervale" experiment is really Madelaine Petsch's tour de force. Portraying not only Cheryl, but her ancestors Poppy and Abigail, Petsch delivers a nuanced performance — well, three of them — that shed new light on the tragedy suffered by the Blossom women across the generations.
As such, what was billed as a Chilling Adventures of Sabrina crossover was instead a Gothic rumination on forbidden love and persecution that easily stands as arguably the show's most mature hour. (This being Riverdale though, it still featured a number of deliciously dark twists, most notably Abigail taking down Fen Fogarty with his own axe). Much ado on the series has been made about the curse that Abigail inflicted upon the town, yet here we see the damnation that the Blossom's have been forced to endure in the "house of secrets and mysteries" that is Thornhill.
Across these timelines set in the present, 1892 and 1957 we experience how Cheryl, Abigail and Poppy desire to live their lives in peace, something that the world around them steadfastly refuses to allow. Foreshadowing the much-missed Choni ship, the doomed romance of Abigail and Thomasina (Vanessa Morgan) is the (broken) heart of the episode, with the pair's star-crossed love reinforced by the literal arrival of a comet. Having already murdered Thomasina, warlock Fen uses his last breath to inflict a curse upon Abigail that will leave her "unloved and alone" for the rest of her life.
In the 1950s, Poppy is faring no better. Her intellectual salons are raising eyebrows throughout Rivervale just as the impacts of McCarthyism are being felt in the community. ("I am against witchhunts and group think," she defiantly declares). Poppy has been doling out advice and potions that have been empowering the women of the community, most notably Bitsy (Lili Reinhart) whose husband Jack (a surprisingly menacing Cole Sprouse) is abusive and controlling. The tragic romance between Bitsy and Poppy drives the narrative of this segment and illustrates once more how loveless the Blossom women are fated to be.
Back in the present, we learn that Cheryl has enlisted the help of Sabrina to end her family's suffering once and for all. Turns out that Cheryl is a kind of gestalt entity whose soul is actually that of the spiritually immortal Abigail (as was Poppy before her). With the help of Sabrina, they transfer Nana Rose's soul into Cheryl's body, and Abigail's into Nana Rose's dying one as Bailey's comet passes. "A classic body swap," muses Sabrina upon the transference ceremony's completion. The scene cuts to Thomasina and Abigail free from the persecution and misunderstanding that hounded them in life, free to spend eternity together. The Blossom curse has been lifted.
As a member of the LGBTQ+ community, this episode's candid exploration of queer life — and the joys and heartbreaks of it — felt revelatory as Riverdale has a spotty track record when it comes to handling gay subject matter (i.e. the constant mishandling of the Kevin Keller character). Here though there was a newfound maturity that brought a realism to the show's heightened reality thanks to Arabella Anderson's smart script and the moody, Todd Haynes-esque direction of James DeWille. The only problem is that due to the events of this episode taking place in, as the teaser for next week's episode suggests, a parallel reality is that none of the actions here depicted could turn out to be considered canon for the series at large. I hope that when the Riverdale status quo is returned at the end of the upcoming 100th episode that the series somehow merges both realities in way that makes what occurred here fact. The Blossoms deserve that much.
Riverdale Rundown
Sabrina mentions that "there is no death for witches, only transformation," and casually states that she was dead before and yeah, it was no big deal. (Her death depicted in the series finale of Chilling Adventures of Sabrina). On his Instagram account, Archieverse showrunner Roberto Aguirre-Sacasa presented a deleted scene from that final episode that illustrates exactly how Sabrina was brought back to life…and the cost of the resurrection.
Sabrina mentioning wanting to go to Pop's but viewers not seeing her there is just cruel. The door is clearly open for Sabrina's return to the series, but if and when she does the character needs to interact with the other Archie Comics character. Her appearance was most welcome, but waiting for her to arrive distracted viewers from what was an all-around excellent episode — making me wonder if Sabrina's role was even necessary here.
There's also the matter of how Sabrina exists in the context of Riverdale proper, as the minor crossovers between the two series have been contradictory at best, confusing at worst. Archie is a comic character in Chilling Adventures of Sabrina's world, and promo shots of the Riverdale characters reading comic books featuring themselves from next week's episode have been released — making one wonder what this all means.
"Season on the Witch" playing as Sabrina arrives is predictable and perfect.
Cousin Ambrose gets a shout out from Sabrina.
Riverdale's love of off-brand naming apparently extends to solar bodies, as Bailey's Comet indicates.
Cheryl's makeup kit resembles a Hellraiser puzzle box.
Surely after this episode Cheryl and Toni will reunite in the main narrative right? Hello?
Fen Fogarty's habit of taking death photos of his victims is a wonderfully macabre aspect of his character.
In the 1957 segment, Poppy learns that Wendy Weatherbee is a communist — in the comics this character is known for being a bit of an outsider who absolutely would have raised eyebrows were she around during the Red Scare era.
The phrase "saucy Sapphic witch" was uttered in this episode. Awesome.
Those Blossoms sure do love their plant-based toxins, don't they?
I wish we got to see more of Tammy Tate's storyline in the 1957 segment but understandable given everything that this episode had to accomplish.
It's a bit of a problem for Riverdale that Archie's absence does not negatively impact the series one bit.
Next week, Riverdale's 100th episode, and, apparently, Jason Blossom finally speaks!