Reviews
Riverdale Is Next to Normal in Its Best Musical Episode Yet
Brian Yorkey and Tom Kitt's acclaimed musical Next to Normal is a perfect thematic fit for Archie and the gang's problems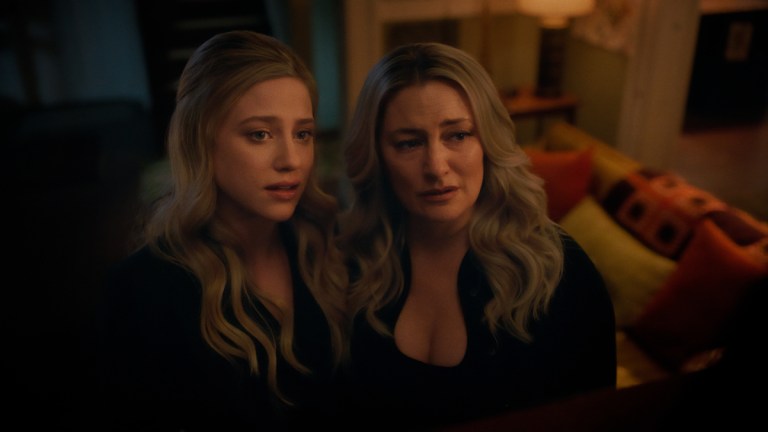 This Riverdale review contains spoilers.
Riverdale Season 5 Episode 19
"She wants this perfect family but she's lying to herself."
In 2009, the expectations of Broadway audiences were firmly upended by the challenging and, at times, deeply unpleasant themes of Brian Yorkey and Tom Kitt's Next to Normal. By covering topics ranging from bipolar depression to the impact of ignoring grief and the results of undergoing electroconvulsive therapy, it was one of the biggest downers ever to hit the Great White Way.
It was also a breathtaking work whose beyond candid exploration of mental illness earned it numerous Tony Awards, including Best Original Score, and the Pulitzer Prize for Drama in 2010. Despite the ultra-serious subject matter, the work is punctuated by moments of humor. Greater still is the undercurrent of hope that flows through the production, one that brings to mind Bruce Cockburn's musing that "you gotta kick at the darkness 'til it bleeds daylight."
By no means is Next to Normal a toe-tapping Aladdin-style crowdpleaser. Nor does it aspire to be. Instead, it uses the medium of the theater to deeply probe the bleakest aspects of the human condition before concluding that "you don't have to be happy at all to be happy your alive." In short, it is a gut punch of a production that continues to stick with audiences long after the marquee has dimmed. Is there such a thing as a worthwhile bruise? If so, Next to Normal leaves you with just that.
Since its very beginning, Riverdale has repeatedly explored themes of grief and mental illness. (And not in the most respectful fashion either, see how Cheryl and Alice have been regularly dismissed as "crazy" for proof of concept). In both of these character's cases, there has been a meaningful attempt by the writing staff of late to fix their sins of the past and humanize the pair. These efforts culminated in this latest episode, which utilizes the music of Next to Normal to illustrate the emotional ringers that they and the rest of the show's characters have experienced.
The annual musical episode of Riverdale has felt increasingly shoehorned in, so imagine my surprise when not only is this the best such installment to date but one that feels tailor made for Yorkey and Kitt's heartwrenching songs. The way this episode utilized a number of the musical's most memorable tunes — including "I'm Alive," "I Miss the Mountains," the bitter "Didn't I See This Movie?" and the hopeful "Maybe (Next to Normal)" — to advance the plot of Riverdale while still honoring the original work was an impressive bit of narrative juggling.
By the time the credits roll following a powerful full cast curtain call performance of "Light" at Polly's graveside a number of huge changes have occurred – Jughead and Tabitha have begun their new relationship, Archie and Veronica have dissolved theirs, Fangs and Toni have declared their love, Cheryl has taken in Britta Beach, Kevin has again realized his profound loneliness, and, most importantly in the context of this episode, Betty has helped Alice reach some semblance of inner peace.
There's a ton of groundwork that this, the penultimate episode of the fifth season, had to lay before next week's finale. Credit must go to writer Tessa Leigh Williams for figuring a way to mash up both Next to Normal and Riverdale's worlds in a way that propelled the story forward and didn't have the trappings of a gimmicky musical episode. (Which this easily could have been in an inferior show). Also worth mentioning is how the episode's cinematography and lighting faithfully reproduced both the vibrancy and hushed bleakness that bipolar depression can inflict.
Ultimately, the lesson of Next to Normal can be interpreted as acknowledging the unpleasantness of life, but not losing oneself in it. Now more than ever it feels like a more relevant message than ever, regardless of your own mental health. This installment of Riverdale accomplishes its narrative goals of getting our characters from point A to B, but it does so by utilizing a pre-existing work in a way that never feels forced. This was a fantastic episode of Riverdale, one that has me excited for the finale — and wanting to revisit Next to Normal to experience its exquisite pain all over again.
Riverdale Rundown
What's the over/under on how long Veronica and Archie are broken up for? Or since Jughead is now with Tabitha officially, will Archie get with Betty?
For that matter, will the long teased relationship between Veronica and Reggie happen? Veggie shippers of the world unite and take over!
We learn that Tabitha's parents are upset that she left Chicago to run Pop's, but it is still unclear why they feel negatively towards the Chok'lit Shoppe.
Is anyone else really glad that this year's musical episode wasn't Dear Evan Hansen?
Reggie is studying to become a stockbroker and refers to himself as "Mantle the Magnificent," a nickname he has utilized in the comics countless times.
Penelope calling Cheryl "nightmare child" always entertains.
Fake brands alert: The online retailer Glamazon gets namedropped in this episode. Also, Betty and Alice were to dine at Sardi's knockoff "Smarties" during their ill-fated NYC trip.
Toni's remarking that Cheryl "already got Britta in a cape" was hilarious.
Can we just talk about how touching the graveside performance of "Light" was? I never thought that anything that happened on Riverdale would move me to tears, but here we are.
Next week's finale is ominously titled "Riverdale R.I.P." and I genuinely hope it is an absolute game changer. We will find out soon enough…