Reviews
Riverdale's 100th Episode Is a Multiversal Celebration of All Things Archie
For fans of the series and the comics that inspired it, this landmark installment of Riverdale is a perfect hour of television.
This Riverdale review contains spoilers.
Riverdale Season 6 Episode 4
"I know, it read it in the comics"
For its 100th episode, Riverdale showrunner Roberto Aguirre-Sacasa scripted what is easily the show's most audacious episode. "The Jughead Paradox" had the unenviable task of wrapping up the entire "Rivervale" saga and setting the stage for the rest of the series' sixth season — which will air when the show returns in the spring. That alone would be enough of a challenge for any writer to tackle, yet Aguirre-Sacasa ups the creative ante by having the installment also become a meta funhouse mirror reflection of itself by reinserting long-gone characters into the narrative and having characters reflect on nearly every ridiculous thing that has ever happened during the series. Oh yeah, there is also the plotline about parallel universes colliding into each other and threatening to wipe out the whole of existence unless Jughead can save the day.
It is all, in a word, magnificent.
Of the course of its previous 99 episodes, Riverdale has hopscotched between being the most and least self-aware series on television. (In one of this latest episode's many instantly iconic scenes, Jughead and Veronica run down how the town has seen everything from multiple cults to murderous nuns). Most of the time the storylines here are entertaining as they occur, but fail to stick the landing. Indeed technically this is the case with Rivervale itself, as the events of the previous four episodes are dismissed as dreams before the credits are done rolling.
But this is all a red herring, as the key to Rivervale was Jughead's comic collection. Briefly introduced back in the season premiere, the books explain how Riverdale became Rivervale — Mr. Lodge's attempted murder of Archie and Betty via bomb. When the explosion occurred, it ripped open the multiverse and events from one reality began bleeding into another. Well, that's basically the idea anyway, as the much-missed Ethel (Shannon Purser) explained to Jughead in an infodump reminiscent of Doc Brown explaining paradoxes to Marty in Back to the Future Part II.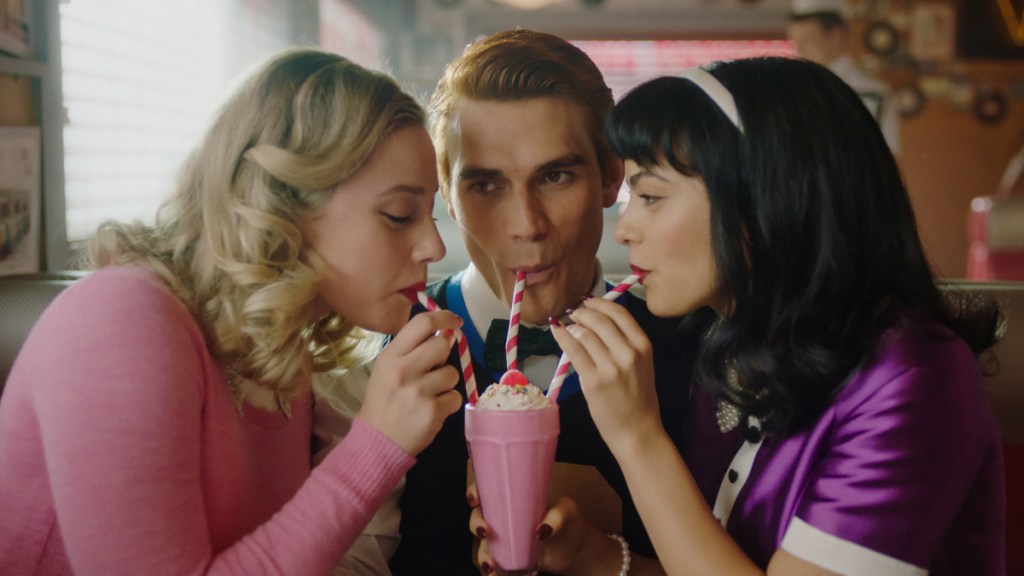 Following a quick detour to the afterlife — a version of Pop Tate's Chok'lit Shoppe that is styled after the classic retro Archie Comics look — the resurrected Jughead whose murder kicked off this episode teams up with his multiversal counterpart to save both of their universes. The mission accomplished, the Jugheads resume their roles as narrator and participant of the story. Back in Riverdale, Betty and Jughead survive the explosion thanks to a very long distance call from Rivervale. Jughead however is caught in the blast, seemingly rendered deaf from the noise of the bomb. To be continues next year…
How anything that occurred in Rivervale is carried over into the main narrative will remain to be seen, but there are enough similarities between the two parallel universes that this shouldn't be much of a concern. And also that's not really this specific episode's concern. What Roberto Aguirre-Sacasa accomplished here is a tribute to this stupid, confounding, amazing show that manages to honor its source material in a respectful touching way. (When the Pop's heaven sequence cut to Archie, Betty and Veronica sharing a milkshake — arguably the most iconic Archie Comics image — reader I cheered). Rumors have started to swirl that next season could be Riverdale's last. As a lover and critic of this show, I'm fine with that because I can't ever see the series getting better than this episode.
Riverdale Rundown
Actual comics from Archie's 80-year history are included alongside of the prop ones created specifically for this episode.
Even as Rivervale's Big Bad, Archie is still kind of a doofus. Case in point, his telling Jughead "Bro, I know all the secrets of this universe," oblivious to the fact that Betty is about to take him down.
When Riverdale returns next year, I hope it remains in the 9pm timeslot as the little bit of extra violence and bloodshed airing it then affords really works in the series' favor.
After making numerous appearances dating back to the pilot episode, Jason Blossom (Trevor Stines) finally gets to speak in this episode.
Charles Melton's Reggie telling original Reggie Ross Butler "you've been in like three issues, I've been in dozens" is just one of many delightfully meta moments here.
Jughead's walking through the halls of Riverdale High while Simple Minds' "Don't You Forget About Me" is a direct homage to Donnie Darko's "Head Over Heels" sequence.
Major Curda returns as Dilton Doiley. In the Life with Archie: The Married Life comic (which featured multiverses), Dilton did in fact hold knowledge of how parallel universes operated.
It was nice to Hal Cooper being a father as opposed to a masked murderer.
Clifford Blossom being the Black Hood is way more narratively satisfying than it being Hal.
Shannon Purser is so great as Ethel. Riverdale really dropped the ball on her character.
As great as it was having all of the characters back, the fanboy in me couldn't help but wish they found a way to squeeze Josie and the Pussycats (and for that matter, Sabrina) into this episode.
The dead coming back to life in Rivervale is very Afterlife with Archie.
Jughead was originally going to be portrayed as deaf in the series.
Dr. Curdle harassing Betty for not being invited to her wedding is extremely on brand.
Jughead on Jason Blossom: "You had a funeral for him then you talked to his corpse for months." This show is the best.
"Here's to Vughead becoming canon!"
Yes, the "it was all a dream" dismissal of the events of the previous four episodes is cheap. The reason it works and isn't a Dallas-sized disaster is that we know we aren't in the show's true reality, so the experimentation with characters works. The whole Rivervale experiment was an exercise in creativity that illustrated how the series, like the Archie Comics characters themselves can be placed in all manner of story environments and still have their core traits shine through. It is a testament to their versatility — both on screen and on the printed page — and proof that imagination truly does fuel Riverdale.