News
The Righteous Gemstones Release Date, Trailer, Cast, Story, News, and More
Danny McBride's new HBO comedy, The Righteous Gemstones, will depict a family of televangelists.
The Righteous Gemstones should be right up the alley of fans of Eastbound and Down and Vice Principals, since it hails from the same collaborative team of Danny McBride, Jody Hill and David Gordon Green. Once again charted for HBO the gang have put together some real star power this time around (with all respect to Walton Goggins, who is a treasure).
The series will arrive as a half-hour comedy about the Gemstone family, a clan of world-famous televangelists, who have a long history of what you would expect from a world-famous televangelist family: bombastic salvation techniques to go along with a heaping portion of greed.
The Righteous Gemstones Trailer
Check out the latest trailer for The Righteous Gemstones, rife with familial drama, outrageous fortune and accidental wave pool baptisms raves.
Here's the original teaser, which was released back in May.
The Righteous Gemstones Release Date
The Righteous Gemstones will premiere on HBO on Sunday, August 18 at 10 p.m. EST.
The Righteous Gemstones Cast
The main cast of The Righteous Gemstones can be seen in an awkward family photo scenario, consisting of the titular televangelist clan appear in all their self-appointed godly glory. Working clockwise from the middle, there's Gemstone family members Jesse (Danny McBride), Judy (Edi Patterson), occupying the chair in true family patriarch fashion is Eli (John Goodman) and, lastly, Kelvin (Adam Devine).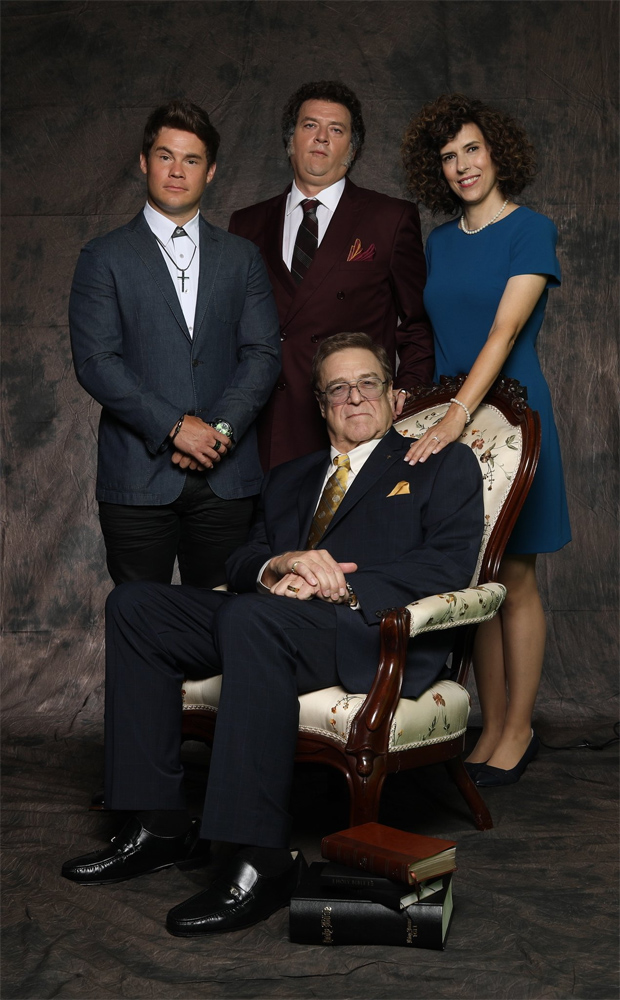 John Goodman's role as family patriarch, Eli Gemstone, is described as "a powerful worldwide force for the evangelist community and is described as being known for his "aggressive salvation techniques, his worldwide ministries, and his award-winning weekly television program."
Danny McBride co-stars as Eli's eldest son and heir apparent, Jesse. Jesse sounds like a classic Kenny Powers-ian creation, fancying himself a maverick in the televangelism industry and demanding loyalty from those around them.
Adam Devine plays Kelvin Gemstone, the youngest son of Eli (John Goodman) and Amy Leigh. Kelvin, who's described as "the edgy one" amongst Gemstone siblings in Danny McBride's Jesse and Edi Patterson's Judy, finds himself caught in the middle of giant family personalities. Moreover, Kelvin has strayed far from both the family and congregational flocks, focused more on the eradication of Satan and the dark forces, rather than rising in the ranks of his family church.
Edi Patterson plays Judy Gemstone, the sister to McBride's Jesse. It's a casting choice that should delight fans of Vice Principals, on which she fielded the memorable role of Jen Abbott, the emotionally unstable teacher with whom McBride's Neal Gamby occasionally hooked up. Judy is described as someone "who resents her family for not giving her the same opportunities within the church as her siblings. Judy only wants an opportunity to stand on the stage with the rest of them on Sunday mornings."
Cassidy Freeman plays Amber Gemstone (not seen in the initial cast photo).
The Righteous Gemstones Details
It sounds like HBO has another Succession-style story on its hands about familial dynamics amid vast political and financial power. Which is kind of funny because the hour-long drama (but really dark comedy) Succession is executive produced by Will Ferrell and Adam McKay, who also executive produced Eastbound and Down. It's like Eastbound split into two comedic meditations on family and greed eight years after it premiered on the same network.
This will be the third collaboration for McBride's crew and HBO after the aforementioned Eastbound and Down and Vice Principals. 
Goodman's schedule recently looked poised to really open up with Roseanne being canceled at ABC following the titular star's racist tweets. ABC has since salvaged the show and rebranded it as The Conners. Goodman remains on, embodying his original beloved role as Dan Conner. Given The Conners' relatively short episode order (10), Goodman would likely remain available should HBO really take to the pilot. 
And thank gosh, because it's going to take the combined superheroic efforts of McBride, Hill, Green, and Goodman to craft a televangelist story wilder than that of the Bakkers. 
Joseph Baxter is a contributor for Den of Geek and Syfy Wire. You can find his work here. Follow him on Twitter @josbaxter.