News
Ratched: Sarah Paulson Enjoys Lobotomies in Final Trailer for Netflix Series
Netflix has unveiled Ratched, a series from Ryan Murphy, with Sarah Paulson as the eventually-evil nurse from One Flew Over the Cuckoo's Nest.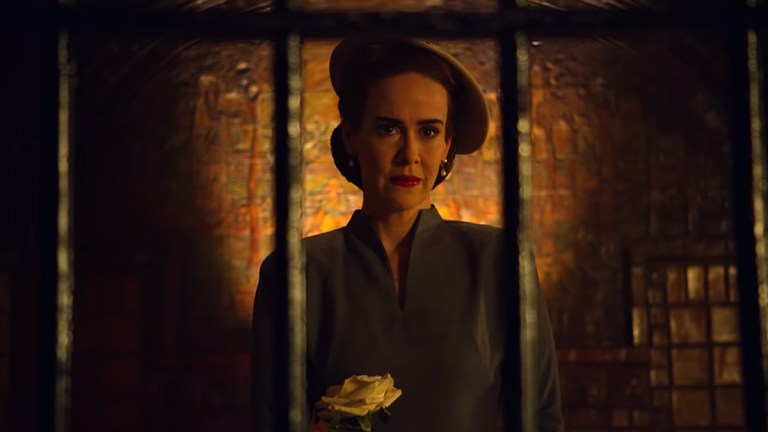 Ratched is coming soon to Netflix, and for those unfamiliar with the 1975 Oscars-dominating classic film, One Flew Over the Cuckoo's Nest, the series has nothing to do with gear-based tools. The eight-episode series will see television titan Ryan Murphy build upon the existing property, with repertory player Sarah Paulson starring as the titular character destined to become an abusive asylum nurse, a role that won Louise Fletcher the Best Lead Actress statue from director Milos Forman's film.
Murphy is the show's credited co-creator of alongside Ian Brennan, both of whom also serve as executive producers. They are joined in the latter capacity by star Sarah Paulson, Alexis Martin Woodall, Aleen Keshishian, Jacob Epstein, Jennifer Salt, Margaret Riley, Michael Douglas, Robert Mitas and Tim Minear.
Ratched Trailer
The final Ratched trailer has arrived and it is filled with much more gory detail. For starters: have you ever wanted to see an icepick lobotomy performed? Well I guess this is good news then, weirdo. Check out the surprisingly epic and operatic clip below.
Netflix has released the first trailer for Ratched, previewing a performance by Sarah Paulson as the eponymous Cuckoo's Nest nurse that's fastidiously fearsome. Indeed, if there's a single lesson to take from the clip, it's to NEVER EVER steal Nurse Ratched's peaches.
Ratched Release Date
Ratched is set to make a monster of an unassuming nurse on Netflix on Friday, September 18.
As the streaming giant's official synopsis for Ratched reads:
"From Ryan Murphy and Ian Brennan, RATCHED is a suspenseful drama series that tells the origin story of asylum nurse Mildred Ratched. In 1947, Mildred arrives in Northern California to seek employment at a leading psychiatric hospital where new and unsettling experiments have begun on the human mind. On a clandestine mission, Mildred presents herself as the perfect image of what a dedicated nurse should be, but the wheels are always turning and as she begins to infiltrate the mental health care system and those within it, Mildred's stylish exterior belies a growing darkness that has long been smoldering within, revealing that true monsters are made, not born."
Ratched Details
Of course, the "true monster" to which the Ratched synopsis refers took shape in author Ken Kesey's 1962 novel, One Flew Over the Cuckoo's Nest, which was famously adapted by director Milos Forman's 1975 film, which starred Jack Nicholson as Randle Patrick McMurphy, a newly-arrived criminal patient at an Oregon mental institution in 1963 whose rebellious nature makes him the mortal enemy of its authoritarian caretaker, Nurse Ratched (Louise Fletcher), leading to a constant battle of wills as Ratched uses her abusive power, brutal treatments and psychological manipulation (or what we'd call gaslighting today,) to keep the other patients from overcoming their mental challenges. The film won five Oscars (out of nine nods,) in 1976, and was the first to sweep the major categories of Best Picture (Sael Zaentz and Michael Douglas), Director (Forman), Actor (Nicholson), Actress (Fletcher) and Screenplay (Lawrence Hauben and Bo Goldman).
The Cuckoo's Nest prequel series (which was first discussed back in 2017,) is Murphy's next serial offering in fulfillment of a five-year, purportedly $300 million deal he made with the streaming giant two years ago. Indeed, he just premiered his World War II-era drama series, Hollywood, this past May on the platform, followed quickly by June's premiere of the second season of The Politician. Thus, with the arrival of Ratched set for September, Murphy is managing to stay busy with Netflix while juggling his duties for FX with American Horror Story, developing franchise spinoff American Horror Stories and Pose. Even with the pandemic having paused all of those productions, it's still a wonder how the man sleeps with that much on his plate (well, the $300 million probably helps).
Ratched Cast
Netflix's official cast lineup for Ratched consists of Sarah Paulson as Mildred Ratched, Cynthia Nixon as Gwendolyn Briggs, Judy Davis as Nurse Betsy Bucket, Sharon Stone as Lenore Osgood, Jon Jon Briones as Dr. Richard Hanover, Finn Wittrock as Edmund Tolleson, Charlie Carver as Huck, Alice Englert as Dolly, Amanda Plummer as Louise, Corey Stoll as Charles Wainwright, Sophie Okonedo as Charlotte and Vincent D'Onofrio as Gov. George Wilburn.
Ratched Photos
Check out these official photos from Netflix's Ratched.