Reviews
Quantum Leap Episode 4 Review: A Decent Proposal
Love is in the air as Quantum Leap provides another big answer about Ben's past.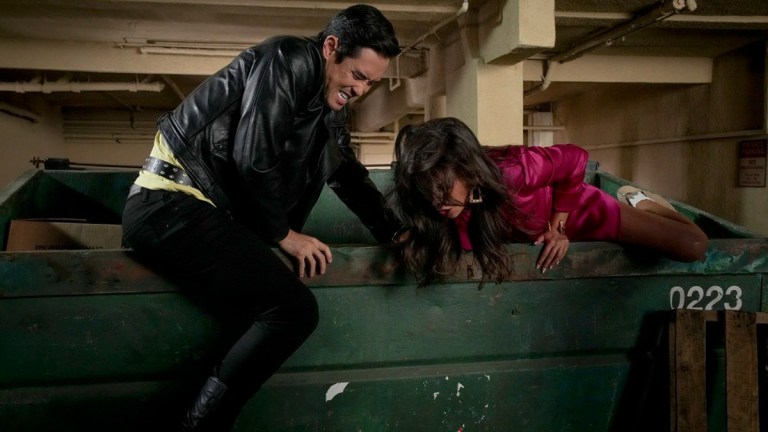 This Quantum Leap review contains spoilers.
Quantum Leap Episode 4
Quantum Leap episode 4 "A Decent Proposal" is far better than decent. This episode melds romantic comedy and action adventure in a way that fans haven't seen in thirty years. The hope, heart, humor, and history that were the pillars of the original Quantum Leap series are now on full display in this iteration of the revival.
Dr. Ben Song's (Raymond Lee) leap into the body of beautiful bounty hunter Eva Sandoval delivers a moment where the curly mullets on the men in a L.A. nightclub in 1981 lead Ben to briefly think he is in a gay bar. Until he sees himself in the mirror and realizes that the man groping his bare shoulder is being a total creep toward a woman. Addison Augustine (Caitlin Bassett) observes that, in only thirty seconds in a woman's body, Ben is "harassed, assaulted, and insulted." In the first seven minutes of this episode, Ben punches a creep out using the boxing skills he acquired in episode three and is proposed to by Eva's handsome partner and boyfriend, Jake (Justin Hartley). Ben hesitates to answer since he doesn't know how Eva herself would have responded to the man who is down on one knee, and he asks Jake for more time to think about the offer of marriage. It clearly breaks Jake's heart.
Ben's heart is leading his leap in "A Decent Proposal." His foggy memories of a girlfriend in his present, whom he realizes he misses, cause him to focus more than he should on matchmaking between Jake and Eva. Meanwhile, the real reason for the leap, which is securing Tammy Jean Jessup (Sofia Pernas) and delivering her to her court appointment to deal with unpaid parking tickets, creates all kinds of chaos. Tammy Jean convinces Jake and Eva that she is just a woman in love, looking to get on a plane with her boyfriend to escape La Serpiente drug cartel.
Ziggy is still running slow due to Janis' interference. All Ben and Addison know is that he can't leap unless Eva and Jake deliver Tammy Jean to court. But Tammy Jean's real name is Carla and, not long after she picks her handcuff lock and runs away while Jake and Ben are deep in a lover's quarrel, we discover that her crimes are greater than mere unpaid parking tickets.
An interesting fact about Jake and Tammy Jean/Carla is that, in real life, they are a happily married couple! The airing of "A Decent Proposal" followed a day full of Quantum Leap headlines. From Justin and Sofia's story of creating this episode together as guest stars to NBC's announcement that the network ordered six additional episodes, Quantum Leap's inaugural season is now a solid nineteen-episode arc. Mason Alexander Park's character, Ian Wright, predicted in the previous episode that it would take ten to twenty leaps to bring Ben to his mysterious destination point. NBC's announcement confirms that Ian Wright is really good at his job. So good, in fact, that team lead Herbert "Magic" Williams (Ernie Hudson) reveals to Ian in beautiful exposition that he was once a leapee, and the impact that original leaper, Dr. Sam Beckett (Scott Bakula), had on his life and so many others is the reason why Magic sought to rebuild the Quantum Leap Project.
The reveals and headlines don't stop there. An NBC press release dated October 10, 2022 heralds Quantum Leap as the season's #1 new show in the 18-49 demographic based on the most current data as well as the #1 NBC current season series on Peacock and a Top 5 title on Peacock season-to-date across all genres.
Finally, in episode four, a welcome nod to Ben and Addison's past becomes less foggy as Ben recalls that Addison is the girlfriend that he remembers in the haze of a dream. It is his hologram sidekick that Ben loves. This revelation is likely to lend itself to a new dynamic of deeper sentimentality and higher-risk hijinks in their continued quest to leap through time to Ben's coded destination point…and eventually to his leap back home.
Quantum Leap airs Mondays at 10 p.m. ET on NBC. The sequel's episodes, as well as all five seasons of the original show, are available to stream on Peacock.