News
The Promised Neverland Live-Action TV Series Set at Amazon
Amazon is adapting the popular twisted manga and anime, The Promised Neverland, as a live-action series.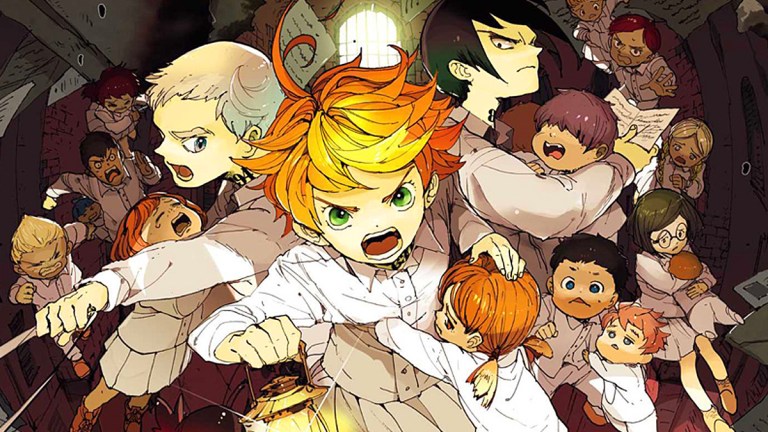 The Promised Neverland, a story about a twisted orphanage, has built quite a following in a short period of time—first as a Vertigo manga series, then as an acclaimed anime series. Now, the Japanese franchise is getting a live-action television series with retail/streaming giant Amazon.
An English-language live-action television event series adapting The Promised Neverland is in development at Amazon Studios, which will produce with Fox 21. Promisingly, the studios have appointed Rodney Rothman to direct and executive-produce the series, coming off a successful Oscar-winning outing as co-director/co-writer of animated hit Spider-Man: Into the Spider-Verse. The script will be written by Meghan Malloy, who will also exec-produce, having worked with Rothman as a production consultant on Spider-Verse. Also onboard as executive producers are Heroes and Hawaii Five-0 actor Masi Oka, and Vertigo's Roy Lee and Miri Yoon.
Domestically titled Yakusoku no Nebārando, Japan's The Promised Neverland debuted in the pages of Weekly Shōnen Jump in August 2016 in serialized manga form from writer Kaiu Shirai and illustrator Posuka Demizu, followed less than three years later in early 2019 by an anime adaptation, which solidified the burgeoning franchise's popularity. Set in the year 2045, the story stands out with its deceptively dark premise, initially showcasing a sanguine tale of abandoned children living a pampered, idyllic existence in an orphanage. However, after some of the smartest kids there start to question their primary restriction, a mysterious gate that keeps them from ever leaving the property, a terribly macabre truth is eventually uncovered, setting into motion a rebellion.
For director Rothman, The Promised Neverland will serve as his live-action directorial debut; one that was a long time coming after he was attached to direct a 21 Jump Street spinoff movie—purportedly focusing on a female cast—way back in December 2016. While the status of that project remains up in the air, he would make his directorial debut with the 2018 animated hit, Spider-Man: Into the Spider-Verse, which bestowed said debut with $375.5 million in global box office riches and a shared Oscar win in 2019 for "Best Animated Feature Film."
Masi Oka's rather curious presence here as executive producer is part of a recent behind-camera transition, which started with a producer debut on Netflix's 2017 anime/manga-adapting Death Note live-action movie. He's currently attached as producer to high-profile developing projects such as long-mooted Edge of Tomorrow sequel Live Die Repeat and Repeat, along with live-action film adaptations of video game franchise Mega Man and manga/anime Attack on Titan.
While there's no production or release window to cite for Amazon's The Promised Neverland TV series, the franchise will return soon enough with a second season of the anime series, which has been announced for a premiere in January 2021 on a date to be revealed.