Features
New Anime 2020: Best Upcoming Series to Watch
Here's a look at some of the latest and greatest anime series and where to find them.
Anime continues to push boundaries not only in animation, but also in terms of what can be accomplished in a television series.
There are now more ways than ever to stream anime. These anime streaming services offer deep libraries that can be overwhelming. There are countless anime landmark shows worth your time, but here's a list of some of the most impressive new anime series to come out in 2019 and 2020 to help cut through the noise and alleviate those anime streaming woes.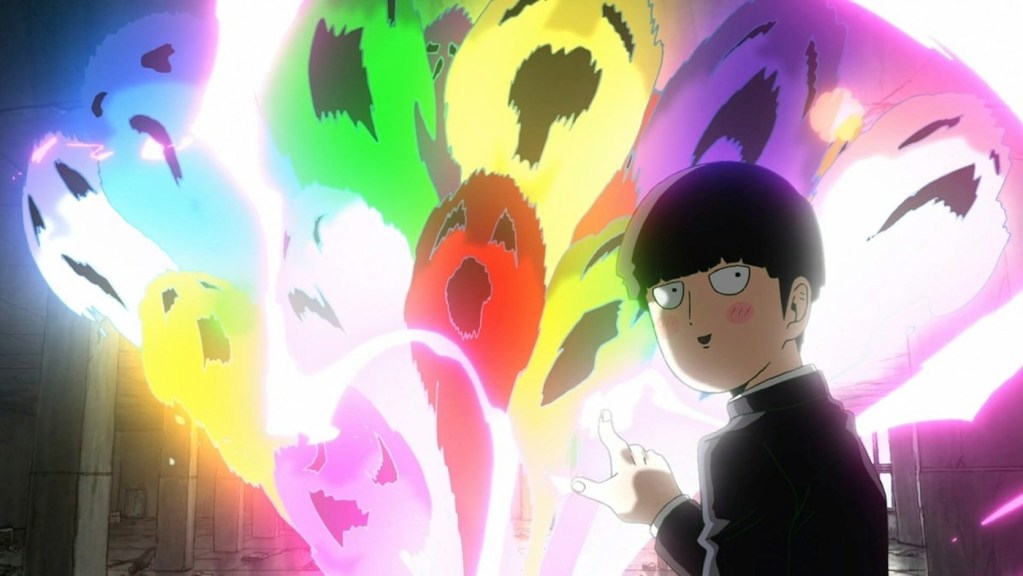 Mob Psycho 100 II
What's It Like? Bored to Death meets Legion
Where Can I Watch It? Crunchyroll, Funimation (Sub and Dub), Adult Swim (Dub only)
There's nothing like a good comeback story. Few anime have such incredible turnarounds between seasons as Mob Psycho 100 did. During the show's first season, the creator's sister series, One-Punch Man, was the more impressive of the two. But when it comes to second seasons, Mob Psycho 100 II absolutely annihilated One-Punch Man and absorbed all of that series' innovation and ingenuity.
Mob Psycho 100 II continues to look at the detective-like misadventures as Mob and Reigen deal with psychic-related incidents throughout the community. The second season tops the first as it features more engaging cases and works to develop Mob's character and his relationships with others. Not only does this improved character work go a long way, but the quality of animation improves. Mob Psycho 100 II contains some of the most beautifully animated sequences to ever be in an anime.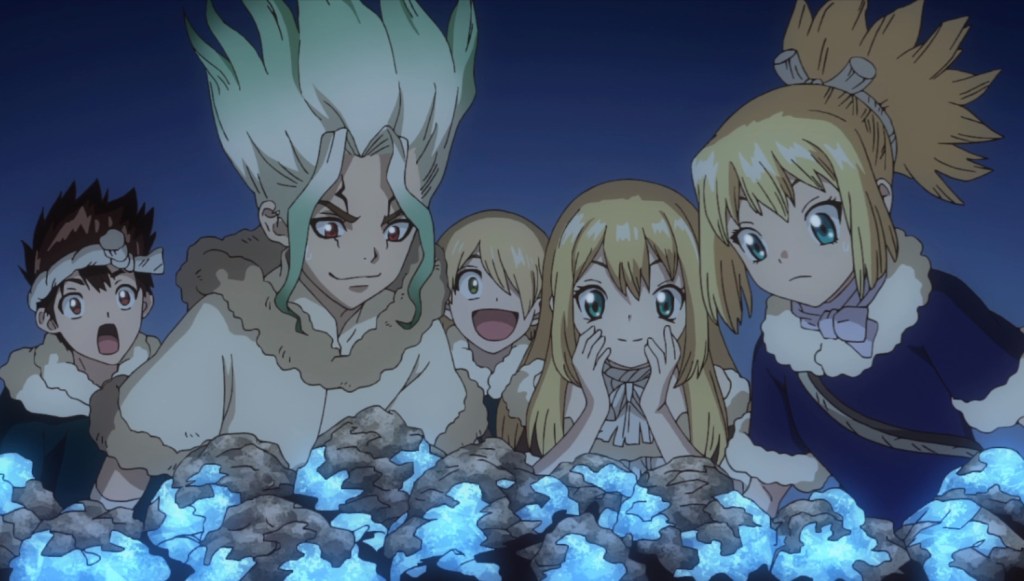 Dr. Stone
What's It Like? The 100 meets Breaking Bad
Where Can I Watch It? Funimation (Sub and Dub), Crunchyroll (Sub only), Adult Swim (Dub only)
Dr. Stone presents such a fun, engaging story from the start. The series looks at two unlikely individuals who are tasked with rebooting the entirety of civilization when a mysterious plague turns most of the world's population into stone.
One of these individuals, Ishigami, is a master of science and he applies his intense knowledge in inspired ways to slowly bring technology back into the picture. It turns science into a superpower in the same way that Breaking Bad did. Dr. Stone uses real scientific principles and is actually educational as it crafts this enthralling story. The scope of Dr. Stone gets bigger over time and it's amazing to see just how far things have gotten since its start. It's undeniably one of the biggest breakout hits of the year.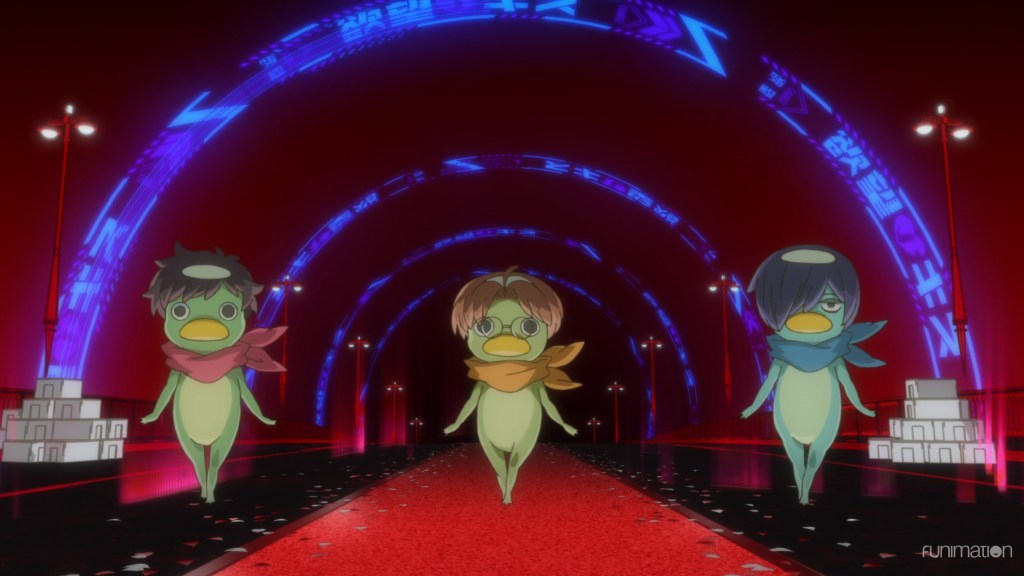 Sarazanmai
What's It Like? If Kafka and Jodorowsky teamed up to do Degrassi
Where Can I Watch It? Funimation (Sub and Dub), Crunchyroll (Sub only)
Sarazanmai is truly hard to explain. It's an anime about young boys who figure out their sexuality, while they also grapple with complex psychological issues. All the while, the entire thing is filtered through fantastical, absurdist nonsense. That's to say nothing of the fact that these boys also suffer from a curse that turns them into kappas in a very cosmically karmic way. Sarazanmai has a tendency to feel like some drug-fueled fever dream, but it's actually one of the deepest and most poignant anime of last season. Sarazanmai is also an anime that comes from Kunihiko Ikuhara, a creator who's known for pushing boundaries in strange ways. Sarazanmai defies conventions at every turn, but the show's incorporation of bizarre elements into this coming of age story makes it one of the biggest wild cards in years and utterly gorgeous. It also has an even bigger fascination with butts than Tina Belcher.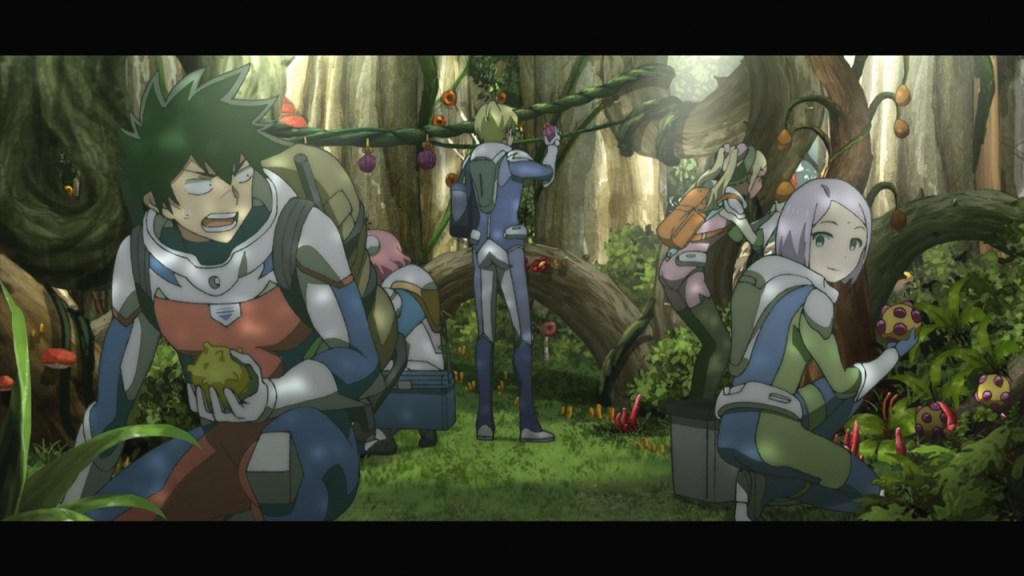 Astra Lost In Space
What's It Like? Lost in Space meets LOST
Where Can I Watch It? Funimation, Hulu (Sub and Dub)
There's nothing better than when an anime can thoroughly surprise audiences and Astra Lost in Space is the perfect example of a show that dresses itself up as one thing, only to pull the rug out. The anime looks at a bunch of students who go off on a routine space expedition, but suddenly finds themselves transported thousands of light years away with survival looking slim. There's a Star Trek quality present as the group hops between planets, gets to know one another, and struggles to survive, but the story becomes a much deeper and fascinating commentary on independence, and the power and dangers of a legacy. Astra Lost in Space is one of the biggest surprises of the year and it routinely defies expectations as it delivers a tight, smart anime about free will, friendship, and the wonders of the universe.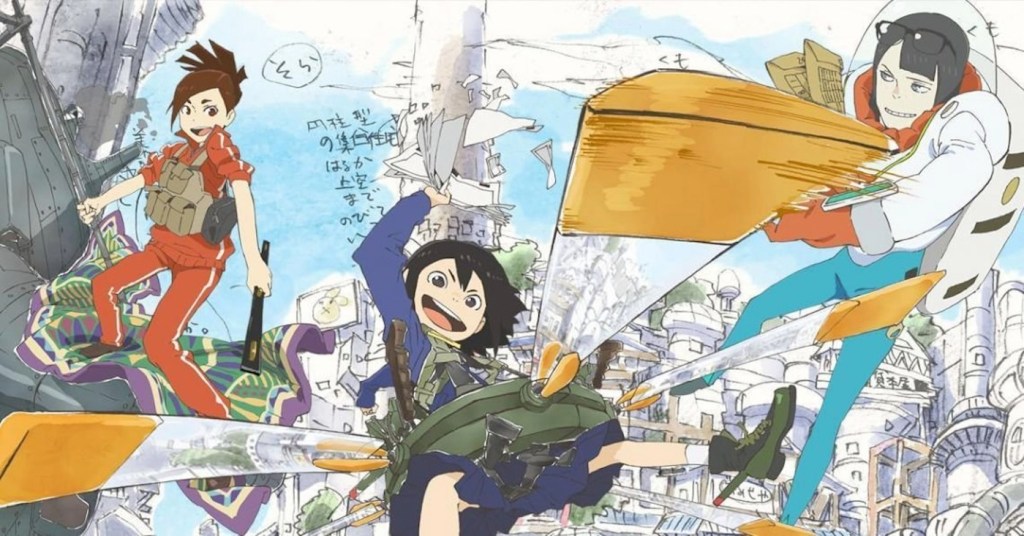 Keep Your Hands Off Eizouken!
What's It Like? Freaks and Geeks meets Crumb
Where Can I Watch It? Crunchyroll (Sub only)
Keep Your Hands Off Eizouken! looks at a bunch of misfit high schoolers who form an anime club together with the hopes of creating their own anime. There's a simple honesty in this show that makes Eizouken! almost feel autobiographical in some ways, but whether you're an artist or not it's hard not to love this series. The premise isn't anything revelatory, but the real draw is that Masaaki Yuasa is the one responsible for this show.
Everything that Yuasa touches is animated bliss and this series continues to illustrate why he's such a groundbreaking and ambitious director. Keep Your Hands Off Eizouken! weaves back and forth between typical animation, rougher sketch-based images, and elegant watercolors as it uses these different mediums to reflect the depth and passion that goes into illustration and animation. It's easily one of the most beautiful anime of the year.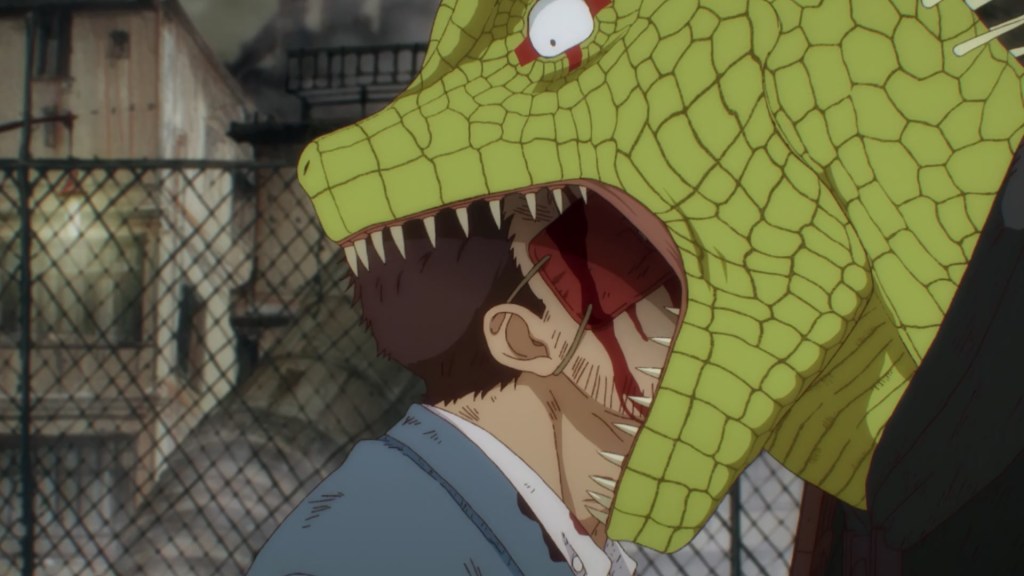 Dorohedoro
What's It Like? Memento meets The Purge
Where Can I Watch It? Netflix (Not yet available)
Dorohedoro masterfully mixes genres and it's maybe what something like Netflix's Bright could have built towards if that film had any idea what it was doing. Here, there's a broken society where sorcerers operate like gang lords and they've gone on a spree of kidnapping individuals for twisted magical experiments. Kaiman, a victim of one of these experiments, has lost his memory and his face has been replaced with a reptile head. This sets off his mission of revenge to kill the sorcerer who's plagued him with this curse and reverse the spell in the process, but it sets off a huge war between sorcerers and criminals. Dorohedoro features unbelievable characters and is one of the better blends between fantasy and crime out there. While the series does rely on some CG for its animation, it honestly makes it work to its advantage and it cultivates a very specific look for its weird brand of violent, surreal justice.
The Promised Neverland
What's It Like? Skins meets The Village
Where Can I Watch It? Funimation, Hulu (Sub and Dub), Crunchyroll (Sub only), Adult Swim (Dub only)
The Promised Neverland is the best type of mysterious thriller that only becomes more unbelievable and addicting with each new episode. The series is set within a strange, secluded orphanage where children are relegated to numbers and the people running the place are shrouded in secrecy. As the children begin to grow suspicious of those who look after them and the stories that they've told, a vast conspiracy unveils itself where the children are pushed into an impossible situation in order to survive. Curiously, Stephen King's most recent novel, The Institute, shares more than a little in common with The Promised Neverland, but this tightly paced, tense series arguably explores the idea with even more creativity and elegance.
JoJo's Bizarre Adventure: Golden Wind
What's It Like? Gangs of New York meets The Magicians
Where Can I Watch It? Crunchyroll (Sub only), Adult Swim (Dub only)
If you haven't already jumped on the JoJo's Bizarre Adventure train then it's finally the time to make the plunge, especially with it turning into a mainstay on Adult Swim's Toonami block. Each season/series of the show looks at a different generation of the Joestar lineage as fantastical battles take place that mix with addictive storytelling in a way where that's purely unique.
It honestly feels like "JoJo" should be a genre on its own. The latest season, Golden Wind, moves the story to Italy and focuses on Giorno Giovanna as he infiltrates a dangerous gang with hopes to reform it from the inside out. Golden Wind's story goes to much crazier places than mere gang reform and it makes for one of the most surprising and satisfying seasons of JoJo's Bizarre Adventure. The characters are memorable, their stands and special abilities don't disappoint, and the animation and music continues to play by their own rules. Watch this "torture dance" and you'll instantly be hooked.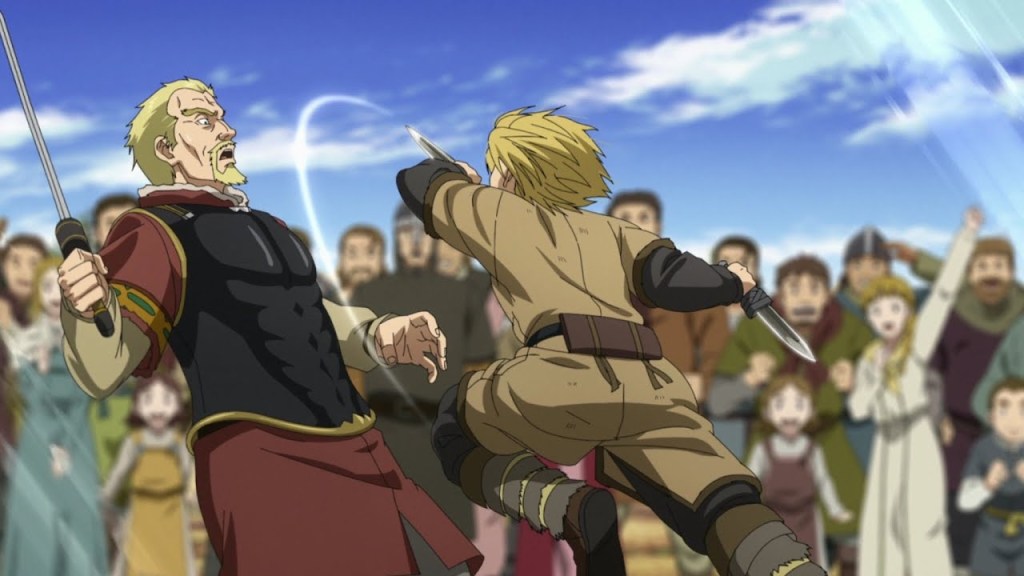 Vinland Saga
What's It Like?: Game of Thrones meets Boyhood
Where Can I Watch It?: Amazon Prime Video (Sub only)
Vinland Saga is the type of anime that's pure bliss for not just fans of brutal action, but also of historical dramas. The anime is set during the height of conflict between warring Viking nations and the series does not hold back from the violent nature of these battles. The anime centers on Thorfinn, a child who is forced to come of age during this conflict after his father meets his end courtesy of the enemy. What follows is an impressive look into Thorfinn's gradual evolution into a warrior as he matures. It's a grueling saga that's both epic and personal and Vinland Saga manages to make its antagonist, Askeladd, just as compelling as Thorfinn and a complex anti-hero in his own right. With all 24 episodes now available, it's the perfect series for anime fans who want something a little more adult.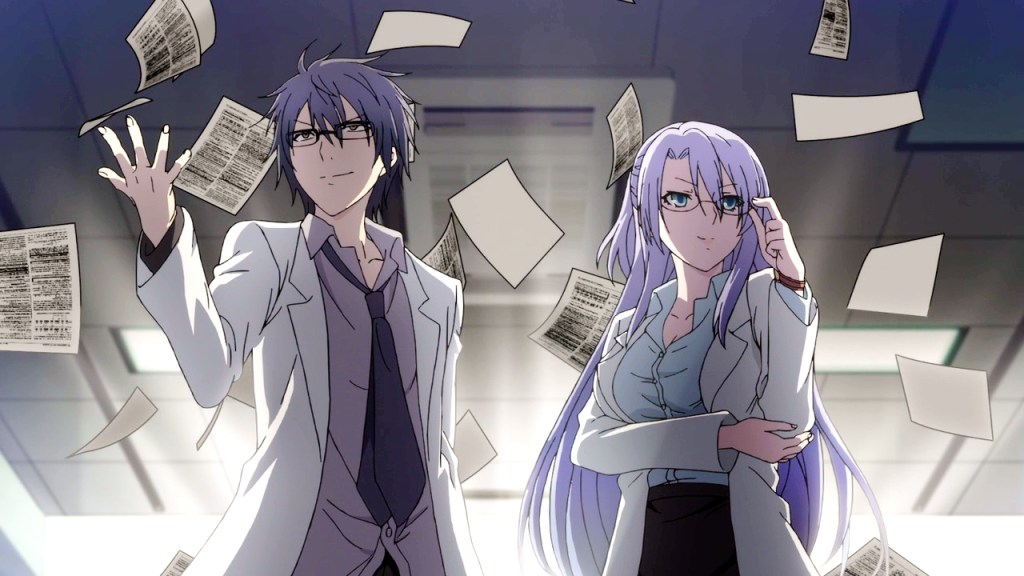 Science Fell in Love, So I Tried to Prove It
What's It Like? Frasier meets The Big Bang Theory
Where Can I Watch It? Crunchyroll (Sub and Dub)
Science Fell in Love, So I Tried to Prove It is a love story between two incredibly dry scientists who get more out of scientific formulas than they do from human interactions. However, their worlds are rocked when evidence suggests that they're in love with each other. The anime gets clinical and analytical over something as instinctual and emotional as love. It reduces relationships and romance to empirical evidence, hypotheses, and statistics. It's an incredibly unusual way to deconstruct something like love, but these characters are so well defined in their staunch scientific natures that it's the perfect juxtaposition of extremes. In spite of how these two characters realize that they're in love with each other, they're less excited over that discovery than they are over the fact that something as nebulous as love can be reduced to numbers and science.
Even though the show's two central characters are so similar and are equally caught up in their sterile natures, there are still outside perspectives from other characters who help properly put their ridiculous experiments into context and get more mileage out of these characters' extreme personality types. The two are extremely intelligent, but their commitment to science continually causes them to miss the simple answers that love provides. Science Fell in Love, So I Tried to Prove It isn't just a unique spin on romance anime, but it's also incredibly funny and properly understands how to get the most comedy out of the absurdity of the show's premise.
Honorable Mentions: Fire Force, Carole and Tuesday, ID: Invaded, Demon Slayer: Kimetsu no Yaiba, My Hero Academia Season 4