News
Power Rangers Beast Morphers Season 2 Will Return to US in September
Power Rangers Beast Morphers Season 2 will finally hit American screens next month.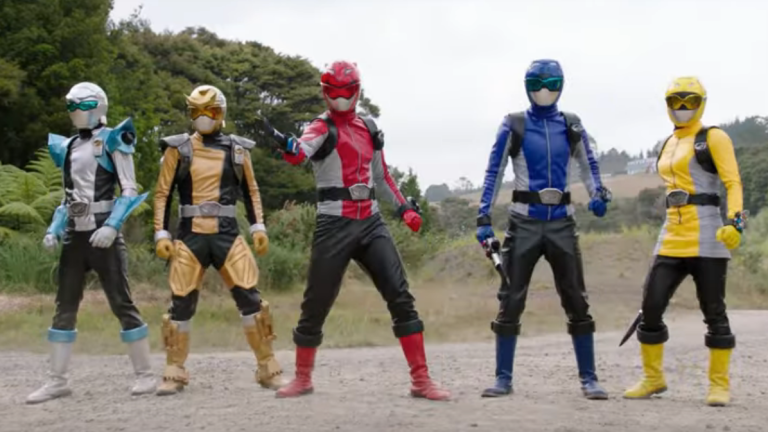 If you're a Power Rangers fan in America you've been in a drought. There hasn't been a new episode of Power Rangers Beast Morphers, the current series, aired in America since April of 2020! That's been four months without new Power Rangers but thankfully we'll be seeing new episodes soon. As part of Hasbro's Fan First Friday, it was revealed that Power Rangers Beast Morphers would be returning to Nickelodeon "next month." We don't know when in September it'll be but at least we have a vague idea of when the show will be back on Nickelodeon.
There's a lot to look forward to, with the promised return of not only the Dino Charge Rangers but original Mighty Morphin Red Ranger Jason! We've only seen brief glimpses of this much anticipated team-up but all we know for sure is that alongside Jason we'll be seeing Tyler, Chase, Koda, and Sir Ivan from Dino Charge unmorphed. While of course we'd love to see more old Rangers it'll be great to enjoy the ones we're getting. But who knows, the season could have more secrets to reveal!
If you're looking up new information about the rest of Power Rangers Beast Morphers Season 2 be wary! The rest of the second season already aired in the UK back in June so if you see any clips floating around of the return of Jason or other characters from old seasons, that's where they came from. It's a shame that it aired elsewhere first but if you want to remain unspoiled be sure to watch the tags on your favorite social media platform. You should also avoid YouTube because those recommendation thumbnails are the worst spoilers out there. In fact, maybe you should avoid anywhere on the internet that talks about Power Rangers. Besides Den of Geek, of course. We're spoiler-free here!
What are you most looking forward to when Beast Morphers returns to finish out its run? Is it the big Dino team-up? Is it the possible return of other characters? Seeing what'll happen with Devon's dad after his possession by Evox? That was the biggest dangling cliffhanger at the end of the last episode aired so we're ready to see how that resolved! Do they save him? Will he still be possessed by Evox for the rest of the episodes? There's a good chunk of content left in the season so we're excited to see where the show goes.
We also have Power Rangers Dino Fury, the next season, to look forward to! That show is currently ramping up for production, with Beast Morphers long having finished. Get ready for the drought of Power Rangers to end!