Features
Pistol: Maisie Williams' Jordan Was a Living Work of Art
In FX's Sex Pistols series Pistol, Maisie Williams plays a punk icon who fashioned herself for chaos.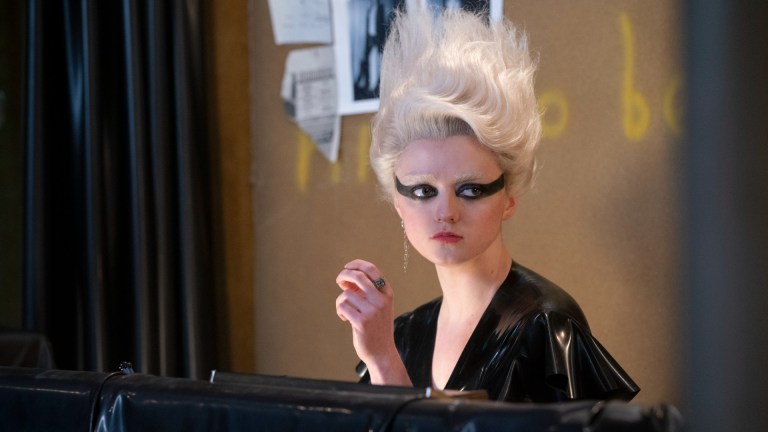 Based on Steve Jones' 2017 memoir Lonely Boy: Tales from a Sex Pistol, FX's miniseries Pistol thrashes through London's early punk scene as seen through the bleary eyes of the Sex Pistols: guitarist Jones (Toby Wallace), drummer Paul Cook (Jacob Slater), singer John "Johnny Rotten" Lydon (Anson Boon), and bassist Glen Matlock (Christian Lees), who is unceremoniously dumped and replaced by John Beverley, who rechristened himself Sid Vicious (Louis Partridge). Emma Appleton plays the tragically flawed heroine Nancy Spungen.
The entire career of the Sex Pistols was a premeditated swindle malignantly perpetuated by their manager Malcolm McLaren (Thomas Brodie-Sangster), who similarly plotted the downfall of the rising proto-punk outfit The New York Dolls. He schemed the chaotic caper at 430 King's Road, the boutique SEX, co-owned by the truly revolutionary Vivienne Westwood (Talulah Riley), after the artful dodging Jones tried to make off with the wrong pants. In the series, he is punished by having to endure fashion lessons by Chrissie Hynde (Sydney Chandler), a songwriting guitarist who has not yet founded The Pretenders.
Jones also gets chicly thrashed by the boutique's resident dominatrix of design. Game of Thrones' Maisie Williams plays the face of the sexually anarchic shop: Jordan Mooney, who defined the British punk mystique.
When auditioning, Williams learned the role would require a lot of nudity. "I want to be in this show because I'm the best person to do this, not because I'm the only girl who'll take her top off," Williams told GQ. While the very first episode of Pistol is entitled "Track 1: The Cloak of Invisibility," director Danny Boyle makes the subversive spin of the see-through-look blazingly apparent. "Jordan was a political statement," Williams explained. "Her entire ethos was turning the male gaze in on itself, and it was overtly sexual in a way that made other people feel ashamed."
Jordan Mooney, whose real name was Pamela Rooke, often described herself as a "living work of art." She was the youngest of three children, and her mother, Linda, was a seamstress. The once-aspiring ballerina took the single name Jordan at the age of 14, according to her 2019 autobiography, Defying Gravity: Jordan's Story, which she wrote with Cathi Unsworth. Along with thrift-shop fashion pioneers Soo Catwoman (played in the series by Iris Law) and Siouxsie Sioux (Beth Dillon), Jordan's bleached platinum-blonde bouffant hairdo, gold fuck-me pumps, and see-through net skirts created the look of the London punk scene.
Jordan loaded the Pistols with sex. She was on stage when the Sex Pistols premiered "Anarchy in the U.K." during their first live television performance in August 1976. Granada TV's So It Goes, with Tony Wilson, presented rising bands who didn't have recording contracts. Prompted by McLaren and Siouxsie and The Banshees' manager Nils Stevenson to mash things up a bit, Jordan stepped on stage wearing an "Only anarchists are pretty" T-shirt, with a swastika armband on one side, and a Karl Marx armband on the other. The show's producers stopped the cameras. The Sex Pistols wouldn't perform without her, and Malcolm wouldn't let her take the armband off.
Jordan was working at Harrods' most progressive fashion department, Way In, when she was hired by SEX, wearing nothing but sheer black tights and a belted mac, according Defying Gravity: Jordan's Story Sex Pistols bassist Glen Matlock was the Saturday sales assistant.
McLaren was in New York with The New York Dolls when Westwood put the budding trendsetter to work. Like the hired models her character deconfiguritively disrobes in Pistol, Jordan didn't get to keep the clothes she wore in store. Sometimes even if she'd properly bought them. If she was wearing something a customer liked but wasn't available, McLaren would make Jordan take off what she had on and sell it.
That didn't dissuade the iconoclastic counter-girl from stopping a good sale of a bad fit. As the series points out, Jordan would tell customers when the clothes weren't right for their personalities, because their motivations were out of whack. She didn't want people to just purchase punk chic, she wanted them to understand why they were buying it. Jordan saw a clear ideology behind the clothes, and enforced it strictly.
The tradition of demurring over fashion giveaways went back to her school days, according to Defying Gravity. Jordan, who was dismissed from school at 18 for showing up for class with red and pink hair, caught David Bowie's show at the Brighton Dome during the 1973 Ziggy Stardust tour to dance to its inspiration.
Wearing a Biba jacket and gold platform shoes, Jordan pushed through the crowd to the stage to present Bowie with a handful of cherry blossoms she picked from a tree she'd climbed. When Bowie asked if he could have the starling-feather-and-pearl earring she was wearing, Jordan said no. Just because he was a Starman didn't make her a space cadet.
Jordan commuted two hours every day from Seaford to her job at the controversial London boutique. She endured tourists who offered to pay for photos and mothers who told her she was debauching the children on British Rail. "People were really hostile to her when she wore these outfits on the train," Williams told Variety. "She would in fact get taken into First Class, mostly because they wanted to protect her from disgruntled people."
Jordan legitimized latex as a fashion necessity and stilettos as a stepping stone to stylistic insurgence. Her Cleopatra-make-up was the foundation to a revolution. Jordan wanted to provoke. Vintage Basque tops and suspenders uniformed the new outfit storming the royal castle. The 70s punk movement was an equal opportunity offensive which wasn't divided by gender, ethnicity, orientation, beauty, ugly, tall or thin. It was the outsiders' comfort zone. Jordan's fashion tips inadvertently outed customers, who came back years later to thank her for the freedom she brought them. It wasn't about bravery. Jordan just didn't care what people thought.
"I think people didn't really understand her expression as a work of art," Williams told Variety. "They felt it was inappropriate, because it was linked with some kind of fetish or sex work, and for that reason, people were really awful to her. But she wasn't a confrontational person, at all. It was kind of just a storm around her, almost."
As an actor, Jordan made a cameo appearance in Derek Jarman's 1976 debut film Sebastiane, about Saint Sebastian, who achieved martyrdom by bow and arrow. For the 1978 follow-up Jubilee, Jarman wrote the lead part of the punk anti-historian Amyl Nitrate specially for Jordan, although the singing was done by Suzi Pinns.
Jordan and Soo Catwoman both make uncredited appearances in Julien Temple's The Great Rock and Roll Swindle, the 1980 mockumentary about the Sex Pistols, with a strong focus on McLaren, who stars as "The Embezzler." Lydon refused to have anything to do with the film. Through managerial decree, he'd been replaced at the mic by Sid. In Defying Gravity, Jordan writes about being a witness to the unraveling of Vicious, and says she couldn't watch the film Sid and Nancy.
Jordan managed Adam and the Ants in the late 1970s, taking guest lead vocals for the song "Lou," and on BBC Radio 1 DJ John Peel's Peel Sessions. She lost her job at SEX when she married Kevin Mooney, the bassist for and the Ants. Westwood saw marriage as an act of conformity. Jordan managed Mooney's band Wide Boy Awake in the 1980s, but the group and the marriage broke up.
With the decline of punk, and a growing drug habit, Jordan returned to Seaford in the mid-1980s. She trained and became a veterinary nurse at Beechwood Veterinary Surgery, and began breeding Burmese cats. She did that for almost 30 years. Jordan died in East Sussex on April 3, 2022, from cholangiocarcinoma.
When she was young, Jordan studied ballet with a fervent passion. She tailored those fluid motions to the fashion and music movement, and left a beautiful stain on the fabric of an anarchic society.
FX's Pistol is available to stream on Hulu now.