News
Outlander: Mysterious Season 1 Appearance Finally Addressed
Who was that mystery man in a kilt looking up at Claire's window in the very first episode of Outlander? Spoilers ahead...
This article contains major Outlander spoilers.
For Outlander fans, there is perhaps no greater mystery than the one that lingers from the pilot episode of Ronald D. Moore's time-traveling romance series.
If you can cast your mind back to the very first season (and indeed we can, as it was maybe the sexiest thing that had ever happened on television, so it's not that much of a stretch for the old synapses) you may remember that in the first episode, Frank (Tobias Menzies) was walking back to his then-wife Claire (Caitriona Balfe) in the rain, only to encounter a strange figure looking up at her through the window as she drifted around in her room. The man looked to be dressed strangely, slightly out of time, shall we say, but he was wearing a kilt.
After being called out by Frank, the figure disappeared in the blink of an eye – was it a ghost of some sort? And who was it…?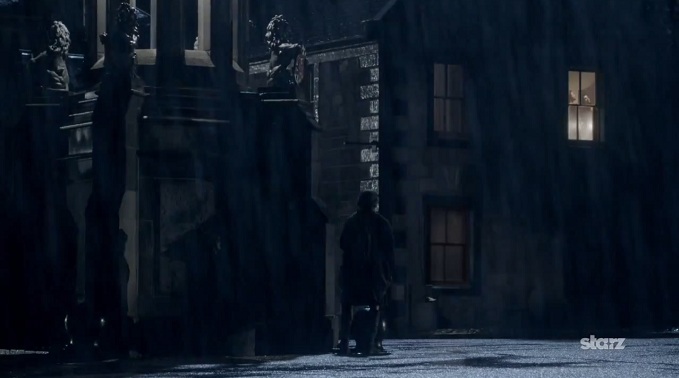 Well, the cat is now out of the bag, and the identity of the man has been revealed – yes, it's definitely Jamie.
"It hasn't been explained and hopefully we get to that point where we can explain it, but Diana [Gabaldon] has said many times that it is Jamie Fraser," confirmed executive producer Maril Davis Outlander's For Your Consideration panel in L.A..
Sam Heughan, who plays Jamie in the series, was also at the panel. He went on to confirm that the author "has written that scene, and she showed it to a few of us. It's to be revealed."
The sound you just heard is a squee that could shatter eardrums, and we're not ashamed to say we're responsible for it.
The fourth season of Outlander is still currently filming, and a fifth is all but a done deal over at the Starz network.