Features
On Resident Alien, Marriage Is the Most Human Story
The team behind Resident Alien weighs in on the state of Ben and Kate's marriage, and what's next for the Hawthornes in Season 2.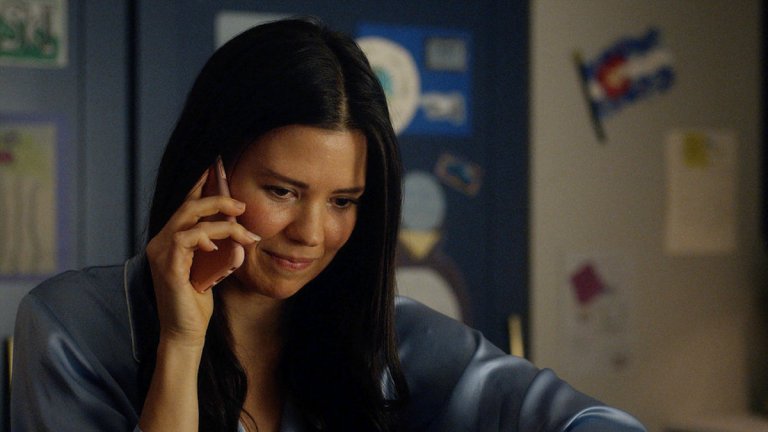 The following contains mild spoilers for Resident Alien.
Resident Alien is about much more than just Harry Vanderspiegle (Alan Tudyk), a disguised alien pretending to be human in the town of Patience, Colorado. Yes, there's plenty of awkward comedy as he tries to blend in and make sense of the oddities of human behavior, but the show also uses his abrasive personality and pointed commentary to illuminate the similar problems many of his neighbors are also dealing with. (Aliens, they're just like, right?)
That the show gives each and every member of its sprawling cast such clearly defined layers is part of the reason it's so darn great to begin with, but what makes it truly remarkable is that these characters all have journeys and arcs of their own that exist completely separately from Harry and the threat of alien annihilation. Asta (Sara Tomko) is attempting to build bridges with the daughter she gave up for adoption. D'Arcy (Alice Wetterlund) is wrestling with whether she should return to the ski slopes she once loved. And Kate (Meredith Garretson) and Ben Hawthorne (Liev Fiehler) are busy trying to figure out what has gone wrong in their marriage.
On paper, the Hawthornes have it all. He's the mayor of their small town and she's a teacher at their son's school. They have a precocious kid who can see aliens. But they're also deeply and obviously unhappy, despite their clear—and seemingly ever-present—desire for one another. But as evidenced by Season 2, Episode 11 "The Weight," Resident Alien isn't as interested in breaking their relationship apart as it is in figuring out how to put it back together.
"For Ben and Kate, yeah, they have a very spicy sex life but it's covering the fact that they don't really have intimacy in an emotional way," series creator Chris Sheridan tells Den of Geek. "They don't feel comfortable talking to each other. They don't feel [comfortable] opening up and telling each other their secrets."
The fact that the pair are so willing to take risks sexually only serves to further highlight how closed off they have become to each other otherwise, and they frequently end up at odds over everything from what they should have for dinner to their son Max's (Judah Prehn) future. (The kid came this close to getting shipped off to boarding school after telling half the town Harry was an alien.)
It's evident that the issues in their relationship are not new, either. Kate often laments the lack of cultural and intellectual stimulation in a town like Patience and, on some level, she clearly resents that she's using her prestigious law degree to teach nine-year-olds at her son's school. Ben finds it difficult to be assertive or ask for what he wants. He even refuses to hang up an (admittedly terrible) "Live Laugh Love" sign in their home simply because he's afraid Kate will hate it.
"Ben has always had a lot going on in his life since he was a kid," Sheridan says. "He's got a lot of fear in his life. He doesn't feel comfortable talking to her about it. She's not happy in Patience. And she doesn't feel comfortable talking to Ben about it. All these resentments sort of build up until their relationship suffers because they can't talk to each other."
But Resident Alien doesn't judge either Ben or Kate for their feelings—in fact, the show is remarkably honest about how difficult marriage can be and how difficult it is to grow with one another rather than simply grow apart. In fact, on a different sort of show, Ben and Kate's relationship might well have already come to an end, thanks to his kiss with D'Arcy last season. But on Resident Alien the moment isn't used as a break-up catalyst, but rather to explore deeper emotional problems in the Hawthrone's marriage.
Ben doesn't kiss D'Arcy because he especially wants to be with her, romantically speaking, but rather because he wants to be the version of himself that she remembers from high school. And Kate isn't even upset about the actual physical kiss—thankfully, she knows it doesn't actually mean anything to either of the involved parties. But she's furious that neither her husband nor her supposed friend managed to tell her that it happened.
It's rare on television that infidelity is treated as a symptom of a larger relationship issue rather than the entire issue within a relationship, as though the decision to cheat (or just to kiss someone else, in this case) happens in a vacuum. Here, the question is not framed as an inevitable love triangle where Ben will be asked to decide between two women, but whether he'll be able to save the relationship he already chose.
Smartly, however, Resident Alien never insinuates that the Hawthorne marriage is in any real danger of permanent collapse. Despite the problems they're currently facing, it's clear that the pair are still in love and both want to work to fix their problems.
"They're trying to learn how to reconnect," Levi Fiehler, who plays Ben, says. "They've been married for so long and are kind of just going through the paces. And so they're trying to reconnect after all these years of [things] getting a little stale."
A thing that's rarely shown on television is how much work goes into a marriage and how forging a life together is an ongoing prospect that never really stops. Sure, Ben and Kate have their issues, and their marriage has had its ups and downs, but they're putting in the effort to try to fix it, together. And that matters.
In last week's "The Ghost of Bobby Smallwood," we see the pair repeatedly struggling to find a way to communicate face-to-face, finally finding a way to talk to each other by recreating the first way they ever regularly did so—a phone call. In "The Weight," we see both Hawthornes slowly opening up about their shared relief that Kate's pregnancy turned out to be a false alarm, and admitting that neither of them honestly wants a second child right now. These may be small steps, but they're important ones.
"A lot of Season 2 for Ben, for Kate, and the rest of the characters is about taking control of your life and finding your own inner strength," Sheridan says. "For Ben, he's gotta find the strength to be himself around his wife. And we'll watch him go through that journey in the second half of the season."