Features
New Year's Viewing Resolutions: Movies and TV Shows We Promise to Watch in 2023
Is 2023 the year you're finally going to watch The Wire? Finish The Godfather trilogy? Give up Storage Hunters for good? Share your New Year TV & Film resolutions!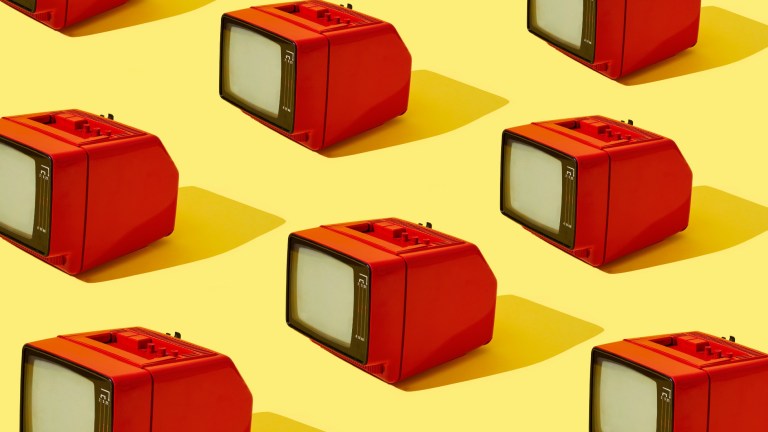 The Japanese word 'tsundoku', beloved by book nerds, refers to the pile of unread books next to your bed or by the sofa, which rises steadily with each new optimistic purchase. There must be an equivalent for the mental stack of TV and film titles we each carry around inside our heads, made longer with every 'oh-my-god-you-have-to-watch' recommendation and inconveniently positive review.
The only way forward? Show that list who's boss. Seize control, take back the power, and no longer creep into each new dawn bent double by the weight of Stuff You Still Haven't Seen. 2023 is your year to climb on top of that teetering mental pile and look out to horizons new. And it all starts here, with your New Year's Viewing Resolution. Clear up an unfinished series, finally knuckle down to a classic, get to grips with a new obsession, make one night a week movie night, cut ties with a show that's been doing you dirty… whatever you resolve, the change starts now. Here's what our writers have planned.
I resolve to… actually watch the end of everything
Look, any therapists reading this don't need to comment, this isn't proof of some deep-seated neurosis or inability to face up to the inexorable fact of mortality. Probably. It just happens to be the case that when I'm really enjoying a TV show, to the point where it becomes, for a time, my absolute favorite place in the world to be, I don't watch the end.
Deadwood, The Sopranos, The Wire, The West Wing… (actually, not The West Wing because that's more due to the last DVD having been inside a PS2 stolen when our house was burgled. Enjoy having zero context for those six Leo-less episodes, thief!) each one I've watched to midway through the final season and then stopped. I know what happens, more or less. The Sopranos finale is too famous not to know. But I've not seen it for myself because when TV is that good, I'd rather leave it before it leaves me.
So that's my 2023 resolution: watch the ends of those shows. But what dummy would do that so many years later without first going back to the start and watching them all again from scratch? –Louisa Mellor
I resolve to … watch For All Mankind
It's becoming increasingly difficult to be a TV completist. You can try to watch every single "critically acclaimed" or "essential" TV series all you want and still fall short. Such is just the nature of time. There aren't enough hours in the day to watch everything someone else tells you to watch. And trust me: I feel this acutely as a TV critic. 
Still, there are some things that you have to prioritize and I feel like Apple TV+'s speculative fiction space race drama For All Mankind is one of those things. I can barely make it through any given week without someone telling me to watch For All Mankind. Though Apple TV+ isn't the biggest streaming service out there, it's home to legitimate hits like Severance (love it) and Ted Lasso (love it), and everyone assures me that For All Mankind is on the same level.
So I've tried to make time to watch it, I really have! I love showrunner Ronald D. Moore (of Battlestar Galactica fame). I love geopolitics mixed in with some light sci-fi. I know I'll love this show. But every time I feel like I'm ready to get started on its three-season (so far) run, something else more timely and important comes up. 2023 will be the year though. Just after I watch these 49 screeners… – Alec Bojalad
I resolve to… watch less crap
I'm very lazy. I amaze myself with my own laziness. My laziness is epic, it's boundless and it's perverse. My laziness costs me way more time and energy than making the tiniest bit of effort would. And this is how I find myself watching full seasons of utter utter rubbish on Netflix, including deeply unfunny comedy, awkwardly mawkish female interest drama, and as many documentaries as you can shake a stick at.
Meanwhile have I seen The West Wing, The Sopranos, anything past season two of The Wire? Have I fuck. I'm not going to go back and watch those shows to be clear. I'm just explaining how massive some of my gaps are. No, I'm not going back for the classics but what I do resolve to do is to use any other streaming platform than Netflix. Severance is meant to be great – I haven't watched it because my TV doesn't have the Apple app on it. I'd have to press a button on the laptop that is permanently welded to my lap. Too much bother. Station Eleven? I don't even know what channel that is on, and finding out would require the most basic research of the kind that I am literally employed to do on a daily basis – I can't be bothered to search so here I am watching episode upon episode of "A Killer's Mistake". 
No more. I want the good (new) stuff. So in 2023 I will resolve to click more than one button. Sometimes. I don't want to over promise and then fall off the wagon, obviously… – Rosie Fletcher
I resolve to … watch more crap
When I collapse in front of a large screen, at home, looking for something to commit a few hours of my life to, I start at Turner Classic Movies, and a lesser-known channel which shows B-movie oldies not usually on TV. Then I flip through the premium channels, hoping to be surprised by something like director John Frankenheimer's 2002 HBO feature Path to War, starring Michael Gambon and Alec Baldwin, that makes me say out loud to no one particular, "How could I have missed this?" Blockbusters never thrill me, hit series disappoint me, and mainstream tastes are bland.
But true crap? That keeps my interest. Not just the Troma movies and budget-less horror spectacles whose infectious comedy is unintentional, but fully committed lunacy made for the sake of getting it out of the system. If I flip through basic cable and run across any random sequence of any random episode of Malcolm in the Middle, it makes me re-evaluate every 5-star rating I've ever given to a comedy. I get my fill of clever, I need crap. – Tony Sokol
I resolve to… finally finish Game of Thrones
Yes, I know, it's wild that I've made it this far as a TV/pop-culture writer without watching Game of Thrones. In my defense though, the series started when I was 14 and before my parents got HBO, and by the time I cared enough to watch it and had enough time to, so much was already spoiled for me that I didn't see the point. I started House of the Dragon when it premiered because I sure as hell wasn't going to miss out on such a big series this time around, which led me to finally start Game of Thrones around the same time. After catching up on House of the Dragon, I needed something else to watch while recovering from Covid, and GoT was great for that, but then I got better and other stuff came out and I just still haven't finished it. Oops. 
Even though many of the major deaths and plot points have been spoiled for me already (thanks internet!), and I already know who ends up on the Iron Throne, I still made it through half of the series this year. With an entire new year ahead of me, I'm confident that I can find the time to finish watching Game of Thrones once and for all in 2023, no matter how mad the ending makes me. – Brynna Arens 
I resolve to… watch more documentaries that aren't about serial killers
*Deep breath* 'My name is Laura Vickers-Green… and I'm a helpless murderino.' There. I've confessed. I mean, I've always been a true crime fan, but ever since Making a Murderer came out on Netflix, I've been consuming stories about real-life murders with more ferocity than Jack the Ripper. I binge podcasts like Serial, My Favorite Murder, and All Killa No Filla while cooking dinner, new docs get consumed pretty much the day they come out (Don't F*** With Cats, I'll Be Gone in the Dark, The Ted Bundy Tapes…), and my Netflix list is full to bursting with gruesome tales of tragedy as yet unwatched.
But the reason I love them is the suspense, the lessons learned, and most of all the excellent storytelling – and that's true of all good documentaries, not just the ones with bloody crime scene photos. The Tinder Swindler, David Baddiel: Jews Don't Count, and Trainwreck: Woodstock 99 proved that this year alone, and I'm really looking forward to 2022: The Year from Space on Channel 4 on 2nd January. Maybe it's about time I watched documentaries that taught me more than just what luminol is. – Laura Vickers-Green
I resolve to… watch Ozark
I'll be honest, I am a serial 'watch one episode of something, decide I don't like it, try again at a later date and decide it is actually great and I was in a funny mood at the first screening' person. I did it with Peaky Blinders, Mad Men, and Breaking Bad (all of which I have greedily completed and loved once I got into them).
I have tried to watch the first episode of Ozark twice – the first time I watched the whole thing and thought 'meh' while the second time I got 15 minutes in and gave up. But this year I am determined to find out why people love it and see if I do too. I want to know why Julia Garner is getting all these awards! (The Anna Delvey show did not help explain that to me). I want to see Jason Bateman as more than Michael Bluth! And I'm going to do it, just as soon as I'm up to date on Below Deck… – Elizabeth Donoghue
I resolve to… watch Bollywood movies
In my old age, I've discovered that my favorite genre of movie/book/tv is "sincere and weird." I blame David Lynch and the Wachowskis for planting this seed. They got me hooked on the horror stylings of Twin Peaks and the late '90s cool of The Matrix, but then also made me love a family of race car drivers sticking it to the man and old guys sitting on a porch. Every time that I tell someone about some sincere oddity that I adore, such as the Ava DuVernay adaptation of A Wrinkle in Time, friends ask if I also like Bollywood.

Sadly, the answer is "no," but not because I don't enjoy Bollywood films. It's "no" because I've never seen a Bollywood movie. And at the risk of invoking a Chris Pratt meme, at this point, I'm afraid to ask. The fact that there is a whole movie industry in another part of the world overwhelms me and I have no idea where to start. But that's going to change in 2023. I will become a Bollywood fan… as soon as I figure out where to start. – Joe George
I resolve to…watch more animation 
I've always had a strange relationship with pretty much every form of animation. I have nothing against the medium, and I love numerous animated works, but it never actually occurs to me to sit down and watch anything animated. My mind always goes elsewhere before I even consider my options. 
So, maybe 2023 will finally be the year I find the time to watch animated movies once in a while. Classic Disney, recent award nominees, pretty much the entire Miyazaki lineup…I've got a lot of catching up to do, and I'll never come close to doing it if I can't get my brain to stop defaulting to live action. – Matthew Byrd
I resolve to…watch less and read more
If I have one vice, it's buying books. I can't help it: I just love the damn things, love having them around me, love picking them up and leafing through them. And, of course, I love to read. But with the way we live these days, with work and family and other entertainment all vying for our attention, all the books I purchase just keep piling up. So I'm going to try to watch less and read more.
Particularly when it comes to TV: I hope to dial down on the series I fall into listlessly viewing and pick up a good novel instead (favorite genres: sci-fi and horror, of course). It will be a bit harder with movies, since I do enjoy those and sort of have to watch as many as possible for my job, after all. On a side note, I also collect Blu-rays – yes, I'm still a physical media guy and will be proven right on that – and have a bunch of recent UHD restorations I really need to get to: Tombs of the Blind Dead! Starship Troopers! Invaders from Mars! Lost Highway! Plus many more. But the books are really where it's at for me. I hope, anyway. – Don Kaye
Now, what are your resolutions for 2023? Tell us in the comments!