Features
Netflix's Resident Evil Soundtrack: Complete Details and Playlist
Here's the complete track list of all the songs featured in Netflix's Resident Evil series.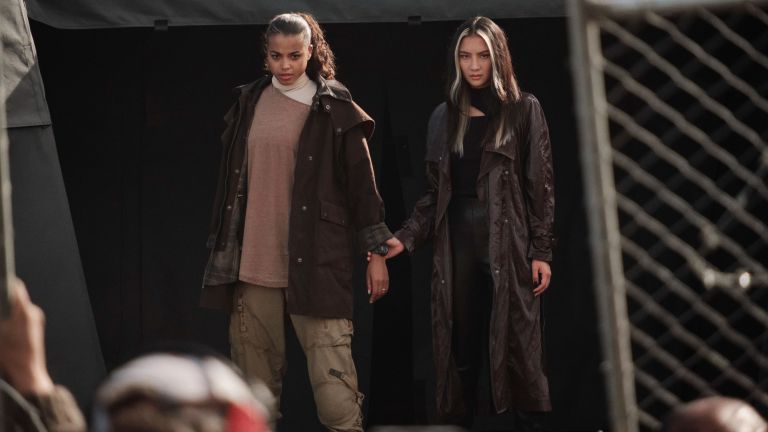 Netflix's Resident Evil is kicking off a new era for the franchise on the small screen. After years of movie adaptations starring Milla Jovovich and directed by Paul W. S. Anderson, the franchise is shifting gears to tell a story unlike any we've ever seen on the big screen or in the games. This new Resident Evil series ditches Chris and Claire Redfield, Leon S. Kennedy, and Jill Valentine to tell a modern-day story about Albert Wesker and his family.
Starring the great Lance Reddick as the classic Resident Evil villain, the series not only gives us a complete reimagining of the character as a family man but also introduces us to his two teen daughters, Jade (Ella Balinska/Tamara Smart) and Billie (Adeline Rudolph/Siena Agudong), who have their own issues to deal with, like having to upend their whole lives to move with their father to a place called New Raccoon City. It's through Wesker's daughters that fans will begin to uncover the mysteries lying just underneath the surface of this new place as well as the dark experiments being conducted by their dad inside the top-secret labs of the Umbrella Corporation. And it's not a spoiler to say that one of the things Umbrella is working on in their lab starts with the letter "T."
Family and teen drama soon gives way to the kind of zombie fest fans love, but as our review of all eight episodes notes, you shouldn't expect anything as scary as the original games: "The best moments from the games are exercises in suspense, jump scares, and body horror that made the series an instant classic in the genre. The show never approaches this level of terror, though the revolting monsters do help to raise the queasiness factor at the very least."
That said, if it's good music you want, Netflix's Resident Evil delivers plenty of that, including songs by Billie Eilish, Halsey, Sex Pistols, Dua Lipa, and more.
Below, we've curated a playlist with all of the songs featured on the show:
And here is where you can hear each song:
Episode 1
"Oxytocin" by Billie Eilish
"Faith" by Ghost
"Ugly Ending" by Best Frenz, Joywave, and Jason Suwito
"Devil" by Two Feet
"Venus Flytrap" by Gregory Reveret
Episode 2
"Beautiful Liar" by X Ambassadors
"Bodies" by Sex Pistols
"The Tradition" by Halsey
Episode 3
"Into Dust" by Mazzy Star
"Human" by Rag'n'bone Man
Episode 4
"Next Level" by Aespa
"Don't Start Now" by Dua Lipa
"Feels Just Like It Should" by Jamiroquai
"Burning Bridges" by Sigrid
"Maniac" by Conan Gray
"Out Of My Mind" by Reuben And The Dark
Episode 5
"Piece of My Mind" by BROODS
"Moonlight Sonata" by Cast
Episode 6
"Get Out" by YONAKA
"Symphony No. 5" by Ludwig Van Beethoven
Episode 7
"Where The Party At" by Jagged Edge
"Lazy Mary (Luna Mezzo Mare)" by Lou Monte
"Don't Start Now" by Dua Lipa
"My Heart Has Teeth" by Deadmau5
Episode 8
"Noir" by Yelle
"On The Floor" by Perfume Genius
"Die Zauberflote, K. 620, Act II: Der Holle Rache Kocht In Meinem Herzen (The Magic Flute)" by Karola Agay
"When I Was Older" by Billie Eilish
Resident Evil Score by Gregory Reveret
"Sea of Zeroes"

"Plague from God"
"The Doberman"
"What is Happening"
"Evelyn's Plan"
"Lab Search"
"My Son is Dead"
"Venus Flytrap (Main Theme)"
"Meet Bert"
"Humvee Chase"
"Don't Eat Cats"
"Home Safe"
"Lickers Attack"
"Final Battle"
You can check out the score below: