Features
Netflix's Resident Evil Cast: Meet Jade and Billie Wesker and the New Characters
Exclusive: Lance Reddick, Paola Nuñez, Ella Balinska, Adeline Rudolph, Tamara Smart, and Siena Agudong tell Den of Geek what it's like bringing a new Resident Evil series to Netflix.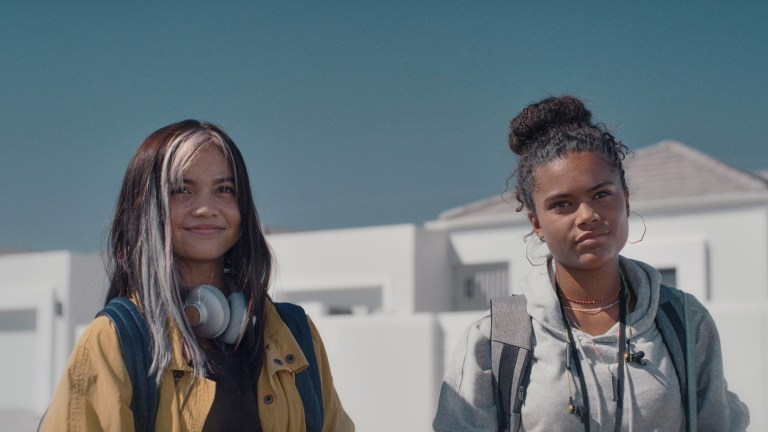 In the first season of Netflix's Resident Evil, a diverse cast of screen veterans (Lance Reddick, Paola Nuñez) and young stars (Ella Balinska, Adeline Rudolph) bring the sci-fi terror of Capcom's long-running game series to life in a way fans have never seen before.
Before diving into the new Netflix series, here's a guide to the main cast, their characters, and how they're connected to the original games, as well as what the actors told Den of Geek about bringing Resident Evil to life…
Lance Reddick as Albert Wesker
This Albert Wesker isn't the villainous, super-powered, leather-obsessed maniac we know from the games. Or is he? Fringe, John Wick, and Horizon Forbidden West star Lance Reddick takes the character in a new direction, with the once-big-bad, now-boring-dad moving his twin daughters Jade and Billie into the Umbrella-funded utopia New Raccoon City, where he's a lead scientist for the Corporation. Albert seems to be a loving, albeit work-obsessed dad, but the girls are beginning to sense that there's something fishy going on at work. If they only knew…
"[Wesker] is so different from anything I've ever played before," Reddick tells Den of Geek over Zoom. "I haven't gotten to do a lot of action in my career, so that was really fun. Without saying too much, I liked delving into the layers of [Wesker's] character."
Paola Nuñez as Evelyn Marcus
A tenured actor in Mexico, Paola Nuñez is best known to American fans for her role as Rita in Bad Boys For Life. In Resident Evil, she plays Evelyn Marcus, head of Umbrella Corp. and Albert's boss. She's pushing him to expedite production of "Joy," a miracle drug that eliminates depression, anxiety, and has a small chance of turning them into rabid, flesh-eating monstrosities. Fans of the games will recognize her surname, as she's the daughter of James Marcus, the former lead Umbrella scientist and head of training who pioneered t-Virus research.
"It was fun to play such a complex character. She's not a villain, per se. She's a normal person who makes wrong…or let's say, different choices depending on her circumstances, and she's trying to take control and find respect in this corporate world as a woman. And then there's the big shadow of her father on her back," says Nuñez.
Ella Balinska as Adult Jade Wesker
Star of 2019's Charlie's Angels and Square Enix's upcoming Forspoken, Ella Balinska is no stranger to kicking ass on screen, and she certainly deepens her credentials in Resident Evil. She plays Jade Wesker in 2036, 14 years after a t-Virus breakout in New Raccoon City led to zombies occupying the entire planet. She's a freedom fighter/scientist railing against Umbrella and searching for a t-Virus cure, all while shooting, slicing, and dicing her way through hordes of zombies and giant zombified monstrosities. She's got her life partner and daughter to keep her sane, as well as her scrappy band of rebels. But her sister Billie, now a soldier of Umbrella, will stop at nothing to hunt her down.
"It was an absolute delight to bring the game into series format," Balinska says. "You get the fear, you get the gore, you get the jump scares…everything without holding the controller in your hands. Being chased by giant spiders, caterpillars, and lickers was almost like a direct trajectory from playing the games to being in them."
Adeline Rudolph as Adult Billie Wesker
Something terrible happened to Billie Wesker between 2022 and 2036. The once shy, loving sister and daughter is now a high-ranking commander for Umbrella, relentlessly in pursuit of Jade and her comrades. Fans will recognize Adeline Rudolph's piercing glare from Riverdale and Sabrina, and in Resident Evil the actress gets to tap into the darker side of her talents as adult Billie seems to take after the Albert Wesker we knew and loathed from the games.
"The franchise is highly respected by everyone who worked on the show," Rudolph explains. "Writers, set designers, actors. We're doing something different in the same world as the games, with new characters and familiar ones. We really love the games, and we want fans to know that."
Tamara Smart as Young Jade Wesker
Best known for BBC series The Worst Witch, relative newcomer Tamara Smart plays young Jade Wesker, who's overly protective of her twin sister Billie and perpetually pissed at her dad for uprooting their lives and moving them to a new town. Jade is fearless and tough, but she worries that Billie may not have the same gumption. She also has a feeling that their dad isn't being one hundred percent honest about what he does at work and resents him for putting Umbrella duties before daddy duties.
"Not playing characters that were already established in the games helped. We could mold our own characters, and Billie and Jade's relationship is maybe my favorite part of the show. It isn't like anything the fans have seen before." — Tamara Smart
Siena Agudong as Young Billie Wesker
Fans may recognize Siena Agudong from her role as Young Mia in F9: The Fast Saga. In RE, she plays Young Billie, the meeker half of the Wesker twins who struggles to fit in at her new high school and loves her dad unconditionally. She's more compassionate and forgiving than Jade, but when bullies start to make her life at school a living hell, she finds herself conflicted about how to make things right.
"[Tamara and I] hadn't played the games, but we watched people play them for hours to get familiar with the world. Knowing that the games are so beloved was really nerve-racking but also very exciting," Agudong says.
Connor Gosatti as Simon
Relative newcomer Connor Gosatti plays Simon, Jade's teen crush, who also happens to be a tech wiz. This comes in handy when Jade starts investigating her dad and his work at Umbrella, and while Billie doesn't trust Simon as much as Jade does, he seems to have their best interest at heart. That is, until it's revealed that he has a deeper connection to Umbrella than the girls could've imagined.
Turlough Convery as Richard Baxter
2036 Billie's right-hand man Richard Baxter is slick with words and even slicker with a pistol. His mission is to deliver Jade to her sister, and he doesn't care how many head shots it takes—zombie or otherwise—to get the job done. Played by Northern Irish actor Turlough Covenry, Baxter is a force of nature who absolutely does not flinch, even in the face of doom.