News
What is Get Even on Netflix?
There's a new teen mystery thriller on Netflix called Get Even. Here's everything you need to know...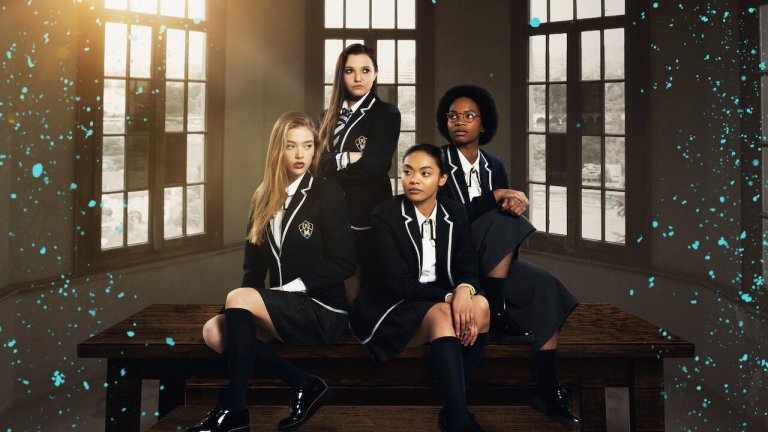 The teen genre is a TV mainstay, but it often doesn't get as much love in the streaming era. Shows that thrived in that heady time when the decline of network TV and the rise of Twitter culture met somewhere in the middle—the Gossip Girl and Pretty Little Liars of the world—ruled, but don't have quite the same cultural cache now. But that doesn't mean we don't still love them. So, when Get Even, a British teen thriller about four girls at an elite boarding school who start a "getting even" club, dropped on Netflix, we took notice.
The series premiered on the BBC iPlayer back in February, but only just became available to American viewers today, dropping in its entirety on Netflix. It is a British series from Holly Phillips based on the "Don't Get Made" book series by American author Gretchen McNeil. It stars Kim Adis as Kitty Wei, a girl struggling to deal with the super high pressure placed on her by her parents; Mia McKenna-Bruce as Bree Deringer, a troublemaker at school with a rich father; Bethany Antonia as Margot Rivers, a gamer with very few friends; and Jessica Alexander as Olivia Hayes, the "cool" girl at school. The four girls, all from different school social groups, form a club to expose the bullies at their school. When a boy is murdered and the secret club is framed for it, the D.G.M. (Don't Get Mad) squad has to figure out who knows their secret before the crime gets pinned on them. Check out the stylish trailer…
The first season is 10 episodes, and each episode is roughly 30 minutes, so you'll probably fly through this thing and be looking for more. As of right now, no second season has been greenlit, but a strong Netflix showing could change that. There's already a second book in the series just waiting to be adapted. Here's the official book series synopsis:
The Breakfast Club meets Pretty Little Liars in Gretchen McNeil's witty and suspenseful novel about four disparate girls who join forces to take revenge on high school bullies and create dangerous enemies for themselves in the process. Perfect for fans of E. Lockhart, Karen M. McManus, and Maureen Johnson.

Bree Deringer, Olivia Hayes, Kitty Wei, and Margot Mejia have nothing in common. At least that's what they'd like the students and administrators of their elite private school to think.

The girls have different goals, different friends, and different lives, but they share one very big secret: They're all members of Don't Get Mad, a secret society that anonymously takes revenge on the school's bullies, mean girls, and tyrannical teachers.

But when their latest target ends up dead with a blood-soaked "DGM" card in his hands, the girls realize that they're not as anonymous as they thought—and that someone now wants revenge on them.

As the unlikely group searches for the killer, they also uncover secrets and lies that rock their tenuous friendship to the core. Soon the clues are piling up, the police are closing in . . . and everyone has something to lose.