Reviews
Ms. Marvel Episode 5 Review: Time and Again
A messy fifth episode of Ms. Marvel tells a heart-breaking tale, but it's undermined by choppy story editing, questionable MCU rules, and a rushed villain resolution.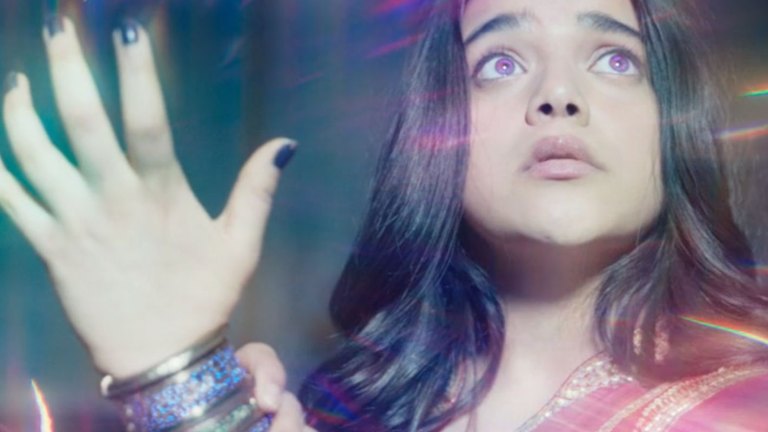 This review contains spoilers for Ms. Marvel episode 5.
Ms. Marvel Episode 5
Hoo boy. Well, we had a good run with Ms. Marvel. Four terrific episodes in a row. But unfortunately here we are at the penultimate one, and Marvel's six-episode Disney+ structure has become massively problematic for the show's core story. Not only that, but the MCU's headache-inducing time travel rules get a pummelling while the writers seek to smooth them over with a "just go with it" attitude. I am currently struggling to go with it.
In episode five, "Time and Again", we find out what really happened to Aisha before and during Partition. After the temple raid in which the Clandestine discovered the mysterious bangle in episode three, Aisha abandoned the idea re-joining them, as she apparently knew that it would not bring them all happily back to their dimension. Instead, she sought to rest in a small Indian village where she met Kamala's great-grandfather Hasan (Fawad Khan). The two fell in love and made little Sana, but as the country began to split into two it became unsafe for their family, and when Najma finally discovered Aisha's whereabouts and twisted her arm, Aisha decided that her human family should try and escape the country's escalating violence and Clandestine threat.
As we already knew, this attempt to flee did not end well. Najma found Aisha and killed her for her betrayal. Kamala – who had traveled back in time to the night Aisha was murdered – then helped to rescue Sana and Hasan, and they were able to leave on a train across the border. MCU time travel rules kinda make this impossible. If a person travels back in time, they are not able to affect the future. They simply create a branch timeline in which things happen differently. But since Kamala seems to have always been destined to travel back in time and help Aisha and Sana, she is temporarily excused from these rules for reasons.
What those reasons actually are, I cannot say. We can certainly find excuses for Kamala's Partition journey working out. Perhaps it is simply a case of the mystical Noor energy working differently, who knows? The chain of cosmic events that led to saving Sana that night are pretty muddy, and the show seems happy to leave them a mystery. Since I've only watched this episode the once, maybe I missed something. I'm sure you'll let me know in the comments if I have!
When Kamala returned to the present day, the veil began to lift, and it was indeed clear that nothing good was going to happen to Earth nor the Clandestine. Najma quickly accepted this and sacrificed her life to close the veil in the hope that she would save Kamran. Y'know, the son she ditched in a heartbeat in episode four? The storytelling here made her decision pretty speedy, and it's possible that Najma was actually setting Kamran up to be an even bigger threat later on, I don't know.
It doesn't help that the Clandestine have ultimately been weak villains who were hurriedly rushed into play during episode three. They were introduced in an exposition dump, flipped their friendliness toward Kamala on a dime, and then plopped into Karachi so that we could have a brief, world-threatening moment before they were brushed aside again. As much as I loved seeing Kamala's heart-breaking family history, it didn't feel like we'd spent enough time with Aisha and the Clandestine for it to truly have enough impact.
Meanwhile, Red Dagger went on his way, and Sana and Muneeba were brought together by Aisha's truth. That appears to be a wrap on that! Of course Kamala has to get back to New Jersey and deal with the cartoonish DODC; there's no time to waste! Which is a shame.
We then hastily re-joined Kamran on the run from the DODC, where he managed to hide out with Bruno. When Najma died, Kamran appeared to gain her Noor power, and hopefully this will now save the pair from the attack on the Circle Q, because Kamala and her mother (who now knows that Kamala is a superhero and not for nothing I'd definitely like to have seen a bit more of that discussion) are still stuck in Karachi. None of this really makes for a thrilling cliff-hanger. Kamala will absolutely return and become the superhero she's been evolving into, Bruno will likely be fine, and Kamran probably won't be happy to find out that Najma has died, despite her abandoning him in the last episode.
It gives me no pleasure to find this episode a mess, but with the resolution of Aisha's story leaving us still wildly unsure of Kamala's altered MCU powerset, and the Clandestine and the DODC not fully developed as villains throughout the show, episode five just wasn't as thrilling for me as it attempted to be. Ideally, this series would have been a few episodes longer so those parts of the story could have been given room to breathe. As it stands, I'm looking forward to Ms. Marvel's finale, but I'm not as hyped as I was before I saw this particular episode.