Reviews
Ms. Marvel Episode 3 Review: Destined
It's exposition time in Ms. Marvel episode 3, and the MCU's most delightful family are on the case.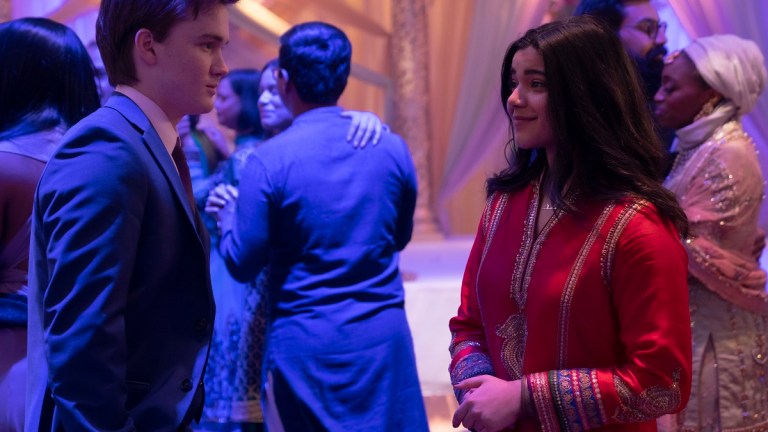 This review contains Ms. Marvel spoilers
Ms. Marvel Episode 3
Ya gotta feel for Ms. Marvel. Not only is the show introducing a brand-new character to the MCU, but Disney+ has put it up against none other than Obi-Wan Kenobi during its first three episodes. News that only 775k US households watched the premiere in the first five days of release comes as no surprise. Compare that with another Marvel premiere that was considered to have a more muted response, Hawkeye at 1.5 million, and at first glance you would consider this bad news. But Ms. Marvel is definitely finding its target audience. The premiere attracted more viewers aged 20-24 than any previous MCU show, with a more diverse audience. In the words of Bruce Banner, I see this as an absolute win, especially considering ol' Ben Kenobi has been hogging the spotlight.
In the third episode of the series, "Destined", it was time to get some much-needed answers about Kamala's mysterious bangle, and her family's history in British-occupied India. But who cares that Kamala Khan's got the sads, or about the unsettling plight of the Djinn, when Obi-Wan is fighting Darth Vader for crying out loud? Well, me. Which is a good thing, because I'm your Ms. Marvel reviewer! So, if you still have time for Kamala's story this week with various lightsabers loudly clashing elsewhere on Disney+, I welcome you! Welcome!
Now, let's dig into this week's discoveries. It turns out that Kamala's great-grandmother Aisha, and the current Clandestine leader, Najma, discovered that bangle in a looted area in India as they sought to escape both Partition and our dimension. It was attached to a severed blue arm, and there were supposed to be two. Bangles, not arms. Although, probably arms too. The bangle did not help the Djinn get home back then, as Aisha disappeared with it soon after. I've not read the Ms. Marvel comics, so I'm not sure if Kamala was ever connected to the wider Marvel universe outside of the Inhumans, but as an MCU watcher, this blue arm screams "Kree" to me. That would be our Captain Marvel connection here, I assume?
Back in the present day, the Djinn want Kamala to use the bangle to help them return to the dimension from where they were first exiled and finish what Aisha started, but naturally their charm fades when Kamala and Bruno decide it is too dangerous to make that happen right now (thank you Dr. Selvig) and Kamala is soon being hunted by them at her brother's wedding, which by all accounts looked like a really fun time. How dare they? Truly, there's a special place in hell for someone who upends a buffet table.
Kamala's crush Kamran is thankfully not on board with his mother's nasty desperation and attempts to intervene in the melee, but Bruno still gets hurt, and Kamala ends up exposing her powers to Nakia, who is upset and confused at being left out of the loop. After she sees a vision of a train when Najma attempts to grab the bangle, Nani also sees it, and demands that Kamala and her mother travel to Karachi immediately. Yes! Let's do it. I want to know more.
All this action takes place in the last ten minutes of the episode, because unlike some of the other MCU shows, Ms. Marvel deliberately makes more room for a character-driven story, and that allows us to spend vital time with Kamala's friends and family. As a result, I don't like seeing Bruno get hurt. I don't like seeing Nakia so crushed by Kamala's secret superhero journey. I'm mad that the Djinn ruined her brother's wedding. I'm upset when Kamala's mother Muneeba reaches out to Kamala and softly asks her to let the family help out at a time when they should be fuming at her actions, and Kamala refuses to open up.
While I know that stuff like this will have some MCU fans saying that the show is "mid" or "too slow", I really do think these more extensive scenes of Kamala's life are important, because I actually care what happens to the characters in a way that I kinda didn't when I was watching Bucky help fix a boat in The Falcon and the Winter Soldier, or when Loki was forging a romance with Sylvie in Loki. Ms. Marvel is pushing back against the Disney+ MCU formula to create something a bit more meaningful, and it will happily take its sweet time to do so. Yes, it's likely that the back half of the series will have more action, and more cameos from other MCU stars, but it's my hope that none of the show's tender and enthusiastic character-building will get lost when all that transpires.