Reviews
Ms. Marvel Episode 2 Review: Crushed
Ms. Marvel episode 2 slows the pace down slightly so we can discover more about Kamala, her friends, and her mysterious family history.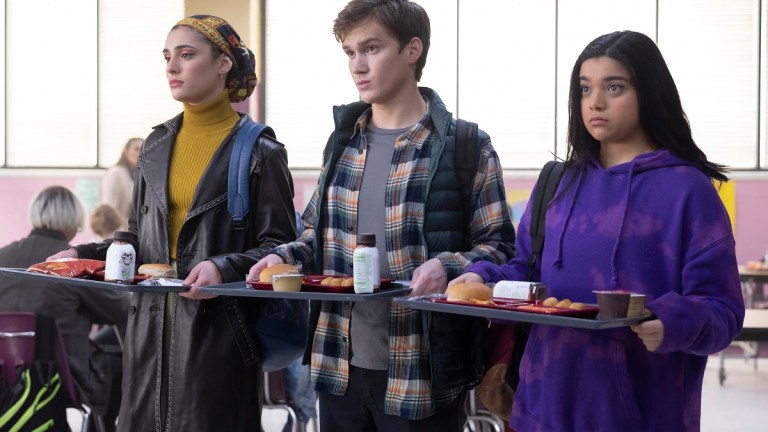 This review contains spoilers for Ms. Marvel
Ms. Marvel Episode 2
Unlike Moon Knight, I didn't really know anything about the character of Ms. Marvel going into this new Disney+ show, so getting to know Kamala Khan, and the unravelling of the mystery behind her powers, has been fascinating to me. I've been discovering a little bit more about her comics origin as the show has unfolded, and Marvel Studios seem to have substantially altered Kamala's powers from the comics. They no longer appear to be rooted in Inhumans lore, and this week we found out that her great-grandmother's bangle has awakened a power that was always lying dormant inside Kamala. She struggles to unwrap both the nature of it, and its role in her family escaping the violence of Partition, because her mother obviously has very negative feelings about her grandmother and what happened during that tumultuous time.
As a result, Kamala has been left to make it up as she goes along, and in episode two, "Crushed", we get a wobbly training montage with Bruno, and another not-quite-flawless superhero rescue that ends with Kamala running from the increasingly-disturbing oversight of the Department of Damage Control and into the stylish car of charming new crush Kamran (Rish Shah), where his mother lies in wait, having apparently been dying to meet her. With Kamala currently unable to fully control or understand the bangle, there is certainly a growing roster of people ready to intervene, but everyone's motives are currently pretty shady.
I have noticed that Phase 4 of the MCU is rather heavy on the old bangle/bracelet/cuff mythology, and I'm more convinced than ever that there's something to it. When it later turns out to be a coincidence I'll have to eat my words, but so far we've had the ten rings of unknown origin in Shang-Chi, the Uni-Mind in Eternals, and now the mysterious power-unlocking bangle in Ms. Marvel. Is there a link between them? Well, we don't find out this week, and I'm not convinced that we'll find out in this particular series, even if there is!
Speaking of Eternals, we get an off-handed mention of one of those very synthetic beings for the first time since their big screen debut last year, when Kamran cringes about his mom still being into "Kingo Senior" Bollywood fare during a casual first date with Kamala. It's a fun detail, and I got a chuckle out of the idea that Raj Kingo Deva (Kumail Nanjiani) not only covered up his uncanny looks and immortality by claiming that each new movie star was from a single family line, but that their nicknames are simply just "Kingo Senior", and then probably "Kingo Junior", "Kingo III", and no one has really questioned it. We live in a world where people have tried to prove that Keanu Reeves is an immortal vampire, so the blatant way Kingo has managed to hold onto the Bollywood spotlight is incredible. Earlier in the episode, Kamala also jokes that she might have Ant-Man powers because she and Scott Lang look so much younger than they actually are – a nod to Ant-Man actor Paul Rudd's apparently snail-paced aging. Ms. Marvel's MCU easter eggs continue to be a delight.
Although this episode was noticeably more relaxed than the premiere, it did allow us to get to know more about Kamala's circle. Best friend Bruno is clearly secretly in love with her, and doesn't enjoy Kamran's immediate romantic effect on Kamala, but he's being pulled in another direction thanks to his technological talents. If it wasn't clear from his inspired gadgets – or when his cosplay choices were Tony Stark or Bruce Banner in the first episode – Bruno is a burgeoning Science Bro, but he is now reticent to follow his dreams and leave Kamala behind. I'm not living for Bruno's unrequited love, if I'm honest. It feels like a bit of a tired trope, and he's an interesting enough character without that awkwardness built in.
Kamala's other close friend Nakia (Yasmeen Fletcher) has political aspirations, and is eager to make changes to the way women are treated at their mosque. There were religious rituals and intimate chats between the pair that felt really important to see on screen this week, and I hope that the show continues to give Nakia the same depth as the other characters. Meanwhile, Kamala's former childhood friend Zoe, perpetrator of some unsettling casual racism in the comics that the series draws from, is painted as more of a fairly harmless "popular kid" version of Cordelia Chase or MCU Flash Thompson once again here, but it will be interesting to see what her role is in future episodes if she's set to be a mere annoyance and not an antagonist as such.
Overall, episode two of Ms. Marvel was another easy, charming, and entertaining watch, full of endearing character moments and interesting visual punctuation. I'm very much looking forward to seeing next week's installment. Hopefully, we'll get more info on that bangle, Kamala's great-grandmother, and her new powers, so that she can begin to move away from idolizing Captain Marvel and become the great young superhero she's destined to be.