Features
Money Heist Season 5: What to Expect
We look at what's ahead for the Professor, Tokyo, and the rest of the gang when Money Heist season 5 hits Netflix on Sept. 3.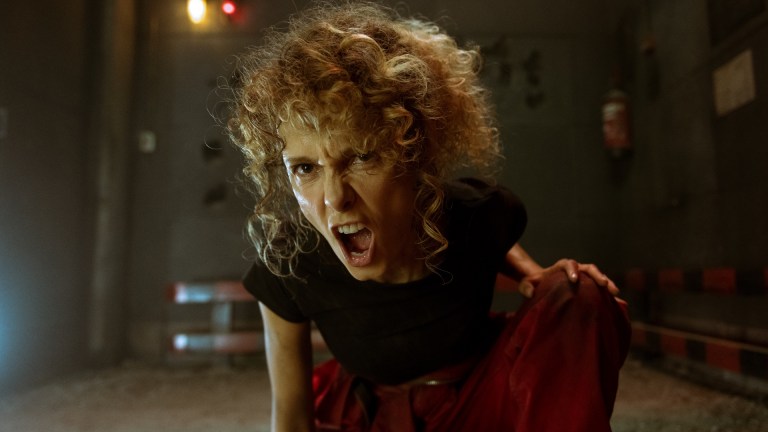 If there's one thing that Money Heist has mastered, it's the cliffhanger. The cancelled Spanish series that was reborn on Netflix took the world by storm, sparking a global revolution that has so many nail-biting edge-of-your-seat twists and turns that it's nearly impossible not to binge it all once you're hooked. The show is a relentless rollercoaster ride and oh so addictive. You never know who is going to live and who is going to die. In fact, not even the actors don't know.
"It's impossible, really difficult to know that because it's also something they established from the start," Úrsula Corberó (who plays Tokyo), said during the show's appearance at the 2021 Television Critics Association summer press tour.. "Alex Pina, he's a last-minute writer, and he's obsessed as if this was linked with some kind of inspiration. I think it also helped with the rock n roll vibe of the show and everything happening so wildly."
Jesús Colmenar, the producer of Money Heist, confirmed that the suspense is real for everyone. "Not the director, not the actress can know even two episodes ahead of what will happen. I think this works because it helps us in having more information of how the dramatic arc will work. It also helps us in having more room to change where the story will lead us. So nobody knows what will happen. We have this master line of course of the essential part of the story but the rest can easily change at the last minute."
"I don't know if it contributes but I think we have sort of the same feeling of dizziness sort of," Álvaro Morte (the Professor) added.
When we left Money Heist last season, the gang was in a terrible state. Inspector Sierra (Najwa Nimri) finally got the drop on the Professor and had him at gunpoint. Lisbon (Raquel Murillo) reunited with the gang and led them in a chant honoring their fallen comrade "For Nairobi! (Alba Flores)." Her shocking death rocked every fan of the show.
"I don't get it either," Corberó told the TCA. "There were a few friends I [Tokyo] had there and they killed the best one."
Colmenar sees Nairobi's death as a teaser of what is to come. "Nairobi's personality was not cut for the war we find in this final season, so she wasn't supposed to be here. She wasn't cut for that. And I think that this adds momentum to our characters that would be complex to add otherwise. We kill our characters, and I think it adds tension, and it's a good thing not to be able to know who will be killed and what will happen."
In one of the Money Heist season 5 trailer, Tokyo says "The most important moments are those we understand there's no return. There's no way back" followed by a lot of explosions and gunfire as the military moves in on the gang. The Professor is in chains, no doubt thanks to Sierra who is obsessed enough to torture him to get his secrets. However, if there's one thing we know about the Professor, he always has back up plans up his sleeve.
According to Colmenar, "We have put all the stops out there and this is the final battle. We get this complete vision of everything and this is not the end of the bank robbery, but the end of Money Heist, which is quite a huge thing."
Some teaser promo clips have been released on Instagram elaborating on the trailers that revealed Berlin's (Pedro Alonso) son Rafael and René, a possible other love interest for Tokyo – look out Rio (Miguel Herrán)!
However, Money Heist has teased us with red herrings before so who knows what's coming? If the Professor and Tokyo don't know what's up, how can we? One thing we do know for the gang – surrendering is not an option.
Money Heist season 5 volume 1 comes to Netflix on September 3. Volume 2 will premiere on December 3.