Features
Lupin Part 3 Ending Explained
Faked deaths, nemeses teaming up, and shadowy figures from the past all lead to a surprising twist at the end of Netflix's Lupin Part 3.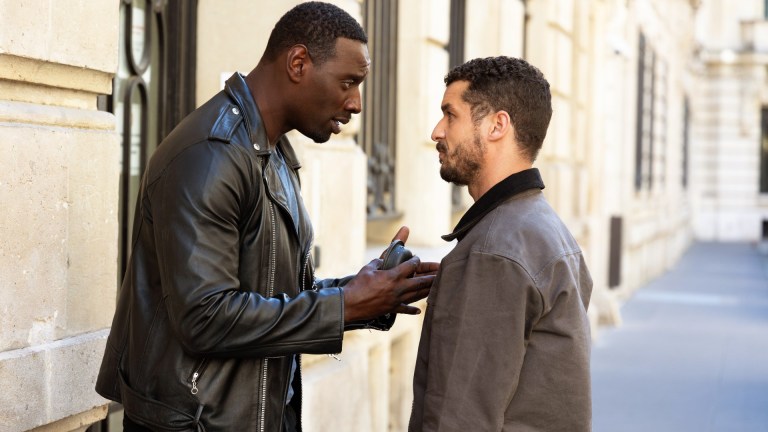 This article contains spoilers for Netflix's Lupin season 3.
When you're a gentleman thief renowned for his jewel heists, how do you top yourself? By killing the legend. In the latest installment of George Kay's Lupin, Assane Diop (Omar Sy) faked his own death to protect his family, only to be drawn back into the world of the living when his mother Mariama (Naky Sy Savane) was kidnapped by a dangerous figure from his past. For the first time forced into heists not of his own choosing, Assane has had to rely on his encyclopedic knowledge of literary gentleman thief Arsène Lupin—as well as his usual arsenal of impeccable disguises—to pay a thieves' ransom in stolen pearls, paintings, and bracelets.
While each heist was the usual blend of clever hiding-in-plain-sight and intricate two-days-ago time jumps that viewers have come to expect, the overall season arc of Lupin Part 3 was relatively straightforward… up until the very last moments, which seemed to recast the last seventeen episodes in a new, more ominous context.
Here's everything that happened in Lupin season 3, and how it might set up a potential season 4.
Lupin and Ganimard
An exciting payoff this season was watching Officer Youssef Guédira (Soufiane Guerrab), a.k.a. the Ganimard to Assane's Lupin, actually team up with his supposed arch-rival, in an homage to Maurice Leblanc's Lupin adventure The Red Silk Scarf. The two already blurred the line between cop and thief in Part 2, when Guédira helped save Assane's kidnapped son Raoul (Etan Simon), and had some heart-to-hearts, though they remained on opposite sides of the law.
This time around, technically taken off the case but unable to take down his red-string-board of Arsène Lupin theories, Guédira gets the tip of a lifetime when Assane reveals himself as alive, confirming that he faked his own death, and asks for help in saving Mariama from her kidnappers. Assane has come to realize that this is not a random kidnapping, but revenge masterminded by Jean-Luc Keller (portrayed by Salif Cisse in the flashbacks, Steve Tientcheu in the present), a criminal who ran the boxing ring in which young Assane found a home, but who pushed his charges too far, à la Fagin in Charles Dickens' Oliver Twist.
One of Keller's demands involves Assane stealing a Manet painting that was supposedly stolen from a museum in Boston over twenty years ago, which he delivers to Keller and his crew. But when he needs to get it back, he entices Guédira with both the return of a stolen painting… as well as the opportunity to imitate Lupin himself and play around with disguises. The montage in which the two develop an art dealer persona for Guédira is one of the season's best.
Of course, working together doesn't mean that they're equals, and Assane sets up Guédira to get caught by the cops—including his skeptical partner (and the new lead on the Diop case), Sofia Belkacem (Shirine Boutella).
Catching Keller
The way to finally catch Keller is to beat him at his own game: turning those he loves against him. The boxing ring leader turned Assane and his childhood friend Bruno (Noé Wodecki) against each other as teens, with them only reconciling at the start of this season, as older Bruno (Pierre Lotin) plays a key role in the Black Pearl heist. Even worse, Keller forces Assane to betray his dear friend and accomplice Benjamin Ferel (Antoine Gouy) during the bracelet heist, sending him to prison in his stead.
So Keller really gets what's coming to him when Assane reconnects with Manon (Sandra Parfait), Keller's lover and second-in-command. Reminding her that Keller took advantage of all of them being kids, and that his supposed love and protection will always be conditional, one-way, and self-serving, Assane convinces her to lure Keller to the Arc de Triomphe.
The Black Pearl
Part 3 begins and ends with the Black Pearl—Assane's only failed heist, but also a key bauble in Arsène Lupin's storied career, the penultimate chapter in Arsène Lupin, Gentleman Burglar, the collection passed from Babakar Diop to his son Assane and eventually to Raoul. The fact that Diop steals it in plain sight (in what seems a reference to The Crystal Stopper), and that the real heist is faking his death (a clear ode to The Hollow Needle), makes the first episode such a fun return to form.
While Assane offers himself up to Guédira at the Arc de Triomphe—in order to make up for betraying him, but also in gratitude to the officer not interrupting Assane's reunion with Mariama—he does not return the pearl. Instead, he and Bruno orchestrate a clever switcheroo of hiding the pearl in an orange rose (which symbolizes fascination, enthusiasm, and energy) gifted to a random woman by Assane and then bashfully taken back by Bruno, all under the pretense of a cute story of one standing the other up. Bruno sells the pearl, giving presumably half the money to Manon to go off on her own, and investing the rest into restarting Keller's boxing gym.
The Thief Turns Himself In
Lupin Part 2 ended with Assane begging Claire (Ludivine Sagnier) to take Raoul and run away with him, and her refusing. Now that she's finally ready to do so, the tragic twist is that he must do what she demanded of him at the start of Part 3: turn himself in. He negotiates Ben's release and arranges for his family—Ben, Mariama, Claire, Raoul—to get tickets to somewhere far away where they can resume their normal lives: "It's not the ending we hoped for," he writes Claire in his goodbye letter, "but you are free." And instead of joining them, Assane has a one-way ticket to prison.
The Return of Hubert Pellegrini
But while Assane seems content to settle into his sentence (for now) with a well-worn Lupin library, he immediately receives a message from his neighboring cellmate: a Polaroid of young Assane cradling his first Lupin novel, The Cagliostro's Revenge. As he immediately scrolls through his own copy, he finds a threatening message: "The riddle was within you. Within the secret of your soul. In order to trap you and to build up your trust, I welcomed the love you pretended to have for me. Perhaps you believed I felt it myself. And you ended up truly loving me. And thus, you lost any clarity of mind."
The end of that monologue winds up being narrated by Hubert Pellegrini (Hervé Pierre), who was responsible for framing and imprisoning his father Babakar, which ultimately led to the man's death in prison. Assane spent all of Parts 1 and 2 taking apart Pellegrini's family, from his scheming wife Anne (Nicole Garcia) to his onetime love Juliette (Clotilde Hesme), and publicly confronted Pellegrini with his murderous crimes at the end of Part 2.
This final reveal is left somewhat ambiguous, but it would seem to imply that Pellegrini is taking credit for the series of events that have landed Diop in jail after this tumultuous, emotional season. That final montage also passes over the faces of Assane's family at the train station, especially Mariama's on the line about "I welcomed the love you pretended to have for me."
Could Pellegrini have forced Mariama to entrap Assane? Could Ben, who Assane betrayed, have turned on him first? Or did Pellegrini's message mean that he had something to do with Babakar gifting young Diop his first Lupin adventure is difficult to say. Regardless, it seems as if Pellegrini will return as the major villain in Part 4… and if he's going by the plot of La Cagliostro se venge, he might turn Raoul against his father and/or frame Lupin's son for a murder he did not commit.
Will There Be a Lupin Part 4?
According to a Vogue interview from 2021, Lupin's second season will be split into two parts, as the first was. That would make Part 3 the first half, with an expected Part 4 to come, especially considering the aforementioned cliffhanger as well as the series taking place in December 2021—that's almost two years to catch up on! However, Netflix hasn't officially announced Lupin Part 4 yet. Like Assane Diop, we can reflect on the incredible heists that have occurred while we wait patiently… up to a point.
What would you want to see in Lupin Part 4?
Lupin season 3 is streaming now on Netflix.