Reviews
Lucifer Season 5 Episode 14 Review: Nothing Lasts Forever
Ella struggles with her dark side, and Lucifer examines what it will be like to take his father's place.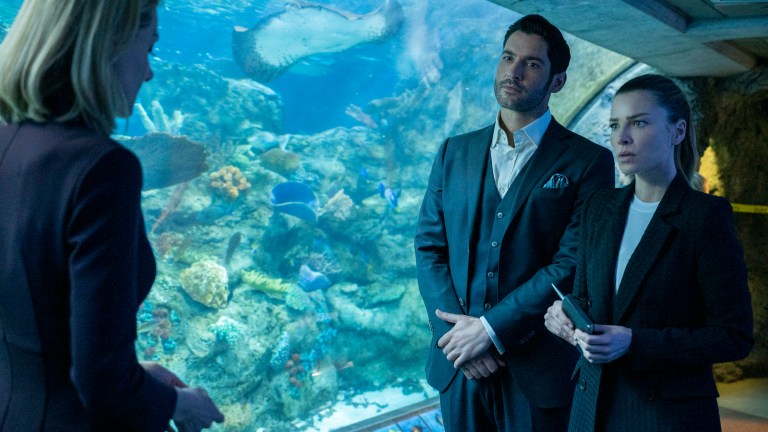 This Lucifer review contains spoilers.
Lucifer Season 5 Episode 14
"Heaven's never been a democracy."
You'd think the return of God and Tricia Helfer would be enough to carry any television episode, but Lucifer's parents also seem to confirm the veracity of the multiverse theory. Still, it's the heartwarming scenes within the celestial circle that drive "Nothing Lasts Forever," and once again, Lucifer reveals another facet of its titular hero as his dark side continues to recede and his light shines more brightly than ever. But do we really need Michael redux?
The central storyline centers around whether or not Lucifer is prepared for the full time job commitment that being God will require. The combination of the patently absurd notion that the Devil should take over God's throne and Chloe's understandable worry that their relationship might suffer make for some marvelous exchanges. Whether he wants to deflect the potentially uncomfortable conversation or just get down to business, Lucifer lets Chloe know now is not the time and suggests a "nice little murder to take your mind off things." Perfect.
Season 5B continues its entertaining trend of revisiting past characters, and while God's retirement party provides an ample setting for all his children to pay homage to their father, it's Lucifer's matchmaking that gives Chloe's B-movie actress mom Penelope (Rebecca De Mornay) a chance to reconnect with her daughter and engage in the light-hearted dramatic irony as she flirts with God. In retrospect, while it may be true that Lucifer's main focus at this point is to move his father aside, we see the Devil's true nature later on in the episode. And to be fair, God's dry sense of humor makes the scene even more delightful as he drops hints, whether intentional or not, about the true nature of His identity.
Visual humor has always enjoyed a prominent place in Lucifer, but God at the grill has to rank among the show's finest moments. While we've moved past any notion that God is everyman, Lucifer's dad flipping burgers with a spatula is just too delicious to ignore. There's little question that spear carrying Remiel's  (Vinessa Vidotto) appearance seems wonderfully out of place amongst LA's finest celestials, but her previous interactions with Lucifer and Amenadiel in season four remind us this is not a family with which to trifle. While it's not at all surprising that Maze asks Lucifer to appoint her to sit on Hell's throne because "I want to control who does the torturing," when she suggests she'll be known as "Mazikeen: Queen of Hell," it's easy to conjure up the image of the demon in charge.
In the past Lucifer obsesses over what he perceives as his father's manipulation of his life, and now, the Devil seems to be fashioning his own plans for others, not the least of whom is God himself. Was Lucifer's orchestration of Dan's little tragicomedy just a precursor for orchestrating the next stage in his parents' relationship, thereby opening a spot for him to occupy? Of course, the irony here is that Lucifer has been wickedly played by his brother Michael's plan to usurp their father's job, but more to the point, Lucifer fails to anticipate not only his evil twin's seditious behavior but his sister Gabriel's as well. Has the Devil lost his focus?
The subject of Michael's apparent return to the narrative leaves me less than thrilled since I've never really cared for the "mistaken identity" trope that invariably leads to some cringeworthy dialogue and forced plot developments, all of which we've already experienced on Lucifer. It's too late now to alter his appearance, so we'll just have to watch where the writers go with this sibling betrayal thread that develops at Michael's doing and is aided by Gabriel (Kimia Behpoornia), whose introduction brings with it much promise in the coming battle for the universe's top job. Well, this universe at least.
However, with all of the duplicitous behavior taking place behind the scenes, the love and devotion some of the characters display towards one another reminds us what's really important. Lucifer's come a long way since he first meets Chloe in the pilot episode, and while his feigned concern that Dear Old Dad lacks a solid retirement plan, we don't often see him place himself second when it comes to family issues. It's not clear whether Lucifer's acknowledgement that he hasn't been listening to his father's desires about retirement is sincere, but his admission that he'd like their renewed connection to last a bit longer rings true.
One of the concepts this biblical reimaging asks viewers to accept is that God makes mistakes and truly needs a do-over when it comes to his relationships with his children. While his admission to Lucifer that "I love you, son, and I'm very proud of the man you've become," is precisely what Lucifer needs, it's the Devil's suggestion that God let Amenadiel know that he feels the same about his older son that speaks loudly to Lucifer's personal growth. However, at the end of the day, are all of these heart-to-heart talks and offers of devotion simply part of the Big Guy's plan after all?
At times, the overly conspicuous tie-ins to the episodic murder investigation feel a bit forced, and it's no different here, but this flaw almost never gets in the way of the deeper, emotional issues most episodes explore. Perhaps if we look at the situation Lucifer finds himself in as the celestial sharks circle and the archangels choose sides, we can accept the idea of an aquarium owner playing God with the fish a bit more easily. Nevertheless, it's the real God that looks on with interest as forensic scientist Ella Lopez struggles with the evidence, but more importantly with her own self worth. Though it's become a common plot device in the series, the examination of the internal conflicts the characters experience and the lengths to which they go to to cope with these, remain the show's strength.
In the episode's most beautiful exchange, God tells Ella to accept her dark side as she falls deeper into a spiritual despair that no one around seems to see. "The darker the person, the brighter the light," he reassures her, but it's his insistence that he can see her goodness from Heaven that lays the groundwork for her to climb out of the hole in which she finds herself.
It's difficult to say whether the bigger takeaway from "Nothing Lasts Forever" is that Gabriel brings Azrael's blade to Michael or that God and the Goddess leave one universe for another under the assumption that the kids will work it out among themselves. Again, is this all part of God's plan rather than an abandonment? Regardless, Azrael's blade can kill an archangel which puts everyone in imminent danger. How far are Michael and his followers willing to go to put him in power, and does the weapon's celestial lethality imply that one or more of Lucifer and Amenadiel's siblings will die in the fight?
With only two episodes left in the season, "Nothing Lasts Forever" sheds light on the two sides set to vie for the heavenly throne God seemingly leaves vacant. Yes, an angelic battle surely looms over the horizon, but the question remains: Is this battle part of God's plan?
Lucifer season 5 is available to stream on Netflix now.