News
Lovecraft Country Episode 10 Trailer, Release Date, Cast, and Episode Guide
Lovecraft Country has jumped from the page to HBO to tell some unique horror stories from the Black American perspective. Follow along with new episodes here.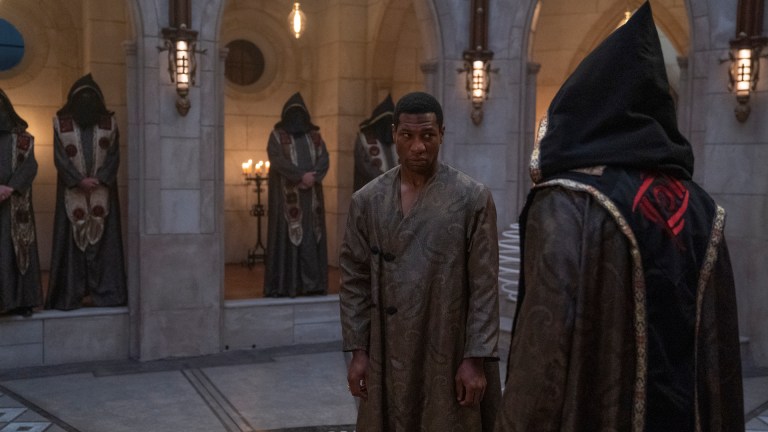 Lovecraft Country is an exciting TV project from Jordan Peele's Monkeypaw Productions, which teams with J.J. Abrams's Bad Robot and Misha Green, the creator of Underground, to adapt Matt Ruff's novel of the same name for HBO. The project is also produced being by Warner Bros TV. The pilot will be written by Green, who serves as showrunner.
The 10-episode series takes place in 1950s Jim Crow America and follow Atticus "Tic" Freeman (Jonathan Majors) and Letitia "Leti" Lewis (Jurnee Smollett) as they deal with all manner of racist and supernatural threats.
Here is everything we know about Lovecraft Country.
Lovecraft Country Trailer
Check out the trailer for the latest episode of Lovecraft Country below!
Lovecraft Country Release Date
Lovecraft Country episode 10 "Full Circle." will air at 9 p.m. ET on Oct. 18 on HBO.
Lovecraft Country Episode Guide
Lovecraft Country Episode 1: Sundown
Atticus Freeman meets up with his friend Letitia and his Uncle George to embark on a road trip across 1950s Jim Crow America in search of his missing father.
Original airdate: 8/16/20
Read our review of "Sundown" here.
Lovecraft Country Episode 2: Whitey's on the Moon
Inexplicably recovered from their terrifying night, Leti and George luxuriate in their new surroundings, while Atticus grows suspicious of their Ardham Lodge hosts – Christina Braithwhite (Abbey Lee) and her elusive father Samuel (Tony Goldwyn) – who unveil cryptic plans for Atticus' role in their upcoming "Sons of Adam" ceremony. Later, after Tic, Leti, and George stumble upon a clue that could lead them to Montrose, each takes an unwelcome walk down memory lane.
Original airdate: 8/23/20
Read our review of "Whitey's on the Moon" here.
Lovecraft Country Episode 3: Holy Ghost
Hoping to mend her relationship with her sister Ruby (Wunmi Mosaku), Leti turns a ramshackle Victorian on Chicago's North Side into a boarding house – an endeavor that stokes neighborhood racism and awakens dormant spirits stuck in the house. Meanwhile, Atticus remains burdened by a guilty conscience as George's wife Hippolyta (Aunjanue Ellis) presses him for the full story of what happened in Ardham.
Original airdate: 8/30/20
Read our review of "Holy Ghost" here.
Lovecraft Country Episode 4: A History of Violence
After Christina mysteriously shows up at her doorstep, Leti confronts Atticus about his plan to surreptitiously return to Florida. Later, in search of missing pages to a crucial text, Leti, Tic, and Montrose head to Boston, with Hippolyta and Diana (Jada Harris) along for the ride. Back in Chicago, a handsome stranger nurses Ruby's disappointment over a squandered job opportunity.
Original airdate: 9/6/20
Read our review of "A History of Violence" here.
Lovecraft Country Episode 5: Strange Case
After making a devil's bargain with William, Ruby steps into the charmed shoes of a white woman, but her transformation only fortifies her resentment of the racial divide. A betrayal by Montrose unleashes Atticus' pent up rage, leaving Leti deeply disturbed and sending Montrose into the comforting arms of his secret lover.
Original airdate: 9/13/20
Read our review of "Strange Case" here.
Lovecraft Country Episode 6: Meet Me in Daegu
In the throes of the Korean War, nursing student Ji-Ah crosses paths with a wounded Atticus, who has no recollection of their first encounter.
Diana finds herself in Captain Lancaster's crosshairs. When a visitor from his past arrives, Atticus and Leti take steps to protect their future.
Lovecraft Country Cast
Jurnee Smollett-Bell will play the female lead on the series, Letitia "Leti" Lewis. According to the character breakdown reported by Variety, she is an artist who hustled her way across the country protesting for civil rights. She how retuned home and is looking to plant some roots.
The show serves as a reunion for Smollett-Bell with Green, who created the WGN America slave drama series Underground. Smollett-Bell was previously featured on HBO as a series regular on the last two seasons of True Blood. Smollett-Bell, who was nominated for two NAACP Image Awards for her breakout role on the series, also starred in the film Eve's Bayou with Samuel L. Jackson, as well as The Great Debaters, Roll Bounce and Gridiron Gang. Her TV credits include Friday Night Lights and Parenthood.
Jonathan Majors will co-star as Atticus Freeman. Majors, an American actor, is coming off the Spike Lee film Da 5 Bloods, having previously appeared in TV miniseries When We Rise and a TV movie adaptation of Shakespeare's Much Ado About Nothing.
Deadline reports that Tony Goldwyn is set to guest star in Lovecraft Country. Goldwyn (who portrayed President Fitzgerald Grant on Scandal) will play Samuel Braithwhite, patriarch of his family, who views people as assets and objects. Sounds like a charmer!
Wunmi Mosaku has joined the Lovecraft Country cast as a lead. She will play Rudy Baptiste, who's described as "a hustler just like her half-sister Letitia, only her hustles haven't paid off. Her family ties are tested when she's presented with an offer she can't refuse."
Mosaku, a Nigerian-English actress, has been quietly accruing high-profile roles, with appearances in the recent Macbeth, Fantastic Beasts and Where to Find Them and Batman v Superman: Dawn of Justice, as well as TV runs on Kiri, The End of the F***ing World, Fearless, In the Flesh, and even appeared in the 2016 Black Mirror episode, "Playtest."
The rest of the cast is made up of Aunjanue Ellis (When They See Us), Abbey Lee (Mad Max: Fury Road), Jada Harris (The Resident), and Michael Kenneth Williams (The Wire). Recurring guests nclude Courtney B. Vance (American Crime Story), Jamie Chung (Once Upon a Time), Jamie Neumann (The Deuce), and Jordan Patrick Smith (Vikings).
Lovercraft Country Story Details
HBO's plot description for Lovecraft Country reads:
The series follows Atticus Freeman (Jonathan Majors) as he joins up with his friend Letitia (Jurnee Smollett-Bell) and his Uncle George (Courtney B. Vance) to embark on a road trip across 1950s Jim Crow America in search of his missing father (Michael Kenneth Williams). This begins a struggle to survive and overcome both the racist terrors of white America and the terrifying monsters that could be ripped from a Lovecraft paperback.