Features
Lovecraft Country Soundtrack: Complete Details and Playlist
From Nina Simone to...Gil Scott-Heron? Follow along with Lovecraft Country's exciting musical choices here.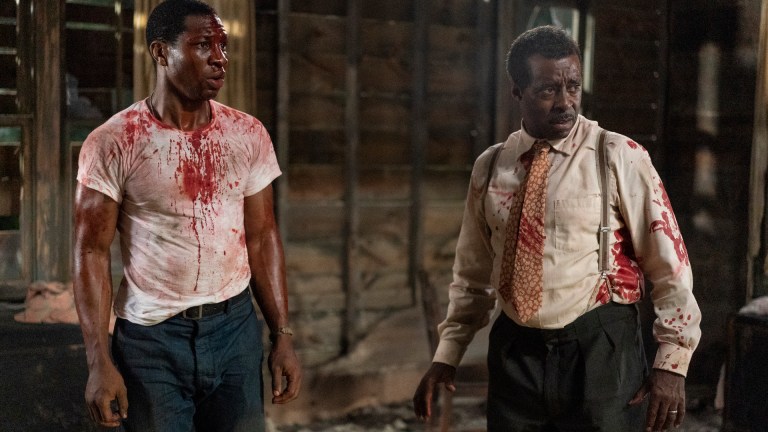 HBO's latest blockbuster drama effort, Lovecraft Country, is a unique Lovecraftian beast. As adapted by Matt Ruff's novel of the same name, the show takes classic horror, sci-fi, and adventure tropes and adapts them into a timely story of American racism.
Though the series is certainly timely, it's also timeless. As evidenced by our helpful explainer article, it wasn't immediately clear when Lovecraft Country even took place. That's partly because the Jim Crow era of American institutionalized racism was a lengthy one. And the fact that Atticus "Tic" Freeman was a war veteran didn't help out much. Which war coincided with "whites only" restaurants and sundown towns? World War II, The Korean War, The Vietnam War – take your pick, really. That pleasant disorientation is enhanced by an equally disorienting soundtrack.
Rest assured, Lovecraft Country takes place in the mid 1950s. But the show's excellent soundtrack is not limited to the mid 1950s. Sure, there are your standard old-timey classics like "I Just Want To Make Love To You" by Etta James and "Sinnerman" by Nina Simone. But the show's music choices also include some anachronistic numbers. The hard-changing "Clones" by Tierra Whack is unmistakably modern hip hop. Even Marilyn Manson of all people contributes a song as an episode closer.
Lovecraft Country's superb soundtrack isn't even limited to music itself. The series' first two episodes both feature extended spoken word monologues from Black academics and deep-thinkers that serve as the score for certain scenes. Episode 1 "Sundown" brings a James Baldwin debate to the table while episode 2, "Whitey's on the Moon" gets its name from a Gil-Scott Heron poem that scores a climactic scene.
Given the depth of Lovecraft Country's fascinating soundtrack, we decided to catalog it. Follow along with the show's song choices here.
Episode 1 – Sundown
"Main Title (From the Jackie Robinson Story)" by Herschel Burke Gilbert
"Sh-Boom" by The Crew Cuts
"I Just Want To Make Love To You" by Etta James
"Clones" by Tierra Whack
"I Want a Tall Skinny Papa" by Sister Rosetta Tharpe
"Whole Lotta Shakin' Goin' On" by Big Maybelle
"September Song" by Sarah Vaughan
"You Upset Me Baby" by B.B. King
"Recipe For Happiness" by Jimmy Self
"Sinnerman" by Alice Smith
Episode 2 – Whitey's on the Moon
The Jeffersons Theme Song by Ja'Net DuBois and Oren Waters
"Bad Moon Rising" by Mourning Ritual (feat. Peter Dreimanis)
"The End" by Earl Grant
"Blackbird" by Nina Simone
"Killing Strangers" by Marilyn Manson
"Whitey's on the Moon" by Gil-Scott Heron
"River" by Leon Bridges
Episode 3 – Holy Ghost
"Window" by The Album Leaf
"Ain't That a Shame"by Fats Domino
"Ständchen" by Marian Anderson and Franz Rupp
"God's Been Good to Me" by The Mighty Walker Brothers
"Boogie at Midnight" by Roy Brown
"Good Rockin' Daddy" by Etta James
"Is You Or Is You Ain't My Baby" by Louis Jordan
"I Don't Hurt Anymore" by Dinah Washington
"Take It Back" by Dorinda Clarke-Cole
"Satan, We're Gonna Tear Your Kingdom Down" by Shirley Caesar
Episode 4 – A History of Violence
"Bitch Better Have My Money" by Rihanna
"Get Em" by Jade Josephine
"Cops and Robbers" by Bo Diddley
"Devil or Angel" by The Clovers
"Cows" by Kbn Kbnlondon
"I Put a Spell on You" by Marilyn Manson (cover)
Episode 5 – Strange Case
"Tonight, You Belong To Me" by Patience & Prudence
"Dark Phrases" by Janet League from For Colored Girls Who Have Considered Suicide When the Rainbow Is Enuf (1976)
"Return to Love" by Black Atlass
"Between the Devil and the Deep Blue Sea"
"Money" by Cardi B
"Bad Religion" by Frank Ocean
"Please Give Your Love to Me" by Robin Robinson
"Tutti Frutti" by Pat Boone
"My Baby Dearest Darling" by The Charms
"Sweetly Sad" by Alain Bernard Denis
"Melody in F" by Trevor Brown
"Tutti Frutti" by Little Richard
"Lovin' Machine"
"Lonely World" by Moses Sumney
"Bodak Yellow" by Cardi B
Episode 6 – Meet Me in Daegu
"The Trolley Song (from Meet Me In St. Louis)" by Judy Garland
"Neujeun Jajinmori" from APM Music Library
"Main Title (from Easter Parade)" by Johnny Gree, The MGM Studio Orchestra & The MGM Studio Chorus
"Oppaneun Punggakjaengiya" by Park Hyang-rim
"Overture (from Summer Stock)" by MGM Orchestra
"You Wonderful You (from Summer Stock)" by Gene Kelly and Judy Garland
Episode 7 – I Am.
"A Message From The Man In The Moon" by Josephine Baker
"Baby Let's Make Some Love" by The Penguins
"Besame Mucho" by Josephine Baker
"Tear The Roof Off" by Moonshine (Extreme Music Library)
"Piel Canela" by Josephine Baker
"Better To Miss You" by FirstCom Music Library
"Bam-A-Lam" by Roy Milton Orchestra with Mickey Champion
"Lady Marmalade" by LaBelle
"Fire" by Mother's Finest
"Sinnerman" by Alice Smith
Episode 8 – Jig-a-Bobo
"Cruel Summer" by Bananarama
"Wee Small Hours" by APM Music Library
"Stop Dat Knocking" by Peter Di-Sante, Brian Mark, David Van Veersblick & Roger Smith
"I Put A Spell On You" by Alice Smith
"Topsy With Her Yellow Eyes" by actors
"'m here to say never again for black girls too" by Naomi Wadler at the March for Our Lives rally
"Stormy Weather" by Bilie Holiday
"Sinnerman" by Alice Smith
Episode 9 – Rewind 1921
"Avalon" by Al Jolson
"My Baby's Foxtrot" by FirstCom Music Library
"Don't Kill Dub" by Rob feat. Sonia Sanchez
"Tulsa, 1921: Catch The Fire" by composer with Janai Brugger of the Metropolitan Opera
Episode 10 – Full Circle
"Easy Living" by Billie Holiday 
"Ready Or Not" by Gizzle
"Jungle Alibi" by FirstCom Music Library
"Weary" by Solange
"Swing Out Sister" by 5 Alarm Music Library
"I Am Blessed" by Nina Simone
"Sh-Boom" by The Chords
"Keep Your Lamps Trimmed and Burning" by Mississippi Fred McDowell