News
Link Tank: RSVLTS Adds Several New Nerdy Apparel to its Collection
Nerdy apparel company RSVLTS set up shop at New York Comic Con with new and exciting pieces for sale and more in Link Tank!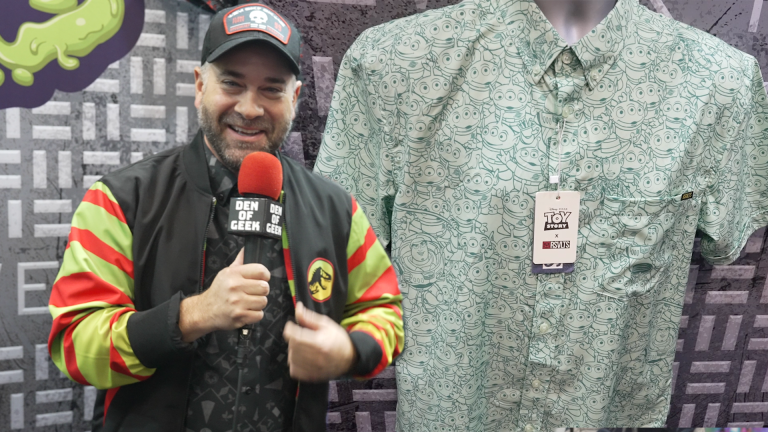 Nerdy apparel company RSVLTS set up shop at New York Comic Con with new and exciting pieces for sale! Aaron Sagers couldn't help himself and just HAD to stop by to see all the new additions to RSVLTS collection.
LEGO just revealed an upcoming set based on Dune, a fascinating science fiction partnership for the toy maker.
"The LEGO Group has today announced its first ever build experience from the Dune universe, from Legendary Entertainment based on Denis Villeneuve's film adaptation of Frank Herbert's masterpiece, with the LEGO Icons Dune Atreides Royal Ornithopter, bringing one of the most iconic aircraft from the Spice-filled sci-fi epic to life in LEGO brick form. As part of the new 1,369-piece build experience, fans of Dune will be able to recreate the dynamic dragonfly-inspired design of an Ornithopter like never before, with functional blades on the aircraft that can flap and retract with a 180-degree rotation."
Are there connections to the Spider-Verse films in the new Spider-Man game?
"The new game Marvel's Spider-Man 2 is, almost exclusively, its own story. Heroes and villains we recognize but just with their own, unique, spin. And yet, this is Spider-Man and the year is 2023. The last two Spider-Man movies dealt with multiverses, multiple Spider-People, and even had a cameo from a character in the games. There had to be…something, right? Something connecting this specific story to the larger Spider-Verse? Well, if there was, we were going to find it. And we did."
Killers of the Flower Moon director Martin Scorsese admits he's just built differently from most directors.
"Martin Scorsese's Killers Of The Flower Moon opened last week, and for the past few months, the American auteur has made the rounds, sharing his thoughts on the past, present, and future of cinema. Oh, and Marvel movies. Everyone wants to know what this guy thinks of Thanos and whether Ant-Man should've just traveled up Thanos' butt and expanded to prevent the next spate of Marvel adventures."
Could new regulations spell disaster for the competitive Super Smash Bros. scene?
"Nintendo's relationship with the grassroots competitive scene around its Super Smash Bros. games has never been great, But today it may have hit an all-time low. Fans of the company's enormously popular fighting game franchise are collectively freaking out about a new set of tournament guidelines that some believe would essentially destroy the existing Smash esports scene."
Amazon Prime Video has announced the upcoming release date for their Fallout show based on the popular video game series.
"Amazon Prime Video's Fallout series has officially received a release date. The upcoming adaptation is set to premiere on April 12, 2024 and was announced via a teaser emulating a Pip-Boy, the wristwatch that doubles as a functioning computer. Fallout is based on Bethesda's popular RPG and will be set in the year 2077 and begins in Vault 33, Los Angeles, diving into a post-apocalyptic world following The Great War — a nuclear war that annihilates most of modern society."