Reviews
Lincoln Rhyme: Hunt for the Bone Collector Episode 1 Review
NBC's Lincoln Rhyme Hunt for the Bone Collector tries to rewire the police procedural but loses connectivity.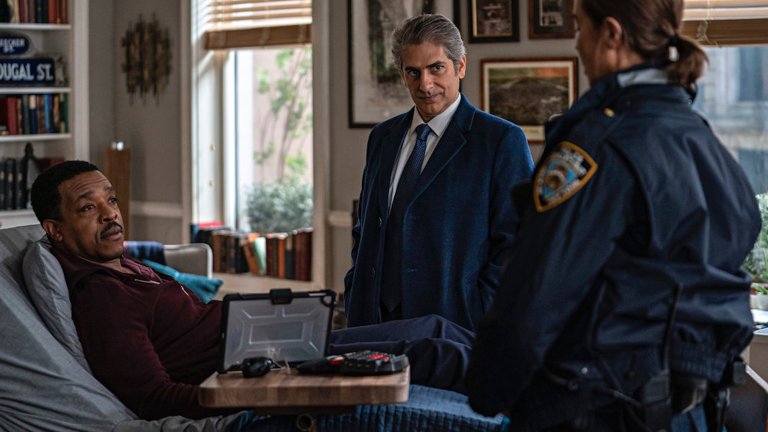 This Lincoln Rhyme: Hunt for the Bone Collector review contains spoilers.
Lincoln Rhyme: Hunt for the Bone Collector episode 1
NBC's Lincoln Rhyme: Hunt for the Bone Collector is a standard issue police procedural with a twist: the lead detective is brilliant and broken, but only physically. His keen sense of sleuthing and desire for revenge keep his spirit high in spite of his awkward social skills. Lincoln Rhymes was rendered quadriplegic trying to save a victim in the elaborate murder spree of a serial killer who calls himself The Bone Collector. Rhyme gets coaxed out of retirement when NYPD officer Amelia Sachs stumbles across an underground crime scene very reminiscent of the original, uncaught killer, which she keeps safe, uncorrupted and ready for investigation.
The series is based on the novel The Bone Collector by Jeffery Deaver. It spawned 13 sequels. Phillip Noyce directed a film version in 1999 but, in spite of being the only film pairing of box office megastars Denzel Washington and Angelina Jolie, it didn't do well. NBC is taking a chance on drawing from the other books and their flawed hero. He's not a modest man, this Lincoln Rhyme. With a name like that how could he be? Asked if he wants to be a great detective by a veteran trainer, he says "I'm already a great detective, I want to be the best." This doesn't just go for his criminal opponents. We first see Lincoln playing an online video game with an unseen teenager. Rhyme gleefully reminds the tech savvy youngster he's gotten crushed by an OP.
There is a lot of technology in the series. The establishing scenes of the pilot show the incident which left the forensic criminologist paraplegic in the aftermath of one of the Bone Collector's murderous scenarios. When we next see him, he is a step away from Tron. He has an immersive computer monitor system so tied in to the Ethernet he is almost AI. Everything in the city is wired, we don't think it as we walk past it, but cameras are everywhere and every move is captured on some kind of security cam which are all apparently tied into Lincoln Rhyme's cable box. Except in Central Park of course, where it's most needed on the show. Kate (Brooke Lyons) analyses the data, and keeps the tech running along with Claire (Roslyn Ruff), Lincoln's caregiver, who turns pages too fast.
Rhyme is basically retired but works remotely when he gets called in by his former partner NYPD detective Rick Sellitto. He is usually reluctant to do it, with a sprinkle of cantankerous in the mix, but as soon as he gives the go-ahead, he is surrounded by computers, cams, and vials of potassium nitrate. Technicians beg to for the chance to invent things as part of his notoriously abused team. They prostate themselves for the chance to get spanked by his investigative prowess.
Rhyme should really commit to his reputation. The people around him walk on eggshells awaiting condemnation which never really comes. And at the end of the very first episode, he's already making amends. He'd been calling his old partner's new partner, detective Eric Castillo (Ramses Jimenez) "Derek" throughout the case, claiming he forgot even though he is famous for his photographic memory. It is obviously a good-natured rib, but when he gives faint praise at the end of the episode, he gets the names right.
Subway cop Amelia Sachs is very empathetic and Arielle Kebbel plays her with a subtle but strong psychological force. At one point she wills a victim to remember a crime scene by pushing her own trauma onto her mind. The episode opens with her stopping a speeding subway train by the sheer professional determination.  
We shouldn't be afraid to dislike the main characters. Dr. Gregory House's crew spent whole seasons hating their mentor for misdemeanors against their humanity. Rhyme can at least make more withering remarks than stares. At the start of the novel, Lincoln is considering suicide, Russell Hornsby will never be allowed near that level of darkness on network TV, and it's a shame. Russell Hornsby has the charisma to win an audience against the flaws.
Michael Imperioli is a consistently buoyant support player. He brought terminal whiskey and salami to the series Life on Mars, and a raging hate boner to Californication. The Sopranos is inconceivable without him. But detective Sellitto has nothing to keep afloat. He basically tries to stay one step ahead of what his reluctant partner wants, and is happier running out the door on his way to a crime scene than he is among the technology where the bonding happens. I mistook him for a narrator for the opening, even after recognizing the voice.  
The Bone Collector himself is played by Brian F. O'Byrne. He insinuates himself into Rhyme's whole life, and has since Rhyme first came onto the investigation team. It appears Rhymes actually turned him into the Bone Collector. Lincoln Rhyme: Hunt for The Bone Collector has the same problem as Prodigal Son, as well as a similar arc. The perpetrator is so close to the investigating detectives they can't tell a copycat killer from the original carbon. Of course the person they want to catch will come after a family member of the cop chasing him. In this case Amelia's sister Rachel Sachs (Courtney Grosbeck). It's almost pre-ordained on network TV.
The episode ends in the nick of time with very soapy music. Rachel had barely gotten the top of her hair wet before her bonds are cut. In every other case, the victims' restraints were as elaborate as the bombs they were tied to. Family members get a pass for future threats. We get two more twist before the final fade. Rhyme has been keeping something secret from his professional colleagues. I won't say what it is because it gives the audience one more thing to like about him. The other is a glimmer of hope in the broken body itself.
Series like The Sopranos and Breaking Bad present bad guys with bad dispositions doing bad things and we cheer them on. The cop at the center of Lincoln Rhyme: Hunt for The Bone Collector should be able to get away with committing to the rage Rhyme promises at the beginning. He says he is embittered. He says he alienates people. The series begins too optimistically to leave any room for real suspense. 
Culture Editor Tony Sokol cut his teeth on the wire services and also wrote and produced New York City's Vampyr Theatre and the rock opera AssassiNation: We Killed JFK. Read more of his work here or find him on Twitter @tsokol.
Read and download the Den of Geek Lost in Space Special Edition Magazine right here!