Reviews
Legends of Tomorrow Season 5 Episode 8 Review – Romeo v. Juliet: Dawn of Justness
Legends of Tomorrow says goodbye to Ray & Nora in a way only Legends can.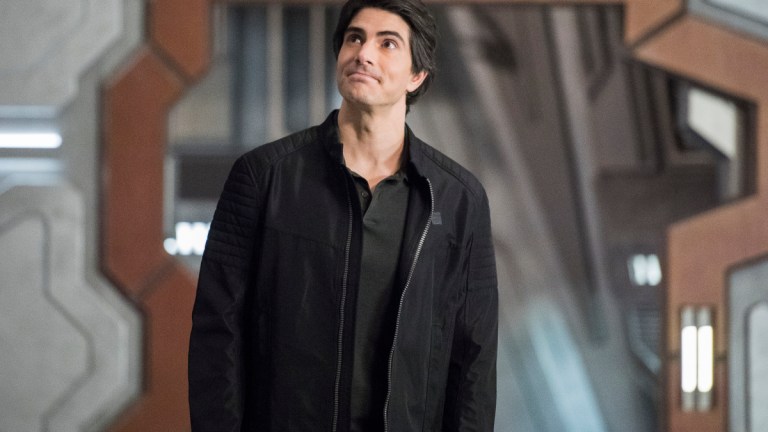 This Legends of Tomorrow review contains spoilers.
Legends of Tomorrow Season 5 Episode 8
It feels right that "Romeo V. Juliet: Dawn of Justness" is Legends of Tomorrow's big sendoff for Brandon Routh. There's not really a more Legends way to send Ray Palmer off. There's a macguffin; they joke around about it for half the episode; they get it; and then they fuck around and do hetero life partner Romeo & Juliet with Nate and Ray for the last half. We've seen it a million times.
Seriously, though, this episode of Legends of Tomorrow is every bit as silly and funny as we've come to expect from the show, but underneath that ridiculousness is a show with some things to say about friendship and these characters, and it might be me reading into it, but it seems like they might be a little mad about the current state of affairs, too. Losing one of the founding cast members is tough, and while we know Routh isn't happy about it, it seems the rest of the crew isn't either. The whole episode focuses on paralleling Ray and Nate's relationship coming to an end with Shakespeare's unwillingness to let Romeo and Juliet go as characters – he likes them too much, even though he knows how their story ends. And that's where the secret profundity of the episode sneaks in. "Romeo v. Juliet" is a great Legends episode because it's got more to say than most of them. This is a story about Ray and Nate, and how the Waverider crew is dealing with a friend moving on, but it's also about stories and friendship in a deeper way than I can remember this show ever really going before.
Here's a rough outline of the episode: Ray doesn't want to leave even though he knows it's the right thing to do. He tells everyone but Nate (in a scene that is another ripped-from-a-sitcom bit, everyone in line for the Waverider's one bathroom while Zari takes too long doing her hair), and they head off for one last mission, to find a piece of the Loom of Fate for Constantine. Charlie left the piece with her pal, William Shakespeare and maybe the most atrocious mustache in television history. The guys and Charlie head back to the 16th century for the ring, and once there, they find out that Shakespeare gave the ring to his producer to buy himself more time to finish writing Romeo & Juliet. Meanwhile, on the ship, Mona pops back in for Nora's final "book club."
While Ray talks the gang through a heist plan, Charlie just walks over to the producer and yoinks the ring, leaving both crews more than half an episode to turn into bachelor/ette parties. The ladies make it rain on a nice young fireman on the ship, while the guys and Charlie get morose and loaded in London. Unfortunately, Shakespeare's producer decides he's going to try and fight the team to get the ring back. As superheroes, of course, they whup ass, only when they go to use their memory flasher device and make everyone forget they used their powers, drunk Nate is holding it backwards. Instead, the book club copies of Romeo & Juliet on the Waverider change to the episode's title, a brutal and entirely deserved burn on the Snyderverse.
One of my favorite things about Legends of Tomorrow is how often you can see the strings being pulled by the crew, and how little it matters to my overall enjoyment of the show. At this point, this episode had two directions it could have gone in. It could have been silly, trivial fluff, waving Routh and Courtney Ford off with nothing but the gleeful silliness that Legends has reveled in for three seasons. Or they could have gone introspective, with flashbacks and kumbayas. The thing is, that's what the show was doing with the two groups. The girls were being ridiculous and silly, and the guys were doing Legends but sad. When the team reunites, that's when we get the message coming together and the episode jumps to the next level. Putting words in The Bard's mouth is always tricky, and Legends sidesteps that by making him the proxy for the writer's room. He knows how Romeo and Juliet's story is supposed to end, but he loves the characters too much to let go.
Routh talks Shakespeare through his writer's block, and it's impossible to watch without feeling like it's everyone on the show processing their own emotions on camera. And when that's still not enough to set history right again, the team goes to put on the real play at Shakespeare's pub. We get a touching goodbye for Nate and Ray, and Nate expounding on the real meaning of friendship with Sara after Ray leaves feels like a nice way to tie a ribbon around this cast and show to this point. It's really, really good.
I don't think anyone can watch this episode and not feel a little upset about Routh leaving, but like the crew of the Waverider, we should think about his whole story before we get too upset. The Arrowverse is what made the world realize what an incredible Superman he might have been, and then showed that to us. His character has been critical to so much of what makes Legends of Tomorrow different and special. The mix of brilliant and earnest and guileless without being naive is not something you often see blended in a character or portrayed successfully. Brandon Routh was good enough on Legends to follow wherever he goes next, and I'm grateful for the joy he's given me in this role.