Reviews
Legends of Tomorrow Season 5 Episode 7 Review: Mr. Parker's Cul-De-Sac
Legends of Tomorrow embraces some serious sitcom vibes in one of it's funniest episodes yet.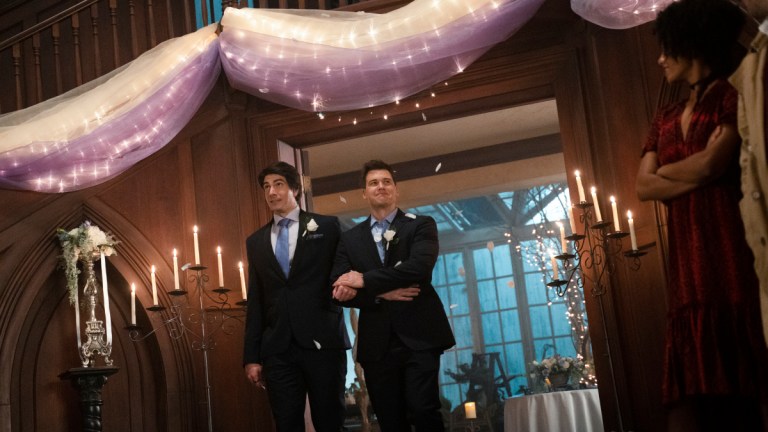 This Legends of Tomorrow review contains spoilers.
Legends of Tomorrow Season 5 Episode 7
Structurally, I think it makes a lot of sense that "Mr. Parker's Cul-De-Sac," this week's episode of Legends of Tomorrow, starts with an extended reminder of the Beebo/Mallus fight. That's probably the moment when this show went completely insane. A show born out of multiple resurrections from the dead that spent an entire season grimly plodding through time that then decided to have a little fun had after a time reached its natural climax: five of its team Voltron-ing together to form a giant stuffed toy to fight off a legendary demon. The natural life cycle of a TV show would see it chasing that moment for the rest of its run. Instead, the team at Legends outsmarted their own expectations, and "Mr. Parker's Cul-De-Sac" completes the show's pivot to workplace sitcom beautifully, with one of the funniest episodes the show has ever put out in a climactic riff on Mr. Rogers.
The plot of the episode is one you've seen played out in a million sitcoms before: Ray is about to propose to Nora, but her dad doesn't know they're together when he unexpectedly drops in, and the gang has to pull off a dinner party where she's dating someone else because otherwise the misunderstanding will cause great discomfort for everyone involved. It's the dashes of color that Legends provides that make the episode's fairly stock plot into something truly beautiful: Nora is, of course, a fairy godmother; her dad is a dead serial killer; the dinner party is at a haunted house; her fake boyfriend is the dirtbag mage who owns the house; her real boyfriend is the second friendliest person who ever lived.
Damien Dahrk is the latest Encore, and when he goes to check in on Nora, she has to pretend to be an evil witch (and not a fairy godmother on duty) because she wants to keep him happy. So she stops Ava and Sara from killing him, and instead makes them pretend to be her henchpeople, and when Constantine storms into the house she was using for a date night with Ray, she improvises and pretends to her father that she's dating John. So Ray takes Nora's ward back to the Waverider to keep her away, and has to fight most of his instincts to stop from hurtling into the situation trying to earnestly smile his way to making everything better. It doesn't work, and after hours of watching VHS copies of Mr. Parker's Cul-De-Sac (Ray's favorite soothing show from when he was a kid) with Nora's ward, she gets fed up and beams herself into the middle of a fight scene, and her way out is to wish everyone onto the show. So she turns Ray into Mr. Rogers, Gary into a train nightmare, Ava and Sara into puppets from Sesame Street's red light district, and Charlie and Constantine into two people who need to get their plot to a certain point before the end of the episode.
I'm giving it short shrift: it's really funny. Gary steals four or five scenes, first as a damsel in distress, then bursting out of the cabinet where he's hiding and later with an absurdist setup and lightning quick punchline five minutes after.
It also works: Ray's story is full of so many nice little touches that it's hard not to admire the storytelling (Ray and Nate drinking bro-se together is just perfect). And Courtney Ford finally gets her own episode, and she crushes it. This is a deep character dive on Nora, and Ford does a terrific job of showing us how far she's come and why her place in this story is so meaningful. And that helps sell the wedding at the end – Ray and Nora tie the knot, after Damian comes around on their relationship, and before he commits hellsword seppuku alone, outside the reception, and after he pushes Ray on one of the only downers of this episode.
Next week is Brandon Routh's final episode on the series, and I don't care for it. Routh has been incredible from the moment he appeared on Arrow and he's part of the glue that holds Legends together. There's a lot of change implied in this episode – after Caity Lotz was off for a few episodes directing, Sara's back in charge and looking for other jobs so she can settle down with Ava, and Ford is leaving with Routh. We find out that Mick has a kid with his high school sweetheart that he didn't know about, and with all the rest of the change happening, it's worth wondering if we're getting to the end of Dominic Purcell's time on the Waverider, too. But it's hard to see Ray Palmer changing so many minds on this show by sheer force of guileless kindness and not worry what kind of impact taking him out of the ongoing story might have.
Regardless, if this is how they are going to send him off, it's a lovely summary of who he is that on a show full of ridiculous things, they can make Ray Palmer into a stand-in for the most beloved children's personalities of all time, and it can work so perfectly. Who knows, maybe he's so good at it that they decide to keep him around.