Features
Batwoman: What's Next for Batwing?
Batwoman star and director Camrus Johnson talks to us about his hopes for Luke Fox, and the Black, nerdy superhero he wants to bring to life!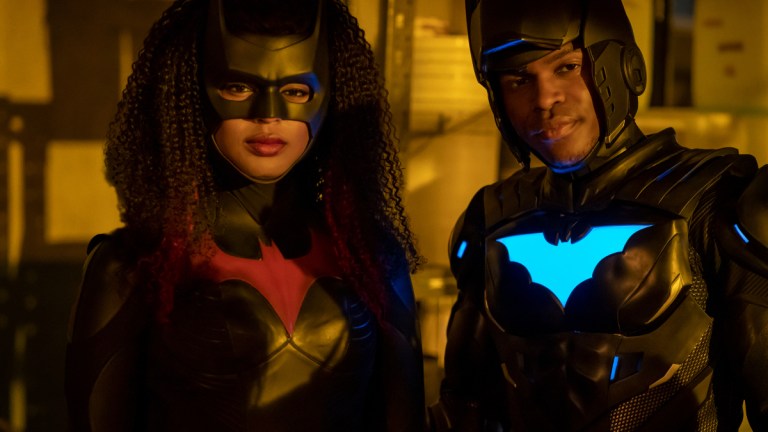 Camrus Johnson, who plays Luke Fox on CW's Batwoman, also brought the character to the pages of Batman: Urban Legends #4 in a Batwing-focused short story. "I feel like I'm trying my best to corner the Batwing market as much as I can," he jokes. 
From the sound of things, Johnson isn't done exploring Luke Fox in comics, teasing another Batwing project he has in the works right now.
"In the new comic that I'm writing, I actually wanted to show what his life might look like in his personal life because we don't really get to dive into that," he says. "That sort of influences me on the show because you don't get to see where I am when I'm not in the Batcave, but you do get to see it in the comic books. That's in my mind that it gives my character a little more life, and character memories to think back on all the time."
On the show, Johnson wants to dive into who Luke truly is behind the curtain.
"I just want to see how dark he can get," Johnson says. "We don't really know much about his personal life even at this season. I want to see a darker side. But on the flipside of that, I want to see the love inside of him too. I want to see his romantic side. I want to see who Luke is when he's not working."
Luke hasn't had much on-screen romance, but sparks flew after he saved Stephanie Brown from Cluemaster's—her dad—attempt to kill her. They only shared a brief kiss, but there is potential for more if she returns. Johnson would like to see her come back to find out what happens. He's also interested in exploring another fan-favorite pairing. "What's going to happen with Hamilfox?" He says of the potential coupling of Luke and Mary. "That's one relationship that I really want to see."
It wouldn't be an Arrowverse show if there weren't also plenty of complex relationships between the series heroes and the complicated villains. Johnson talks about wanting Luke to spend more one-on-one time with Alice.
"I really love Luke and Alice together. Because me and Rachel [Skarsten] are such good friends and we always want to add a little something when we're together." He adds. "I think their dynamic is so funny because they kind of hate each other. So they are forced together."
Johnson has a lot of love for Luke Fox, but when it comes to the comic book character he'd most love to write and direct, he doesn't hesitate. "Static Shock is my favorite superhero of all time," he says. "He's a Black young superhero and he's the reason that I knew that being a Black nerd was cool. He was a Black nerdy superhero, that was awesome, and I looked up to him growing up. So being able to write anything Static Shock, being able to direct anything Static Shock, being able to play Static Shock would be a dream."