News
Knightfall Canceled By History After Two Seasons
Knightfall season 2 was the last crusade as History has canceled the Knights Templar series.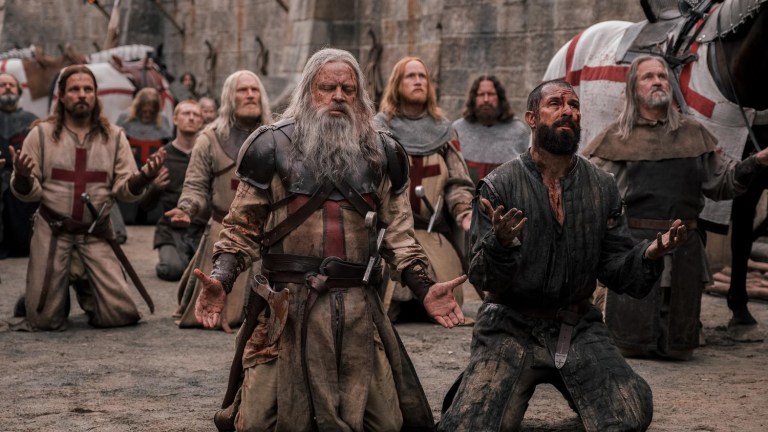 Bad news for fans of chivalry! Knightfall has been canceled by History after two seasons. This was all but a foregone conclusion as Knightfall's second and final season concluded on May 13, 2019 and there have not been any updates on Knightfall season 3 since. Now History has made the cancellation official, according to Deadline. 
The writing was on the wall for History's Middle Ages epic even before the second season conclusion came and went without a renewal. Despite adding Mark Hamill (Star Wars) for its second season, Knightfall Season 2 featured a steep drop in ratings from its already ratings-challenged first season. According to the site TV Series Finale, Knightfall averaged a dismal 0.12 rating in the 18-49 demographic and attracted around only 650,000 viewers per episode total. That is a nearly 50% drop in viewers from the first season.
Bigger networks might be able to get away with attracting a hyper niche audience and riding along with some critical acclaim, but History was likely in search of a hit with the ambitious Knightfall. History will have to keep looking elsewhere as well, as it also canceled its other ambitious genre project in Project Blue Book after two seasons. Looks like it's time to go back to the drawing board in search of the next Mad Men or Breaking Bad. 
Knightfall takes place in the early 1300s and follows the success and eventual fall of the fabled Knights Templar (also known as the bad guys in Assassin's Creed) under King Philip IV of France. The Templar were the most powerful and mysterious military order of their time. 
The show starred Tom Cullen as Landry du Lauzon, a fictional senior brother of the Knights Templar and veteran of the Crusades. Hamill joined the season 2 cast as Master Talus, a veteran templar who trained the new knights at Chartres Temple. Pádraic Delaney, Ed Stoppard, Simon Merrells, Julian Ovenden, and Jim Carter also starred in the series with Genevieve Gaunt, Tom Forbes, and Clementine Nicholson joining Hamill as season 2 newcomers. The show was produced by A+E Studios, just like its departed History counterpart Project Blue Book. 
As is increasingly the case with cancellations nowadays, this doesn't have to be the ultimate end of Knightfall. A+E Studios could shop the show to other networks, though that is unlikely since History is a subsidiary of A+E, meaning the corporate infrastructure is done with the show. Knightfall might also be able to live on in a new medium if demand is high enough. But based on the lack of a prominent "Save Knightfall" fan campaign throughout the last year, that seems unlikely as well.
This looks to be the real end of Knightfall as we know it. Time to find another Crusade.