News
Project Blue Book Canceled by History
History has canceled the fact-based dramatized extraterrestrial investigations of Project Blue Book after two seasons.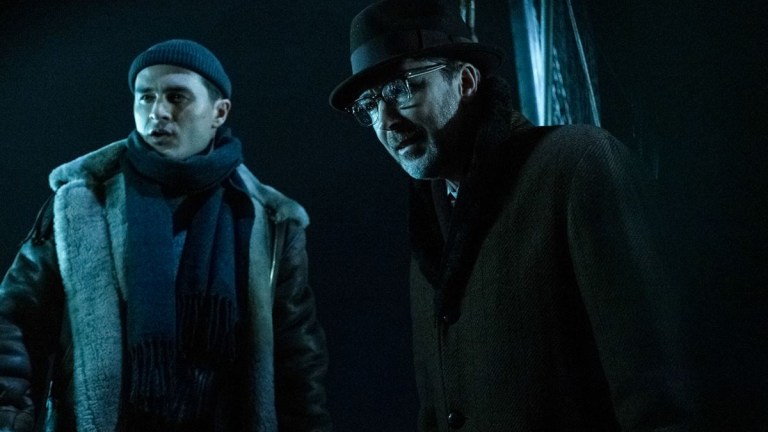 Project Blue Book has been sealed away in the proverbial Area 51 of cancelation by cable channel History after two seasons on the air.
History's Project Blue Book cancelation, reported via Deadline, occurs a little over a month after its March 24 airing of the show's Season 2 finale, which ended things with the renewal-entreating device of a cliffhanger regarding the fate of one of its two main characters. However, for reasons not yet known, the network didn't bite, instead opting not to renew the series, which was a production of A+E Studios and Compari Entertainment. The network also confirmed the long-expected news of its cancelation of medieval series Knightfall.
The aforementioned Season 2 finale, "Operation Mainbrace," utilized the backdrop of escalating Cold War tensions to place our tenacious investigative duo—the biographically-based Dr. J. Allen Hynek (Aidan Gillen) and fictionalized, but fact-inspired representation, U.S. Air Force Captain Michael Quinn (Michael Malarkey)—in a classic cliffhanger scenario, leaving the latter's fate in balance, perhaps permanently. Indeed, Quinn—who'd just become a believer after spending the show's entirety as a skeptic—was last seen venturing off in a mini-submarine to investigate a bioluminescent phenomenon amid a maritime standoff between the U.S. and Soviet Navy, when his vehicle—and the mysterious quarry—oddly disappeared after an explosion, leaving the submarine seemingly destroyed and Quinn presumably dead, much to Hynek's incredulity.
The cancelation, especially after a cliffhanger like that, will obviously disappoint the fandom that Project Blue Book has accrued and held over the past few seasons, due to the show's ability to cultivate actual reports and incidences investigated by the real-life Project Blue Book (which operated from 1952 to 1969), and distill those elements into a dramatic form—albeit with A LOT of narrative liberties taken—to create an X-Files-esque peak television quasi-history that was just educational enough about the actual history of UFO sightings in the 20th century. Moreover, Season 2, Episode 6 saw the series venture past its early-1950s setting, showing Dr. Hynek and wife Mimi (Laura Mennell) on the set of director Steven Spielberg's 1977 hit, Close Encounters of the Third Kind, depicting Hynek's real-life gig as a consultant for the film, having developed the scale from which the film's title was derived.
Interestingly, Project Blue Book's cancelation might not be blamed on the typical culprit of plummeting ratings, since the series has generally held steady. After debuting on January 8, 2019 to cited Nielsen numbers of 2.266 million viewers, the series mostly staved off the typical post-pilot hemorrhaging to average 1.667 million viewers in Season 1's 10-episode run. Indeed, the show generally managed to maintain numbers in that same area upon its Season 2 return on January, 21, 2020, with a premiere culling 1.433 million viewers. While the series would reach the all-time low of 1.091 million mid-season, it actually ticked back up, and the sophomore frame's finale even managed to nearly match the premiere, earning 1.424 million, leaving a seasonal average of 1.303 million; a ratings dip for certain, but other shows have been renewed with worse.
Consequently, one might also speculate that Project Blue Book's cancelation might, at least in part, also be attributed to the pandemic elephant in the global room, which has sidelined just about every production in the entertainment industry, profoundly altering the financial and logistical variables that, in a normal situation, might have facilitated a Season 3 renewal.
Regardless, it seems that only the mysterious bioluminescent being that whisked Captain Quinn away knows the full story behind this most disappointing end to a promising series.